Event Information
Refund Policy
Contact the organizer to request a refund.
Eventbrite's fee is nonrefundable.
About this Event
Please choose your date from the drop down menu to the right >>>
Dear Earthlings of San Francisco // Gather in Golden Gate Park for this SoundBath + Vibrational Healing which has been created for your optimum alignment and activation by Source Field Sound, Nicola Buffa.
Vibration is all around Us, Creating our reality through our thought landscapes + Expressed in geometric waveforms of energy.  Through sound we open our eyes to the blessings of all the color-lights of our beautiful world & when we open our souls to the vibration of our authentic selves, our unique song will begin to play for all to hear.
Expand your Aura // Laying on the Earth // Held in Sound // Activated by the Sun
Be Revived by the beauty of our very own Golden Gate Park.
Each Sound Transmission is an arrangement of the healing tones of Quartz Crystal and Alchemy singing bowls, channeled to return optimum alignment to the body, designed to inspire healing thought patterns through brainwave entrainment, and meant to uplift the spirit on all levels. The experience is a meditative journey, which may yield clarity through connection to our inner wisdom, and a sense of deep peace, facilitated by sound.
Thank you for Creating the Time // Being Love.
We look forward to being with you all in Frequency.
#sound #light #color #crystals #reiki #frequencies #essentialoil #plantally #plantmedicine #flowers #water #auras #intention #SoundBath #soundhealing #vibration #vibrationalhealing #quantum #timeline #love #5D
Location: Golden Gate Park, GGP - The George Washington Grove, 1197 25th Avenue, San Francisco, CA 94122. At the corner of 25th Avenue, and Lincoln Way, in the Sunset Neighborhood.
https://sfrecpark.org/922/GGP---George-Washington-Grove-Picnic-Are
Please Arrive at 1pm to Set Up your Meditation Nest with yoga mats, blankets, cushions, eye-pillow, and anything to support your comfort to lay down for approximately an hour. Sound Begins no later than 1:15pm, Bring Water.
Each person shall arrange themselves, being mindful of social distancing, around the Singing Bowls in the grass. Each person is requested to wear a mask throughout the SoundBath.
Weather conditions in SF are highly variable! Please be aware of the daily forecast, and be prepared with layered clothing in case of fog, or conversely, with sunscreen + protective shades in case of sun. The G.W Grove has some shade, partial sun and full sun areas.
"I love you San Francisco, Im amazed and inspired by Art, and the bay areas commitment towards equality, and by creating more space for each individuals experience as an important part of our global chorus. I offer these gatherings with the intention of amplifying our progress in our inner realms as well as our communities, in hopes of magnifying our collective vibrational broadcast for all the world to receive." -Nicola Buffa
Email questions to Nikki@SourceFieldSound.com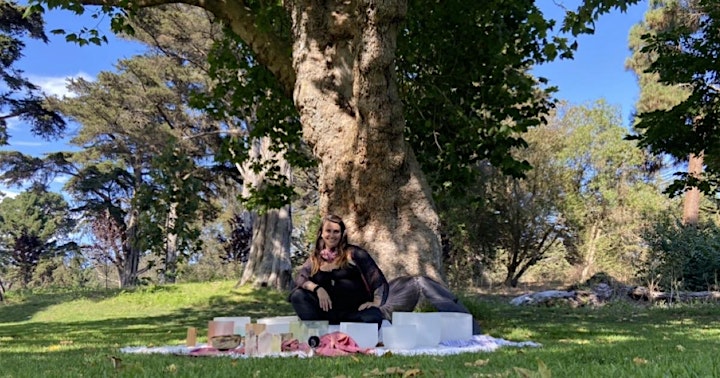 Date and Time
Location
Refund Policy
Contact the organizer to request a refund.
Eventbrite's fee is nonrefundable.