Description
Sound On Sound is a brand new festival based in Central Texas and founded by Fun House Services. SOS Fest is also managed, designed and curated by a close knit circle of friends from various corners of the independent music and creative world, with over 20 years of booking, festival and production experience. SOS Fest aims to transform the typical festival experience for their fans, hyper-focusing on unique locations and stellar bookings of indie, punk, hip hop, metal, dance music, comedy, and live panel discussions. With a fan first approach to the on-site experience, all are welcome as we move into the future. Visit http://soundonsoundfest.com for more information.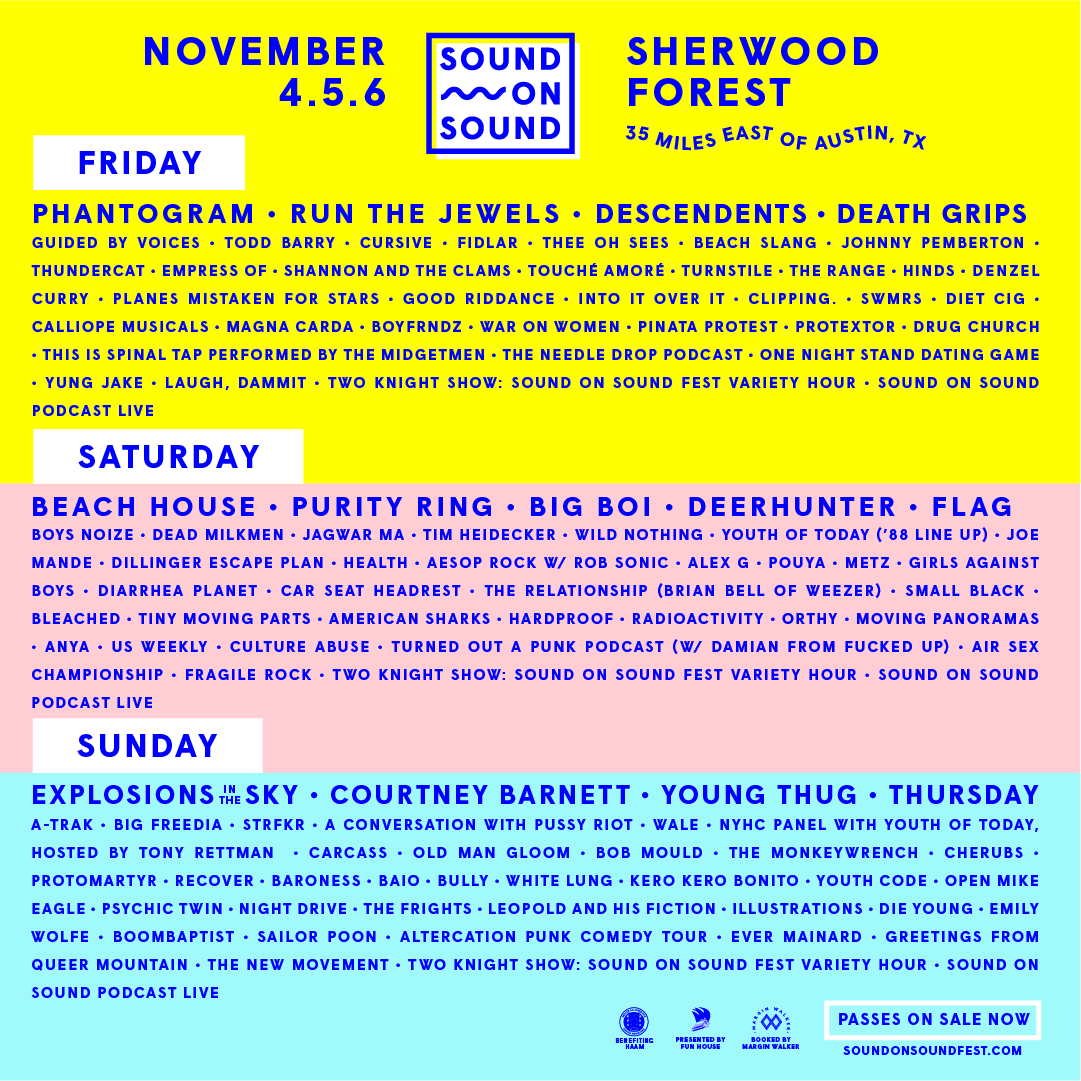 TICKET INFORMATION
• Once you purchase, you will receive an order confirmation email from Eventbrite on behalf of Sound on Sound Festival.
• IMPORTANT: If you do not see your order confirmation in your inbox, make sure to check your junk/spam folder. If you still do not see your order confirmation, click here to access the Eventbrite help center.
• Primary festival admission tickets are not issued as PDF tickets for this event, all admission ticket-purchasers will receive a festival wristband by mail.
• If you are having any other technical ticketing-related issues with your order, click here to contact Eventbrite. For general festival info, click here.
• All wristbands will begin shipping in October. Please allow to late October for your wristbands to arrive. Wristbands will be sent to the shipping address specified on your order. All international orders will be held at will call.
• Need to view or update your shipping address? Click here for instructions. You will be able to update your shipping address until October 14th.
• All sales final. No refunds or exchanges.
• Event is rain or shine.
• Artists and schedule subject to change.
FAQ
When will tickets be shipped out?
Sound on Sound tickets will start shipping in October of 2016. You can check your shipment status and tracking information within your "Upcoming Events" section of Eventbrite.
Log in to your Eventbrite account at http://www.eventbrite.com/gettickets

Enter the email address you used to purchase your tickets.

If you've forgotten your password or have not set one up yet, no problem! Just enter your email address where it says 'Don't know your password?' and we'll send you an email to help set your new password.

Once logged into your account, click on the Sound on Sound option from your list of tickets.

Click on the "MANAGE WRISTBAND" tab at the top of your order details to view tracking details.
All tickets purchased after the shipment cut off date "Will Call only, and can be picked up prior to the fest at the designated will call stations, or on fest days at the will call booths.
What if I need to change my shipping address?
Click here for instructions. You will be able to update your shipping address until October 14th.
Will there be early bird Will Call locations this year?
Yes. We will have multiple early bird Will Call locations this year. More info coming shortly!
How does the payment plan work?
Affirm offers clear, simple financing to split your Eventbrite order into 3 or 6 monthly payments. Once you select Monthly Payments with Affirm on the Eventbrite checkout page, you will need to confirm your loan on Affirm. You will then receive a confirmation email. Make sure you pay your Affirm bills on or before your due dates as this is your respondibility!
How do I purchase a ticket using Affirm?
You will need to select a ticket, click order now, then on the purchase page select Monthly Payment with Affirm from the payment method drop down.
What are the box office and will call hours during the festival?
The box office and will call will be open from 12:00pm - 12:00am on festival days. This includes wristband pickup, general guest list check-in, ticket purchasing, media check-in, and band guest list pickup.
What time does the fest start & end?
Doors are at 1pm each day. Fest programming begins at 1:30pm and ends by 1am.
Do kids get into Sound on Sound for free?
Children under 10 years of age (9 and under) will be allowed in free of charge. Children 10 years of age and over will need to purchase a ticket.
Will the bars and merchandise tents accept credit cards?
Yes, we accept all major credit cards at every bar and festival merch tent, via Square.
Can I bring a water bottle or Thermos to the fest?
Yes, but it must be empty when you come through the gates. NO GLASS BOTTLES.
I won tickets to Sound on Sound, how do I redeem the tickets?
All tickets that were won as prizes or giveaways will be picked up at the will call box office on the day of fest. You will need to bring a valid ID with the winner's name on it.
Is Friday a FULL day of Sound on Sound or just a kick off party?
Friday at Sound on Sound is a FULL day of fest. All stages will be hopping and all vendors will be there for the whole day.
How far from central Austin is Sound on Sound/Sherwood Forest Ren Faire?
The festival venue is exactly 31 miles East of central Austin. This is approximately a 30 minute drive from Austin, depending on where you're coming from. We strongly suggest carpooling! Please travel responsibly. Alternatives to driving back and forth include on-site camping, local hotels, or taking advantage of our shuttle program. PRO TIP: beat Friday rush hour by arriving at the fest before 3pm on Nov 4th.
Waddup with camping?
Oh, you'll find out soon. Camping will be an experience in and of itself, with a full announce coming at a later date. The campgrounds are directly adjacent to the main festival grounds, and accessible 24 hrs a day by camping pass holders. More info on camping is located on the ticket purchase page.
I'm not into camping, but I want to stay close to the festival. Any options?
There are a number of hotels in the Elgin/Bastrop area 15 miles +/- from the festival grounds:
Will there be parking on site at Sound on Sound?
Yes. There will be paid parking on site at the festival. Parking passes will be available for daily or weekend rates. More info coming shortly!
Will there be shuttle services to Sound on Sound?
Yes. We are currently working on the details of the shuttle program, but we plan on having shuttles going back and forth from multiple pickup locations in Austin, to the festival grounds, and back running all day every day.
What's up with kick off and after parties?
There will be kickoff shows on Thursday night, stay tuned for more info! Additionally, if you want to get in on some unique after-party programming, pick up your camping pass for a fully immersive experience. Full camping programming announce coming soon!
Have another question regarding Sound on Sound?
If you are having any other technical ticketing-related issues with your order, click here to contact Eventbrite.
For general fest questions and comments, hmu at holler@soundonsoundfest.com.