Sound Off Submerge: Vinyasa, Yoga Nidra, Sound Bath Savasana! | Yoga Journal LIVE

Saturday, April 22, 2017 from 8:00 PM to 9:30 PM (EDT)
Event Details
Ride the wave of renewal with Sound Off™ Submerge—an invigorating blend of guided vinyasa, yoga nidra, and a sound bath savasana using Sound Off headphones. This 90-minute pow-wow led by Lindsey Valdez is designed to reduce stress and anxiety. Sound Off headphones allow you to hear Lindsey's voice perfectly over DJ Miss Behavior's curated deep house soundscape. Alex Falk of Atonal Meditation will draw a gentle yet powerful sound bath using Himalayan singing bowls, gongs, and tuning forks. This meditative musicale will arouse theta and beta brain waves to support the natural process of healing in the mind and body. Dive deep into your own awakening with this soothing, sonic experience.
---
 Click here to find out more about our main event. 
---
 Meet the teacher!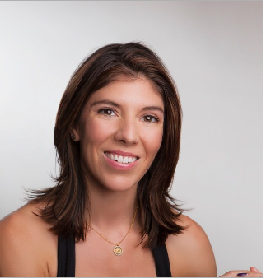 A lifelong athlete, dancer, and lover of the outdoors, Lindsey Valdez found a strong attraction to Yoga. After moving to New York City in 2007 to pursue a career in hospitality, the Yoga studio served as her equalizer to help her find balance amidst the buzzing city life. Her passion for travel and Yoga led her to India to dive deeper into her practice, and awakened her desire to teach and share Yoga with others. Lindsey transitioned from her hospitality career to pursue her passion for Yoga, and has been teaching in New York City and beyond for the past five years. Lindsey loves linking movement with music and believes in the power of sound therapy in her Yoga flows. She joined forces with Sound Off™ to bring "silent yoga" experiences to music-loving yogis everywhere with unique pop-up events and venues throughout the city. Lindsey's teachings seek to target the inner strength, grace, and harmonious spirit within all of her students! Lindsey teaches Vinyasa Yoga, Hot Power Yoga, Sound Off Submerge, as well as Yoga Nidra Meditation classes at Pure Yoga, Equinox Sports Clubs, Yoga Vida, the Woom Center, as well as group and private yoga sessions and destination retreats! Find Lindsey on Instagram @LVLYoga, Facebook Lindsey Valdez, and her website www.LVLYoga.com



Meet the DJ!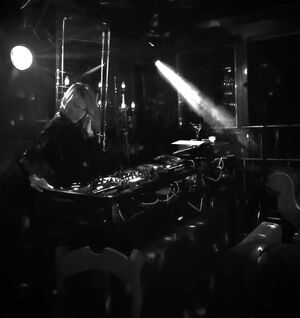 Jamie Pabst is a DJ based in NYC and founder of Miss Behavior Music. While having a career in finance, she started working and researching the behavioral components and neuroscience behind music and sound to harness music's most powerful impact on physiology. She is a firm believer in using music's power to bring people together, influence thoughts, behaviors and enhance mind and body performance. Jamie has carved out a unique path DJing and curating music and events almost exclusively for positive lifestyle engagement, collaborating with some of the top brands and positive lifestyle enthusiasts and gurus to produce unique music events centered around positive and healthy engagement and interactivity. Check out more about her and her music at www.missbehaviormusic.com
Meet the Sound Therapy Practitioner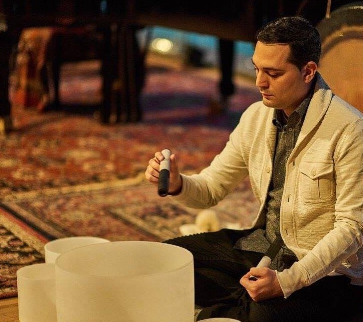 Alex Falk, founder of Atonal meditation, is a certified sound therapy practitioner, musician,
educator and substance abuse/ violence prevention counselor for the New York City Board of Education. In 2013, Alex began facilitating public sound baths and large scale meditation events individually and with his long time partner (sound therapy practitioner and meditation teacher) Sara Auster. Since then he has partnered with programs like the Big Quiet, Medi-Club and Ziva Meditation, and has offered sound baths at venues such as Lincoln Center, the Rubin Museum and the New York Society for Ethical Culture. In 2014 he began introducing the healing and transformative power of sound to one of NYC's most underserved populations, our public school students. He has since brought mindfulness and mediation programs into public elementary and high schools across the 5 boroughs. Alex guides students through sound meditations and mindfulness practices, giving them the tools to access and support states of deep relaxation. The result of his work has shown positive change in behavior and academic performance, as well as a deeper sense of the students' self awareness.
When & Where

New York Hilton Midtown
1335 6th Avenue
New York, NY 10019


Saturday, April 22, 2017 from 8:00 PM to 9:30 PM (EDT)
Add to my calendar
Organizer
Yoga Journal Events
SEE THE LIGHT IN YOU
Something special happens when master teachers, spiritual leaders, and our vibrant community of new and longtime yogis come together at Yoga Journal Events.
 If you're looking to deepen your practice and perspective, transform yoga into a lifestyle, and make connections with fellow yogis, this is where you'll find it.
Join us for classes and workshops for all levels, onsite trainings for CE units, free events, and Yoga Market with the latest yoga trends. 
Next up: New York, April 19-22
Sound Off Submerge: Vinyasa, Yoga Nidra, Sound Bath Savasana! | Yoga Journal LIVE