Description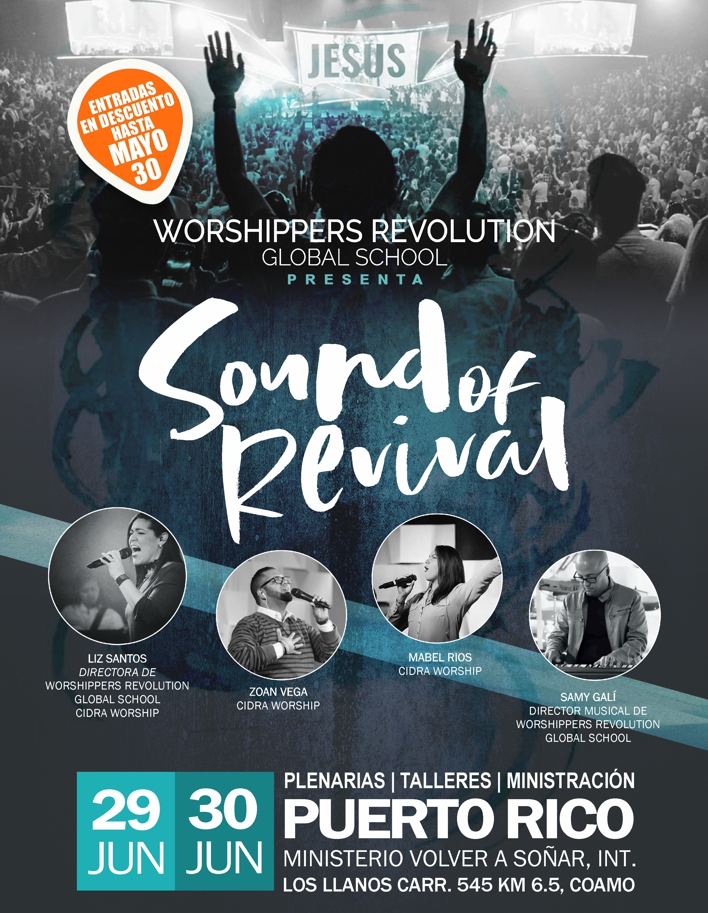 Worshippers Revolution Global School presenta SOUND OF REVIVAL PUERTO RICO.
En este tiempo de crisis mundial se levanta una Generación de Reformadores con un SONIDO DE AVIVAMIENTO y voces proféticas que encienden altares de adoración para que los moveres asignados a esta temporada sean manifiestos.
SOUND OF REVIVAL es una Escuela de Adoración Intensiva con el objetivo de preparar y empoderar a los Adoradores, Músicos, Danzores, Lideres, Pastores y todo aquel creyente cuyo deseo es manifestar el Cielo en su Ciudad.
Tendremos Plenarias, Talleres y Ministración con la misión de encender el fuego en los corazones de los adoradores para ser activados y dimensionados como guerreros, diestros para transformar atmósferas, romper los edictos que han mantenido subyugada la humanidad y establecer los decretos del Cielo en la Tierra.
No te pierdas esta oportunidad de llevar a tu ministerio a un nuevo nivel de influencia y conquista por medio de la adoración gobernante.
Todos los participantes recibirán un Certificado de Participación de nuestra Escuela de Adoración Worshippers Revolution Global School.