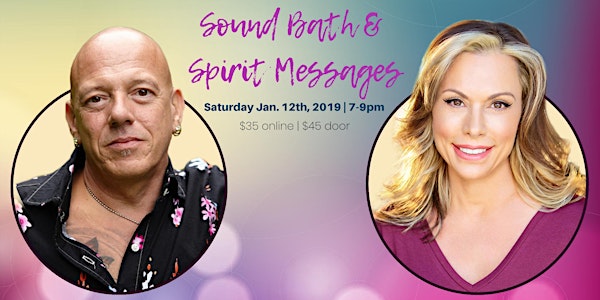 Sound Healing & Spirit Messages
When and where
Date and time
Saturday, January 12, 2019 · 7 - 9pm PST
Location
Colby Rebel Spirit Center 1792 Kelton Avenue Los Angeles, CA 90024
Description
Evening of SOUND BATH & SPIRIT MESSAGES in Los Angeles
Colby is honored to host Internationally recognized sound healer Mark David in Los Angeles for a rare & special evening as they come together to deliver messages from spirit and experience profound sound healing.
The evening will begin with channeled sound bath byinternational sound healer Mark David followed by messages from your loved ones in Spirit delivered by Colby Rebel. Together these two will bring two worlds together for a magnificent evening of evidence, healing and love.
Mark David is a certified psychic medium who channels spirit and delivers healing using vibrations of sound utilizing custom-made singing bowls. The vibrations created via spirit and the bowls coming together may create healing, connection and stimulate ones ability to connect with their own higher self during the experience.
*LIMITED SEATING
Mark David is an internationally known gifted Medium & Healer. Mark has been involved in numerous spiritual and healing trainings: Certified as a sound therapist and sound healer from the Globe Sound Healing Institute, Certified in modality of the tuning fork therapy from Soma Energetics, Voice training with Grammy Award Winner Claude Stein. With the guidance and belief of many, he found the biggest support coming from Lisa Williams, world renowned Psychic Medium and founder of LWISSD. Mark was one of few hand selected by Lisa to develop his gift further and is now a Certified Spiritual Advisor™ – Medium.
Colby is a professional psychic medium and teacher who enjoys helping students around the world develop their intuitive and spiritual gifts. She's an internationally recognized Psychic Medium, Master Spiritual Teacher, Radio Host of Live with Colby Psychic Rebel, Best-Selling Author & Public Speaker located in Los Angeles, CA. Colby is a certified master teacher of the LWISSD.
*Seating is LIMITED.
*not everyone who purchases a ticket is guaranteed a reading *all sales final, no refunds available.
DISCLAIMER: THIS SERVICE IS FOR ENTERTAINMENT PURPOSES ONLY AND IS INTENDED FOR USE BY ADULTS 18 YEARS OF AGE OR OLDER. BY YOUR USE OF THIS WEBSITE, YOU CONFIRM THAT YOU ARE AT LEAST 18 YEARS OLD. THE READINGS PROVIDED ARE FOR GUIDANCE ONLY. WHAT YOU DECIDE TO DO WITH THE INFORMATION GIVEN TO YOU, INCLUDING ANY ACTIONS YOU TAKE, IS DOWN TO YOUR OWN PERSONAL RESPONSIBILITY AND CHOICE. WE RESERVE THE RIGHT TO REFUSE SERVICE TO ANYONE AND/OR TO DISCONTINUE THIS WEBSITE AT ANY TIME. THIS SERVICE IS NOT INTENDED TO ADDRESS ANY MEDICAL, EMOTIONAL, AND/OR LEGAL ISSUES. IT IS FOR ENTERTAINMENT PURPOSES ONLY. YOU SHOULD, THEREFORE, CONSULT A MEDICAL CARE, MENTAL HEALTH CARE OR LEGAL PROFESSIONAL FOR ANY PHYSICAL, EMOTIONAL AND/OR LEGAL ISSUES THAT NEED PROFESSIONAL ATTENTION.
About the organizer
Colby Rebel is an International Psychic Medium, 3X-#1 best-selling author of both Psychic Senses, Leap Of Faith and Coffee with Colby. She is the popular podcast host of the Colby Rebel Show and Coffee with Colby. Colby is a certified master spiritual teacher through the acclaimed LWISSD. Colby teaches and works as a professional psychic medium in Los Angeles, CA where she owns and operates the Colby Rebel Spirit Center. Colby has appeared on several tv programs demonstrating her gift with Spirit. She currently stars on Tidings of Terror with Robert Englund on the Travel Channel.