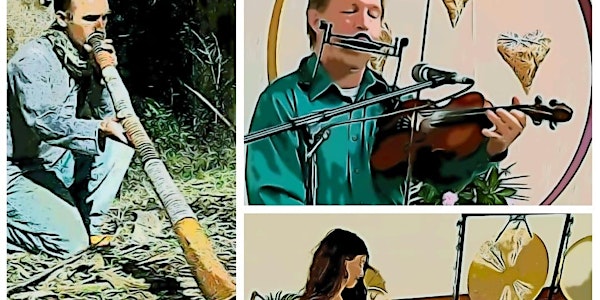 SOUND HEALING RITUAL and Benefit for John Villa
SOUND HEALING RITUAL and benefit for John Villa with John Villa, Micha Merrick, Evan Fraser and David Molk.
When and where
Location
Henry Miller Memorial Library 48603 Highway One Big Sur, CA 93920
Refund Policy
Contact the organizer to request a refund.
Eventbrite's fee is nonrefundable.
About this event
Waves of sound wash through you as you rest, encouraging your nervous system to ground and restore. The ethereal sounds of crystal and Tibetan singing bowls, overtone vocals, heartbeat drums, meditation bells, flutes, mountain dulcimer, kalimba, kamal ngoni, jawharps and the deep earthy vibrations of the Didjeridu fill you with fresh energy and vibrancy.
Come set an intention for your own self healing, listen to your breath, feel your heartbeat while the sound takes you on a transformative inner journey.
About the Musicians:
John Villa is a Didjeridu master, multi-instrumentalist, overtone vocalist, composer, researcher and sound healing facilitator who grew up in Big Sur in a family of musicians, dancers and healers. He began playing Didjeridu in the mid 80's, and lived and studied with aboriginal elder Yidumduma Bill Harney in the Australian outback. John has also studied with master musicians from North Africa, the Middle East, Indonesia and India. John holds a BFA and Masters in world music performance and ethnomusicology.
www.instagram.com/john.villa.923
Micha Merrick shares vibrational ritual and embodied herbalism as a heartfelt communion with our living ecosystem.
Through personal mentorship with shamanic Lahu medicine women of Thailand and spiritual midwives in Bali, Micha currently facilitates the Herbal Clearing Ritual at Esalen, an energetic healing practice combining sound, touch, herbs and intention. Micha offers sanctuary and grounding in connection with the earth.
https://instagram.com/micha_merrick?igshid=YmMyMTA2M2Y=
Evan Fraser is a performer, composer, producer, multi-instrumentalist, music teacher and musician playing for healing and positive social change. He is a founding member of the popular band Dirtwire and has performed and toured with many well known groups such as Hamsa Lila and Stellamara. He has a BFA in World Music from CalArts.
https://instagram.com/evaneverythang?igshid=YmMyMTA2M2Y=
David Molk plays flutes and strings and is an accomplished folk and harmonic overtone singer. David's musical life spans from an early career in string bands and Celtic music, to playing flute for Indian films in Bollywood, to translating and recording Songs of a Tibetan Yogi, to playing with members of the Big Sur Natives and beyond. His practice in Dharma teachings and Tibetan language translation greatly influence the presence he brings to his music. David rarely goes anywhere without a flute in hand.