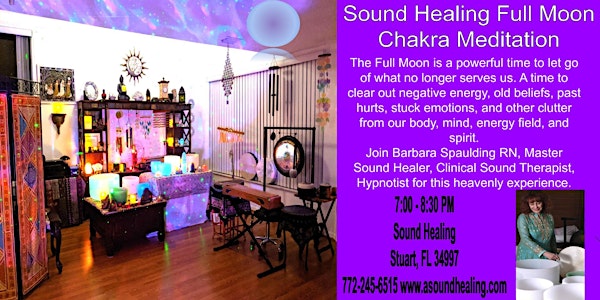 Sound Healing Full Moon Chakra Meditation Sound Bath
Sound Healing Full Moon Chakra Clearing Meditation Sound Bath with Crystal Singing Bowls and much more!
When and where
Location
Sound Healing Stuart, FL Stuart, FL 34997
About this event
What makes this Sound Healing Bath Special?
This is no ordinary Sound Bath. Barbara Spaulding RN, Master Sound Healer, Clinical Sound Therapist, Master Sound Healing Therapy Teacher/Trainer, and Hypnotist brings her years of training and Sound Therapy experience to each Sound Bath and therapy session she performs. Barbara plays over 45 instruments from around the world at each session including Reverie harp, monochord, Freenotes, Sansula, Tibetan bowls, quartz crystal singing bowls, metallophone, gongs, specialized drums, many chimes, and more. Even if you have attended other Sound Baths or meditations this one will be very special and totally blissful. No lying on the hard floor, each person comfortably lays in their own zero gravity lounge chair. As an additional bonus at the end, each person can sample the vibroacoustic sound bed which has been described as an otherworldly experience and offers many possibilities for targeted therapy for specific conditions and brainwave states. Since the studio is private there's only room for seven lucky people in each group. The music feels like it's being played just for you, each sound and vibration totally penetrates every cell in your body and entrains your brain into the most wonderful Alpha-Theta-Delta states of consciousness. All you have to do is relax and let the beautiful healing sounds wash over you. So don't wait, even if you have attended other sound healing groups or private sessions this one will be totally unique, and wonderful!
Check out her website at www.asoundhealing.com to learn more about Sound Healing Therapy and Barbara Spaulding RN.
Tickets are available online or by calling 772-245-6515
Are you ready to experience these benefits?
a sense of peace in the body and mind
calming of your entire nervous system
Production of more Nitric Oxide in your body bringing healing oxygen to every cell
Toning of the vagus nerve which controls every system in our body and boosts the immune system and the happiness chemical dopamine
The Full Moon is a powerful time to let go of what no longer serves us. A time to clear out negative energy, old beliefs, past hurts, stuck emotions, and other clutter from our body, mind, energy field, and spirit.  Allowing us to begin anew with clear intentions and balanced energy. Come release, relax, realign, and balance the chakra's/energy centers, with the angelic tones of quartz crystal singing bowls, Tibetan bowls, and sound healing instruments such as chimes, gongs, monochord, reverie harp, metallophone, Freenotes, Sansula, specialized drums, and more.  Each chakra, or energy center in the body, is associated with a different frequency or note. Each of the crystal singing bowls is tuned to one of these corresponding chakra frequencies. You will be gently guided through releasing negative energy and balancing each chakra of your body. Quartz crystal singing bowls have both the power and potential of quartz crystal and sound. We know through digital technology that quartz amplifies, transforms, stores, focuses, and transfers energy. While the bowls are being played the group will absorb these angelic sounds and vibrations into every cell of their body. The sound of the bowls will entrain the brain to the alpha and theta brainwave states for optimum healing, balance, creativity, learning, and relaxed awareness. 
*Limited to 7 people
About The Presenter:
Barbara Spaulding, RN, BSN,
Certified Master Sound Healer,
Clinical Sound Therapist, Hypnotist,
Sound Healing Therapy Master Practitioner Teacher/Trainer
Ms. Spaulding has over 250 hours of training and 10 years of experience in Sound Healing Therapy. She received her certification from the Globe Sound and Consciousness Institute in San Francisco, California in 2012. She continued her studies with John Stuart Reid English acoustics engineer, scientist, and inventor of the Cymascope Pro, who has studied the world of sound for over 30 years investigating sound as a formative force and discovering why sound heals. Ms. Spaulding combines her years of training and experience in both Sound Therapy and Nursing to create a practice that is grounded in science, along with the physical, mental, spiritual, and energetic principles of sound, vibration, and music. Her sound therapy treatments are a groundbreaking combination of sound healing instruments and vibroacoustic sound bed therapy. She also has developed a cutting-edge therapy combining Sound Healing and Hypnosis. Barbara's own personal experience with pain led her to explore Sound Healing and its techniques. Through Sound Healing Therapy she has found natural pain relief, spiritual development, and a way to help others live better lives.
Prior to her career as a Certified Master Sound Healer and Clinical Sound Therapist, Barbara Spaulding received her Bachelor of Science with Distinction in Nursing from the University of Arizona. She holds an active nursing license in Florida and New York. Barbara has 40+ years of Nursing experience and 17 years as a Director of Youth Ballet Company and School in upstate New York. During her nursing career, she has worked with patients and students in many areas of medicine. She has also directed two government grants to train nurses who work with people with developmental disabilities. As a nurse, she has worked with many people with painful conditions, injuries, and syndromes. As a nurse and a former dancer, she is familiar with the body, its anatomy, and physiology, along with diseases and injuries. Ms. Spaulding is also a certified hypnotist and has been a student of Yoga Science, Meditation, and Relaxation Techniques. She is familiar with the Chakra centers of the body and can help her clients balance those centers. Ms. Spaulding offers private sessions, group sessions, Sound Healing concerts, lectures, and Sound Healing Practitioner Certificate Trainings. Ms. Spaulding is also a member of the Medical Sound Association working with Doctors, Scientists, Therapists, Sound Healers, and more to develop and standardize Sound Therapy treatments to use in hospitals and clinics throughout the world.
Because this is a small group this Sound Healing is very intimate and personal as if it were a private Sound Healing session.  Everyone has a lounge chair to lay down on in order to comfortably relax and absorb the healing sounds and vibrations. Bring your own blanket.
THIS EVENT WILL START PROMPTLY AT 7:00 PM. DOORS OPEN AT 6:45 AND WILL CLOSE AT 7:05.
***** Please watch for an email from me to follow, with directions and parking information.
Paid in advance when the reservation is made. Non-refundable unless the event is canceled. Space is limited to 7 people so reserve now!
Location: Stuart Fl, 34997, Address will be disclosed on ticket purchase
For more information or to reserve your spot call Barbara Spaulding RN, Master Sound Healer and Clinical Sound Therapist at Sound Healing.772-245-6515 
asoundhealing.com info@asoundhealing.com
New to Sound Healing and my practice? Please watch the Introduction to Sound Healing Video at Introduction to Sound Healing Video
All private therapy sessions include the amazing Vibroacoustic Sound Bed (VAT) as well as varied Sound Healing instruments including quartz crystal singing bowls. Book your private session with Barbara Spaulding RN, Master Sound Healer, Clinical Sound Therapist today. Gift certificates and discount packages are available. Book Online Now
Private small group events for your family and friends can also be booked. Limited to 7 people. Call 772-245-6515 to reserve your tickets or book a small group.