Description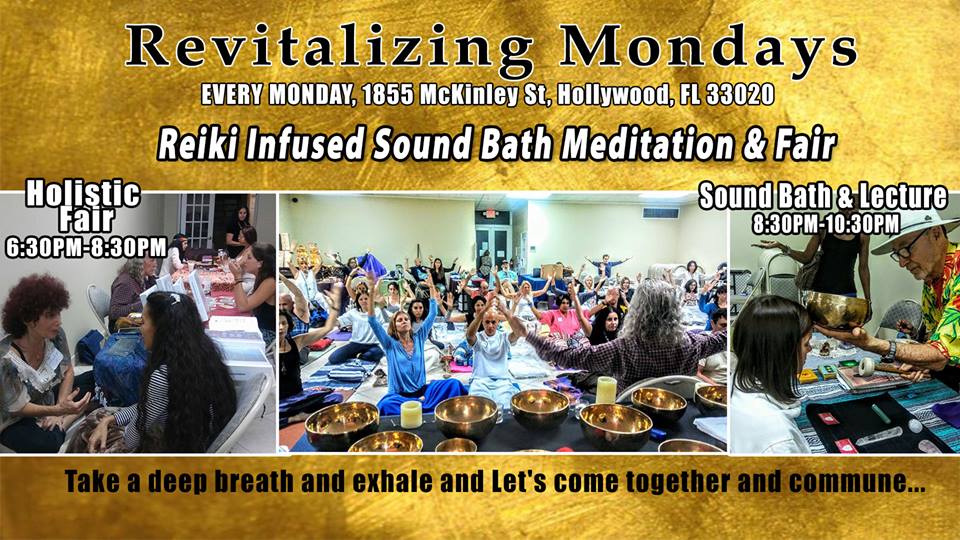 Guest Speaker, "Awareness of the Hara Dimension" Nancy Proano Dominguez
BRENNAN SCIENCE PRACTITIONER / ENERGY - SPIRITUAL HEALER
Come get pampered or receive answers and meet like minded friends at the Holistic Psychic Fair. Then Listen to our guest speaker, Followed by a Sound Bath.
Then take a refreshing deep journey through the healing art of sound. A Sound Bath is an acoustic sound healing journey that relaxes the body, clears the subconscious, calms the mind, and activates your body's natural healing systems.
Bring a yoga mat, blanket, pillow, and create your most comfortable space then lie down and let the cosmic vibrations wash away stress and all that no longer serves you
We use a wide variety of ancient sound healing instruments, including planetary tuned gongs, crystal singing bowls, Tibetan bowls, sometmes a Didgeridoo, Elfin and Zefir chimes and more to create a sound healing experience that will vibrate and activate every cell in your body, leaving you feeling refreshed and rejuvenated.
Sheri and her Sound Healing team create a chamber of healing vibrations, that quiets the mind, body and spirit leaving you feeling amazing.
Sound Healing is so effective because it influences our emotional bodies as well as our physical bodies. Different sound vibrations interact with our physical and energetic bodies in beneficial ways:
Activates Higher States of -Consciousness

Unlocks Blocked Emotions

Relieves Anxiety and Stress

Induces Complete Relaxation

Promotes Deep Meditation

Heightens Clarity

Improves Ability to Concentrate

Relieves Insomnia

Decreases Depression

Normalizes Blood Pressure

Relieves Physical Pain

Release Emotional Trauma
PART 1: Holistic Fair
Explore the Holistic Fair (free) from 6:30pm-8:30pm, (practictioners list below) then experience our incredible band of Angels playing a magical celestial vibrational Sound Bath ($10) for you to bliss out, meditate, relieve pain in your body, balance out your chakras and release blocked energy. We try to have a guest speaker, musician or Ceremony every week for added bonus!
HOLISTIC FAIR SESSION PRICES/PACKAGES:
$1 /minute
3 x 15 minute sessions for $40
3 x 20 minute sessions for $50
Part 2 : 8:45-9 -9:15 pm Guest presenter Monday October 23
"Awareness of the Hara Dimension" Nancy Proano Dominguez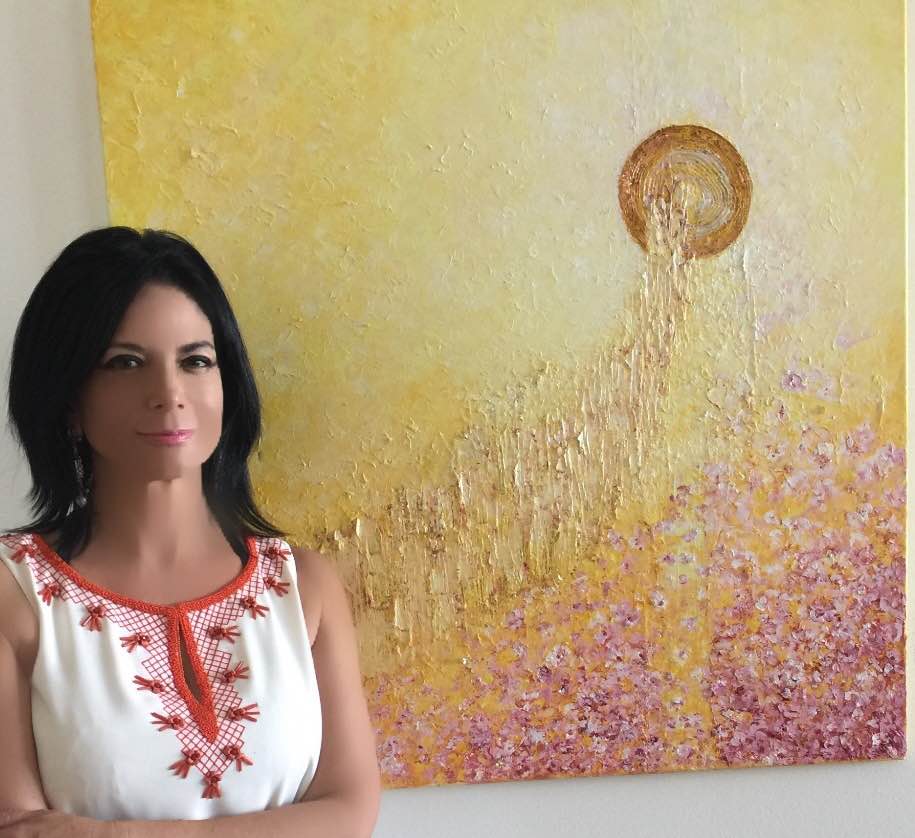 BRENNAN SCIENCE PRACTITIONER / ENERGY - SPIRITUAL HEALER
A PATH OF INNER AWARENESS LEADING US TOWARDS CHRIST CONSCIOUSNESS AS WE BALANCE LOVE, WISDOM, AND POWER WITHIN OURSELVES.
I would like to bring into awareness the Hara Dimension. Barbara Brennan introduced this in her books and is a fundamental practice among Brennan Healers.
In order to graduate from School we are required to hold our Hara Line for at least an hour and then we are required to be in Hara while we work on our client's Hara for an hour. We learn how healthy and powerful it is to live from the Hara dimension and it is from this dimension that we then work on aura/ chakras and physical dimension so Hara is the foundation for the Human Energy Field.
The purpose of becoming aware of our Hara is to align with our Life's purpose, to align the physical body and chakras.
The results of this alignment are effortless connection to Life's purpose, have more faith as individuals, back and physical alignment problems heal, and we are "on purpose" in Life. We begin to live in the dimension of synchronicity and effortless Intention in unison with the Universe. There is peace, stillness, open heart, faith, more vibrant chakras when we live in this state of consciousness.
To practice we stand up and become aware of the Hara Line and where it has distortions in our field and just correct them.

Born in Ecuador, She is an economist, artist, a practitioner of the E-lybra system which is bio-energy balancing technology. A Barbara Brennan School of Healing Practitioner and owner of SACRED BLUE ROSE
786) 521-6050, proanonancy@gmail.com, nancy@sacredbluerose.com, www.sacredbluerose.com
Facebook: Nancy Proano artist and Sacred Blue Rose, Instagram: nancyproano
Part 3 9:15 pm-10:00 pm, Magical SOUND BATH ($10)
Bring yoga mat, blanket, pillow, eye mask and friends.
(chairs available)
10:00 pm- Socialize, After party, shop, network, get grounded.
LOCATION:
1855 McKinley Street, Hollywood, FL 33020
(free gated parking- you can park on the grass too- please do not block the entrance)
COME PREPARED:
~ Bring a yoga mat, blanket/sheet, eye mask, and small pillow for comfort (you will be laying on the floor, bring anything extra to help you be comfortable if you have a bad back).
~ Bring your intentions and any crystals/sacred relics you would like to be charged.
~ Dress in layers so you are able to adjust your body temperature.
~ Eat a meal beforehand.
~ Bring an open mind.
MASTER LIST OF PRACTITIONERS CONFIRMED FOR HOLISTIC FAIR
Our talented holistic Buffet of Practitioners, Card Readers, and Consultants change weekly. Always recruiting new talent. Contact Sheri Kaplan.
~ Abbey Abigail Joy Poe- Soul Gazing Intuitive readings, Oracle Card Reader, Energy Massage
~ Angie Gonzalez - Regenerative Lifestyle Design Specialist, Thai Massage, Herbalist, Ayurveda Consultations. "Inspiring Inner & Outer Ecology Through Regenerative Lifestyles By Design"
~ Audrye Arbe "Omart"- Healer, Reader, Astrologist, Author and Raw Food Chef and Artist. She is a Light Energy Healer, Reiki Master, Ro-Hun Therapist, and Past-Life Regressionist and a born mystic intuitive and clairvoyant,
~ Claudia Stevens- Shamanic Energy Practitioner & Reiki Master and Tesla Adult Transcender Plates
~ Dr. Diane Elaine Bonardi- Aura Photography, Astrologist, Rune and Angel Card Readings, Reiki, Sound Healer
~ Donnareyna Donna Sessler- Intuitive Oracle Tarot Card Reader, Spiritual Gemologist, vendor
- Frank HealMaster Willis- Energy Healer, power stones, crystal massage, Sound Healer, home clearings
~ Franchesca D'Amore-Reiki Master, Angel Card Reader, Spiritual Life Coach
~Jeff Atwood- Medical Qigong teacher and Bodyworker, Rune Master, Musician, Founder & CEO of the healing ministry Revival for Religion
~Jeff Stearns- High Priest and Grand Master of the Children of the Light, Certified in Tuning Forks for Chakra Healing, Spiritual and Vibrational Healing, Energand in Healing the 7 Wounds and giving the Shakti, Shekinah and Wholeness Blessings. Free Chakra checks
~~ Jimmy Paul Silva Bazán- Shaman, Massage, Crystals, Energy Healing, Didgeridoo, Sound Healer
~ Lindsay Grace Sternberg - Numerology, Osho Zen & Destiny Readings
~ Melysa Mac- Reiki, Chakra Balancing, Laser Machine for Pain, Wellness Coach
~ Peter Sieber- Energy and Reiki Healer, Crystals, Archangel Gabriel Reader
~ Sahara Starr Rose- Tarot Card Reader, Psychic Medium
~ Sheri Kaplan - Free Chakra diagnostic, Sound Healer, Reiki Master, TESLA, Access Consciousness Bars, Healer, Organizer
~ Terri Iacobelli- Akashic Records Reader/Teacher, Reiki Master, Aromatherapy, Sound Healer
~Wendy Lewis- Energy Alignments, Infinity Healing, Infinite Love , DNA Light Activation, Awareness Alchemy, Parenting/Relationship Counseling & Conscious Creating, Spiritual Counseling
RSVP I'm going, Like, share
https://www.facebook.com/events/139448326656480/?ti=cl
Join Meet Up
http://www.meetup.com/SouthFloridaSound-Healers
Join Revitalizing Mondays Private Facebook Group
https://www.facebook.com/groups/1816803585214904
#sherikaplan #reiki #haradimension #singingcrystalbowl #manifestation #tibetanbowls #gong #energyhealing #meditation #soundhealing #shamanicmeditation #HolisticFair #psychicfair #reikicircle #tarotcards #didgeridoo #hollywood #spiritualevents #auraphotos #chakrabalance #hugs #love #spiritualcommunity #awareness #thingstodo #coloring #soundhealingbath #tarotcardreader #full moon #soundbath #revitalizingmondays