| | |
| --- | --- |
| Sound for Hollywood Blockbusters at January 11th's LAPPG Meeting | |
Event Details
Come ring in the new New Year with a meeting dedicated to the invisible art of sound for film with these two enlightening presentations:

HOW TO GET THE MOST BANG FOR YOUR SOUND BUCK!
Victoria Rose Sampson will help start off the New Year with an exploration of post sound discussing the various layers that create soundtracks. She will also discuss the importance of good location recording and how, if done incorrectly, can add significant costs in post.  In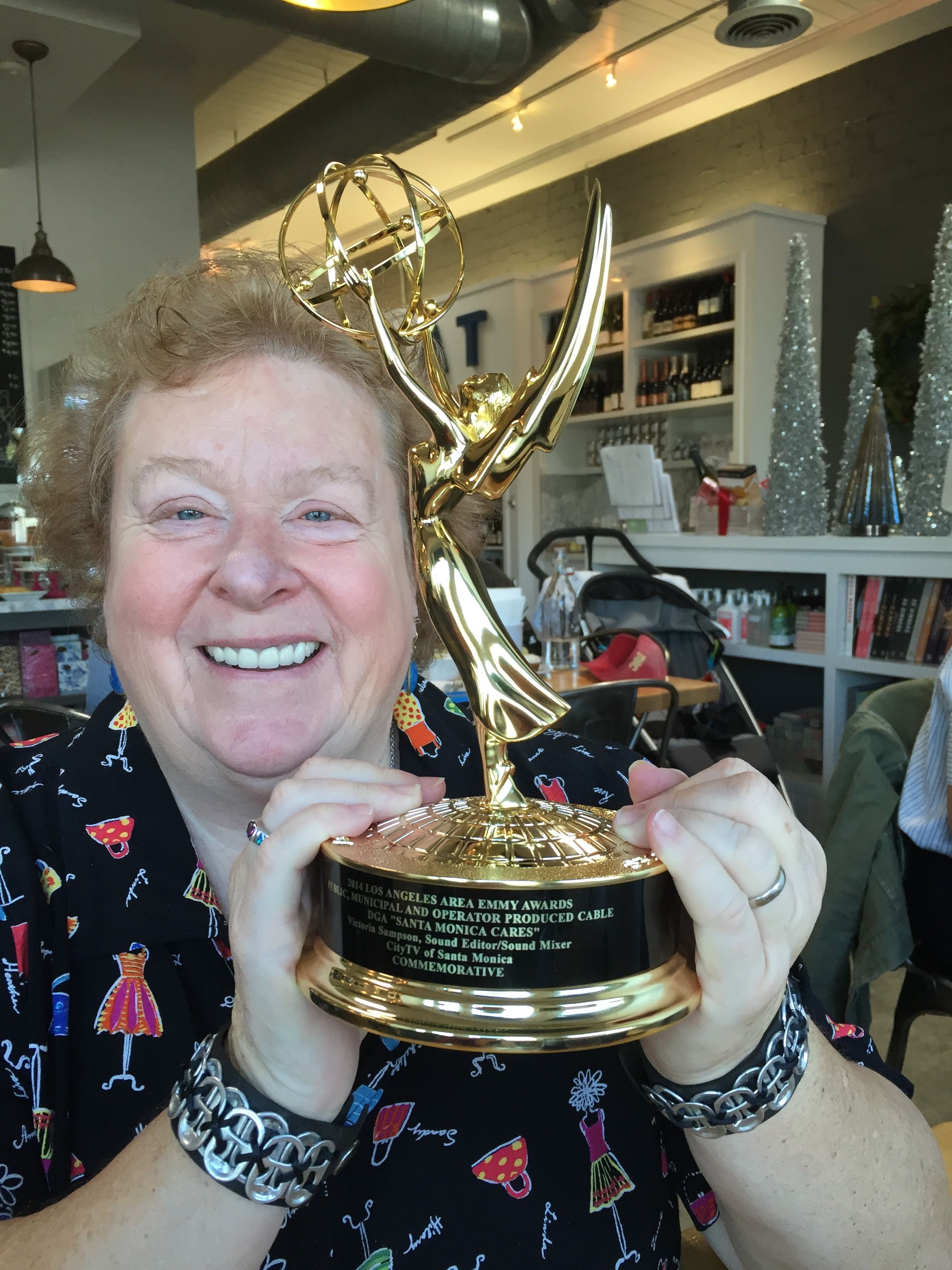 her 40-year career, Vickie has worked on some fantastic films including, Donnie Darko, Pirates of the Caribbean: Curse of the Black Pearl, Star Wars: Episode VI - Return of the Jedi and Speed, from which she will share with us scenes from her work on this Academy Award winning film. Specifically, she will take us through how she recreated the sound for the unforgettable bus scenes where she really worked her audio magic!
This is an amazing opportunity to learn from someone who has an incredible amount of experience including the 25 years she worked alongside her mother, Kay Rose, the first woman to win an Oscar for sound (The River). In addition to her own impressive sound career, Vickie is currently directing films including her current project Shelby's Vacation. The trailer can be seen here: https://vimeo.com/183218223
 

 SUPERVISING SOUND: THE ART OF PUTTING IT ALL TOGETHER
We're excited to welcome Supervising Sound Editor Mandell Winter to help us kick off this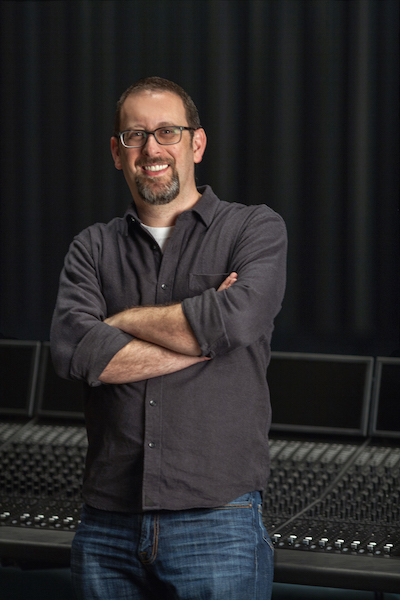 new year! Mandell will lead a discussion on the workflow and approach used on the feature film, The Magnificent Seven. He will take us through starting the project early, meeting and interviewing foley artists and mixers, the process of creating a library for the editors, recording black powder guns as well as some early loop group elements and working with changes, predubs and final mixing in ProTools with S6. This is a great chance to get the inside scoop on what it takes to create the soundscape for a big budget Hollywood action film.

Mandell Winter has contributed his talents as a sound supervisor and editor to more than 70 feature films. His most recent project was the Netflix Original Series The OA.  Other notable credits in addition to The Magnificent Seven include True Detective: Season 2 and Southpaw. Winter studied film production at the University of Colorado, Boulder, and began his career at The Post Group. He became a sound editor at Technicolor and further refined his skills with Wildfire Studios.  Mandell is currently working on a feature at Sony.
***As always there will be plenty of time to network, enjoy some coffee and participate in our great giveaway which includes thousands of dollars of amazing prizes from our generous partners!

$5.00 cash kindly requested at the door will include 1 giveaway ticket.
Location:

Roth Hall
1714 21st Street
Santa Monica, CA 90404
***Street parking is available as well as a Crossroads parking lot on 22nd Street.

Click for a map here.

---
GET YOUR MUSIC FROM AUDIO NETWORK FROM INSIDE PREMIERE PRO!


Audio Network's new Adobe Premiere Pro panel gives users seamless access to their extensive catalog of world-class, original music. Video editors can audition tracks in their edit with unlimited trial MP3 tracks downloaded straight to their bin. Once they find the music they want, the full-quality licensed WAV track replaces the MP3. This new integration saves editors time and energy by accessing incredible music without leaving the Premiere Pro suite.
If you're in the market for amazing new music to license, download the panel here: http://bit.ly/2hnuuNo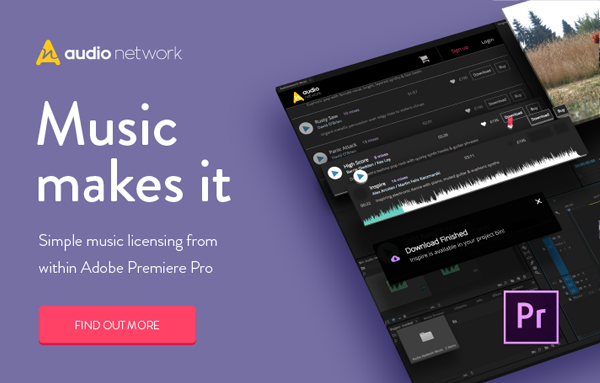 ---
 AT OUR LAST MEETING

6th ANNUAL LAPPG FOOD DRIVE
At our December 14th meeting the LAPPG community came together and donated 250 cans of non-perishable food items to the Westside Food Bank for those in need. A warm thank you to all our generous members who were able to give what they could this year to help fight hunger.
2016's LAPPG FOOD DRIVE FOR WESTSIDE FOOD BANK
---
THIS WEEK IN SOUND FOR FILM....
As you commit yourself to making your documentary this year, don't forget the SOUND! Take a look as LAPPG's Woody Woodhall explores this subject on ProVideo Coalition

's

28 Weeks of Audio. Here's an excerpt from the blog post:
Documentary Sound

Some Thoughts Regarding Audio for Docs
 28 Weeks of Post Audio - Week 8
#MixingMondays

Documentary sound utilizes all of the main elements typical to audio post – dialog, music and effects, however the application of those are very dependent on the type of documentary being made. Some are narrator driven, some are content driven, some feature sit-down interviews, others are run and gun candid scenes. Most are all of the above.
I've had the opportunity to work with many talented documentary filmmakers and their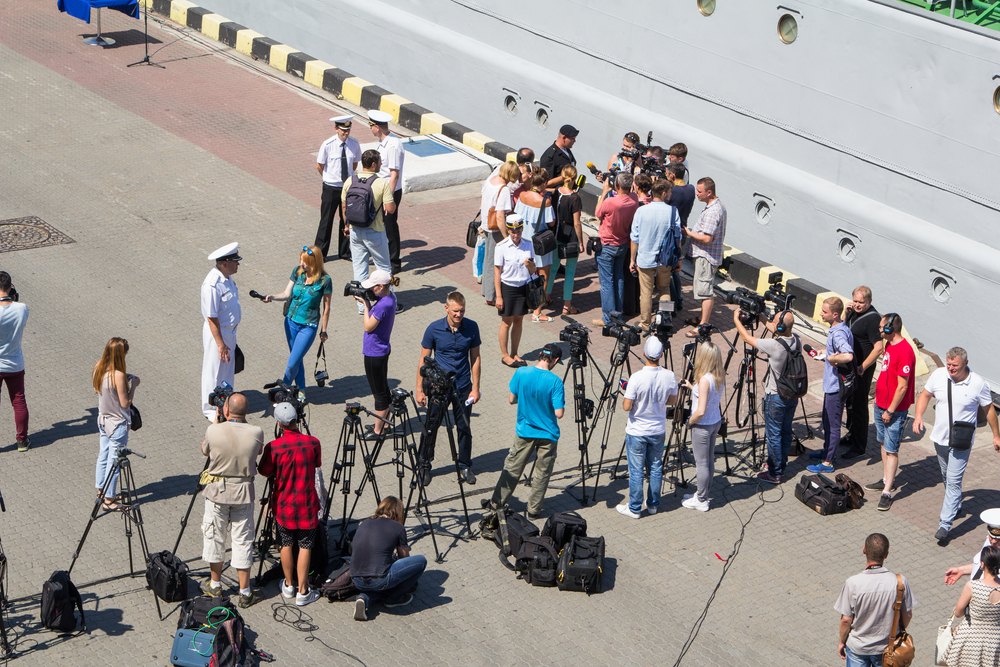 award winning films over the years. Subject matter has ranged from Auschwitz survivors "After Auschwitz" to two guys hitchhiking across the Sahara, "Hitchhiking to the Edge of Sanity", from the drought affecting farmers in the US, "Next Year Country", to the backstory of the creation of the "Best Worst Movie" feature film, Troll 2, to the children of Israel and Palestine, "Seeds" and many more wonderful true-life stories. Each project was a long time, labor of love, by the filmmakers. Each project was at least partially self-funded. And of course, each filmmaker wanted the best sounding film that was possible.
Often with docs, key moments are caught on the fly, a chance occurrence, or simply a happy accident.  Quality location recordings are imperative. I cannot over stress the importance of location recordings for a documentary film. For instance, you're shooting a hard hitting political doc about the military. You're with a group of others after a press conference, quickly following a General and trying to catch an answer he throws over his shoulder as he moves away from you. (Read More)

---
WHAT'S YOUR NEW YEARS RESOLUTION?
If you're like us then moving more and getting healthier may be on your list. To help us our friend Zack Arnold of Fitness in Post has invited all LAPPG members to join the 100% FREE '5X Challenge' and in just 5 days learn how to generate boundless energy, ignite your creative focus, and skyrocket your productivity (even if you have to continue sitting) following the simple system he developed while editing such hit TV shows as Empire, Burn Notice, Shooter, and Glee.*
*and he promises you won't need extra time to "hit the gym"
So sign up here for the '5X Challenge' which will run from January 9th - Janaury 13th and do something good for yourself!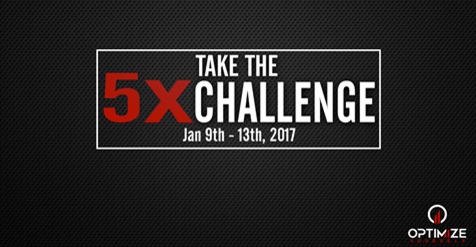 ---
MARK YOUR CALENDAR FOR THESE UPCOMING EVENTS:

January 9th-13th, 2017 - 5X Challenge (Online)
January 11th, 2017 – January LAPPG Meeting (Crossroads School, Roth Hall)

January 18th-22nd, 2017 - Editors Retreat (Nashville, TN)
February 8th, 2017 – February LAPPG Meeting (Crossroads School, Roth Hall)

March 8th, 2017 – March LAPPG Meeting (Crossroads School, Roth Hall)   
---
ATTEND EDITORS RETREAT WITH LAPPG DISCOUNT!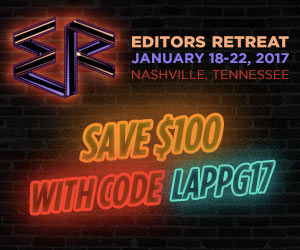 Editors Retreat is a five day, interactive event created for experienced TV, film and video editors. The event, taking place from January 18-22, 2017 in exciting Nashville, Tennessee, brings together industry visionaries to discuss and share the latest technologies, techniques, platforms, and workflows you should be applying to generate leading-edge work. Editors Retreat invites you to come get inspired by the experiences and knowledge of the speakers and your fellow attendees. At Editors Retreat, you are surrounded by like-minded professionals, who are as passionate and eager to learn and stay up with the latest trends as you are. Past attendees of ER rave about the event and look forward to it each year.

Editors Retreat is all about learning how to be the best at your craft. Attendees will have the opportunity to challenge themselves and enhance their skills in advanced skill-building training sessions lead by the industry's most celebrated editors. Plus, you have the chance to expand your professional network and build lasting relationships with members of this influential community.

Be sure to use code LAPPG17 to save $100. For more information and to register visit: http://editorsretreat.com/
---
SALE EXTENDED: SAVE 60% ON THE HYBRID LIBRARY 2017 UNTIL SUNDAY, JANUARY 8th
Due to popular demand, Pro Sound Effects' Hybrid Library 2017 is available to freelancers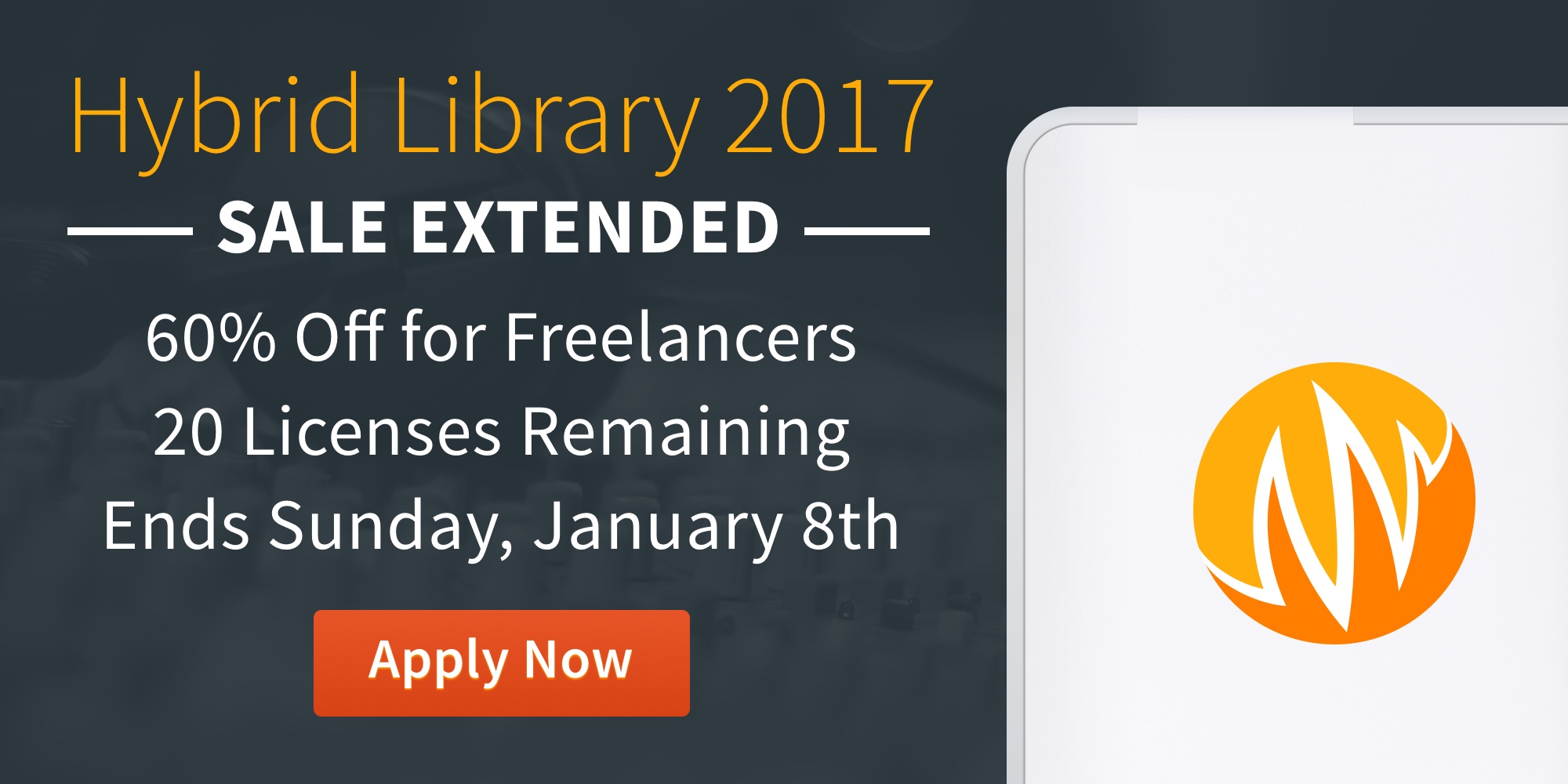 for over 60% off for five more days! Only 20 licenses are remaining through Sunday, January 8th.
Apply now for Freelancer Pricing at prosoundeffects.com/hybrid.  Use code: LAPPG.

 

---
---
We thank the following partners for their generosity and support of our monthly meetings. Please visit them:
Adobe, Advantage Video Systems, Art of the Guillotine, Audio Network, Blackmagic Design, BorisFX, Creative Handbook, Digieffects, Digital Rebellion, Focal Press, GoPro Entertainment, HDSLR Shooter, Imagineer Systems, Intelligent Assistance, iZotope, Mercury Production Report, Other World Computing,  Post Production Buyers Guide, Pro Sound Effects, Pro Video Coalition, ProductionHUB, Randi Altman's postPerspective, Shutterstock, Sorenson Media, Sound & Picture.
We look forward to seeing you on Wednesday, January 11th!
Sincerely,

Los Angeles Post Production Group
Please visit www.lappg.com for discount offers, job listings, industry news and more.
When & Where

Crossroads School for Arts & Sciences
Roth Hall
1714 21st Street
Santa Monica, CA 90404


Organizer
Los Angeles Post Production Group
The Los Angeles Post Production Group is a professional organization for people with a passion for film, video and the digital media finishing process.

The LAPPG discusses all aspects of post production, from picture and sound editing to color correction, visual effects, codecs, storage and post workflows.

Expert presenters and leading companies come to our monthly meetings and share new technologies, techniques, tools, products and best practices to aid us in telling great stories.
We also provide our members with great offers and discounts as well as opportunities to network and make industry connections.
Membership is free and you need not live in Los Angeles to take advantage of this great resource.
To become a member please email your name and information about yourself to membership@lappg.com.
Sound for Hollywood Blockbusters at January 11th's LAPPG Meeting