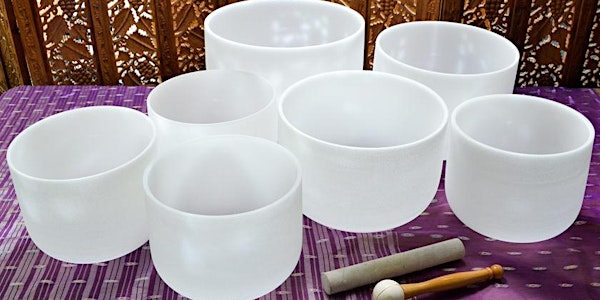 Sound Bath Meditation
An hour of relaxing and rejuvenating crystal tones.
When and where
Location
247 Walnut St 247 Walnut Street Brookline, MA 02445
Refund Policy
Contact the organizer to request a refund.
Eventbrite's fee is nonrefundable.
About this event
Taking just an hour to relax and unwind in a week, with no distractions, responsibilities or social pressures, is one of the most important parts of preparing your mind and body for achieving a state of flow. The sounds produced by the quartz crystal singing bowls I use are specifically designed to resonate with and activate different energy and chemical centers in the body and mind, and are an excellent way to facilitate the kind of relaxed mental state so highly sought after by those who would like to have more success in focusing on their goals and motivations.
Here, I provide a simple, down to earth, hopefully comfortable, and straightforward approach to a sound bath experience for those who can and want to benefit from it.
Bring a yoga mat if you have one ( I have a few extras though )and anything you need to be comfortable. I also have blankets for everyone to use as well, and I encourage you to silence your phones to ensure you won't be distracted during our meditation.
For thousands of years,and across the globe, people have used the power of sound to heal the body and ease the human experience. Science has now begun to catch up with this ancient framework of approaching healing and even the universe itself. The phrase "Everything is vibration" has almost become a cliche in our time, thanks to brilliant minds in physics and philosophy coming to vastly different conclusions about the quantum make up of our reality than classical physics has presumed up to this point. And now even in medicine there is talk of the future of pharmaceuticals being vibrational rather than chemical.
The reason for all this is the fact that treating the body as an electromagnetic being and using vibration to affect the body on its subtle levels of electromagnetic energy we are much more effective at treating the root of anxiety, depression, fatigue, and all the other matters of dis-ease that manifest on the physical level as pain, weak points in the body and mind, and chronic emotional patterns and behaviours.
Soundbaths provide a gentle and relaxing method of helping the body to release stuck and stagnated energy patterns in the biofield, which informs the health of the visible and experiential level of self, and fosters the formation and integration of new and healthy energy patterns to arise in their place.
Join us weekly, our Soundbaths are held in Brookline at 247 Walnut st. There is on street parking, and it is very easily accessible by the T as well! (Our space is in an old historic home, and can be a bit tough to find because the house is behind another house. Just follow the long driveway, and I'll have a sign to direct you into the entrance we're using).
I look forward to our time together!