Join us on The Roosevelt Rooftop Terrace for an intimate open-air setting sound bath meditation created by Torkom Ji.
About this Event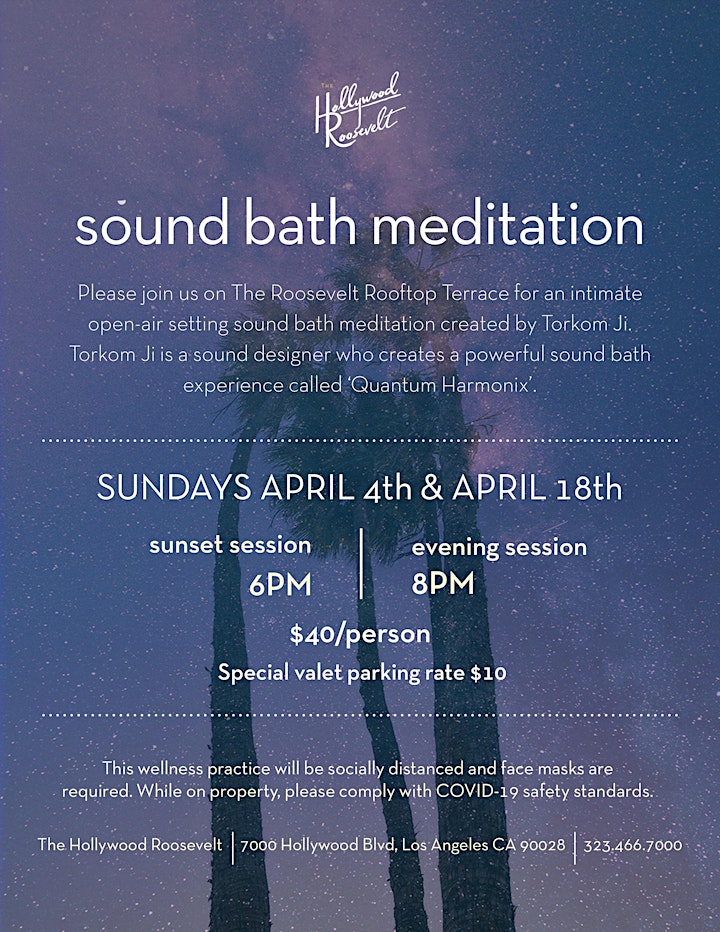 About this Event
During this intimate outdoor sound bath meditation, each guest will have their own socially distanced setting around the hotel's iconic rooftop terrace.
Torkom Ji is the founder of Quantum Harmonix, a 432Hz based healing sound modality. He has been facilitating group sound healing experiences since the summer of 2012 and has provided deep meditation and rejuvenation for thousands of people using his unique and powerful modality. His sounds have been experienced at various therapeutic sound spaces at many festivals including Lightning in a Bottle, Lucidity, Shakti/Bhakti Fest, Indigo Vortex, Long Beach Love Festival and more. Birthed from his studies of music, vibration, energy and the practice of meditation and martial arts; Torkom Ji has mastered and perfected a system that is known to put people in very deep states of consciousness, with little to no effort. Through the natural movement of these sounds, deep rest is achieved and the bodies own intelligence facilitates an elevated level of healing.
Where:
The Rooftop Terrace at The Hollywood Roosevelt
7000 Hollywood Blvd.Los Angeles, CA 90028
When:
Sundays April 4th & April 18th
Sunset Session at 6PM
Evening Session at 8PM
• $40 per person | Special valet parking rate $10• Face masks are required
• Advance Purchase Required, all sales final, no refunds
• Please arrive 30 minutes prior to start time, a host will escort you to your setting
• With the spring weather upon us, please feel free to bring your own blanket.
• While on property, you must comply with COVID-19 standards.
FAQ
1. Are there food and beverage available? No, but the Tropicana Bar & Café on the ground floor will remain open before and after your meditation.
2. What if I arrive late? Please check in with the host and they will quietly guide you to an empty setting.
3. How long is the Sound Bath experience ? The experience lasts just over an hour.
4. Is parking available? Yes, valet parking will be available at $10 per vehicle
5. Are pets allowed? No
6. What should I wear? Wear comfortable clothing, evenings may get chilly, so warm clothing is advised. Please feel free to bring your own blanket.