Description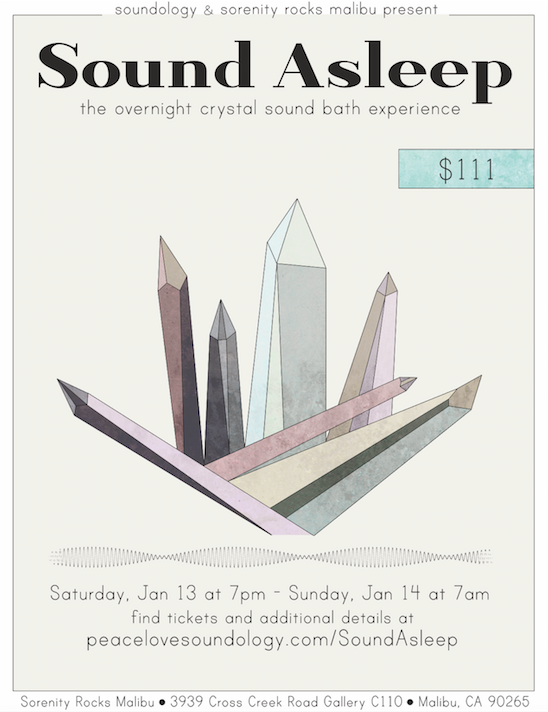 Manifest the 2018 of your "dreams" in this unforgettable overnight sound bath! (Yes - the sound bath lasts ALL NIGHT! Yay!) You'll sleep among the stunning museum crystals of Sorenity Rocks Malibu while enjoying the sweet serenade of gongs, crystal alchemy singing bowls, tuning forks, chimes, and more, lovingly and expertly curated by our team of certified Soundologists. You don't want to miss this. <3
SCHEDULE
(subject to change)
6:00pm - Check-In Opens
7:00pm - Welcome & Intention Setting Ceremony
7:45pm - 2018 Feeling Tone Meditation
8:30pm - Crystal Sound Bath
10:00pm - Sleepy Sound Bath begins
6:00am - Gentle Wake-Up & Morning Meditation
6:30am - Closing Ceremony
7:00am - Event Ends <3
The evening will begin at 7pm with a 2018 intention-setting ceremony and a feeling-tone meditation, followed by an active sound bath with crystals placed on and around your body to amplify the sound waves and release energy. At 10pm, the sounds will become quieter and more meditative to support your most deep and restorative Delta-wave sleep. 6am will bring a lovely morning meditation, followed by a closing ceremony that ends at 7am. Shopping for crystals, crystal jewelry, tuning forks and more will be available before and after the event. Check-in opens at 6pm.
IMPORTANT: This is a sleepover! Bring a yoga mat, sleeping bag, pillow, blanket, a refillable water bottle, snacks, and/or anything else you need to set up your most comfortable, supportive, creative, and inspired space (eg a journal, a meaningful keepsake or photo, a camping mattress pad, etc). Parking is free in the adjacent lot.
Follow along on Instagram @peacelovesoundology and on the Facebook event at https://www.facebook.com/events/159917584783334/ to meet the Soundologist players and the Sorenity Rocks crystals that will be part of your night. We can't wait to see you for this magical night!