Do What you Love, the Money will Follow!
About this event
You can support yourself from your creative gifts.
Are you like, "What? That's crazy talk! Sure I absolutely light up when I (insert your fab talent here). I've dreamed taking the leap for years, but how could I POSSIBLY get clients, build a business or make a living from that? Besides, I'm a Creative and I feel weird about monetizing my passion."
Here's the thing. All around the world, innovative thinkers are tapping into their precious gifts and birthing unbelievable products and services that inspire, beautify, heal and empower others. And they're having fun doing it.
Say it with me, "I deserve to do work that feeds my soul and incorporates my magic!"
Here are some ways creative entrepreneurs earn $$ from their gifts: teaching, tatoo art, coaching, baking, producing, acting, painting, drawing, gardening, event planning, dance, performing music, copywriting, DJing, massage therapy, Reiki, flea markets, photography, blogging, antiquing, voice over, pottery, calligraphy, design (interior/clothing/web/graphic), making signs, leading workshops or using your jazzy problem solving skills to invent a wild, game-changing solution.
Dreams. Reality. Dreams. Reality. How to find the middle ground?
Working for yourself is hard. You spend a lot of time alone. You have to wear many hats - idea generator, promoter, service provider, marketing specialist, accountant, CSR, copywriter, and of course designer of endless social media posts!
Wouldn't it be great if there was a place where you could GET SUPPORT around this whole journey (from somebody who has been there before and knows the ropes), and also receive feedback on your ideas from other powerful women who are out there crushing it with their imaginative ventures? There is nothing like working/learning/growing within a MasterMind group made up of those on a similar path. Your progress is accelerated by each others' wisdom and you feel motivated to push through your own challenges, knowing you're all in it together.
Welcome to the SoulWork Master Class for Creative Entrepreneurs. An interactive, educational, virtual space where you'll receive creative business tools for differentiating your offerings, understanding your UVP (unique value proposition), pricing your product/service, discovering who resonates with your work (target audience) and how to reach them (marketing). So, yeah, we'll discussTONS of pragmatic, real-life tools - all in a way that is fun, palpable, understandable and relevant to running your one-woman show:) We'll also explore the secret sauce that makes or breaks creative entrepreneurs: the importance of discipline, momentum and purpose. Without those, many of us would give up. Gotta know your WHY!
How it works: On top of our 6 incredible sessions together, you'll also receive two (30 minute) Deep Dive Sessions with me - Victoria Reeves - your SoulWork guide and Creative Path Coach. These one-on-one sessions will really catapult your learnings and allow you to focus more on your specific solopreneurship and creative ideas. For those seeking a more comprehensive experience with more individual coaching, there is also the VIP SoulWork Master Class offering which involves weekly (1 hour) coaching sessions along with the group classes (more on that below).
My story:
Many years ago, I read the book Do What you Love, the Money will Follow by Marsha Sinetar. Having just graduated from Beloit College, I was terrified about my future. Beloit had no "placement services" for mohawk-wearing, feminist writers who produced multimedia art experiences. But I needed a job. What was I supposed to do now? Buy a suit? Play golf? Be somebody else?
One thing I knew for sure: I longed to discover meaningful and prosperous work where I could share my kaleidoscope of creative skills. I needed to find my SoulWork.
Everything I had heard about working felt like a punch in the gut:
Work is HARD
It requires squishing one's unique talents into a job description
Employees have to sacrifice their souls for a paycheck
Passion projects can only be explored on nights/weekends
Most working people are too exhausted to pursue their passions
The message was loud and clear: it's impossible to bring our full selves to work. Especially if we're non-traditional, esoteric, gifted or independent. I rejected this with every fibre of my being. Reimagining prosperity, work, entrepreneurship, life paths and unlimited possibility, I have spent the last 20+ years discovering, testing, honing and teaching my clients how to curate rewarding lives that incorporate their true SoulWork.
How did I do it?
What followed was lots of travel, experiments in living and the creation of 15+ refreshing new solopreneurships including: a Japanese kimono pop-up shop, Immersive Cultural Arts Courses, Communications Consulting for International Executives, Outdoor Market Sales of my Empowerment Dolls, Production of the global Soul Stories Live Show, Founding the Creative Tribe Dojo Online series. Throughout these iterations, I also started a coaching practice where I have now worked with 500+ individual clients on discovering, identifying, believing in and actually finding/creating meaningful work that resonates with their souls.
To be honest, I rarely include my detailed backstory. But this is a MASTER CLASS. Sacred time with an elder who has gone before. When it comes to taking a tiny seed of an idea and knowing how to practically CULTIVATE and IMPLEMENT it into a real-life, profitable solopreneurship, consulting practice, performance/show, service, class or visual art offering - I have lots of hands-on, practical experience. I can show you how to do it - in a way that is fun, inspirational, step-by-step and workable.
This Master Class is a unique blend of optimistic momentum coaching + pragmatic business knowledge from an iconoclast who has been fully self-supporting for decades. I understand messaging, marketing, promotion, monetizing, branding, pivoting, staying relevant, reinvention, motivation, discipline, more discipline and the need for daily inspiration. I understand what it's like not to fit in any place that already exists. I can teach you how to conceptualize and build your own distinctive niche and then draw people into your offerings.
WHY NOW?
Due to COVID, ideas around the meaning/role of work are changing. The Great Resignation and transformational shifts in 2021 have launched a complete restructuring of where, how, when and why we do our work. People long to infuse their Calling into what they do for a living. No longer the purview of the independently wealthy, finding fulfilling work is considered primary for a well-balanced, satisfying and impactful life. Practing our SoulWork is also integral to leaving a legacy we can be proud of.
Our bodies, minds and souls need lives that celebrate all of who we are and work that draws prosperity for our distinctive gifts.
HOW IT WORKS:
Starting Wednesday October 13th, we'll meet 6 Wednesday nites to delve into these topics through our discussions, interactive exercises, journaling and more in our Virtual Master Class. We'll learn valuable tools for defining our Audiences, Offerings and Vehicles and brainstorming new, connected ways to share our incredible creative gifts with those who will appreciate them. We'll also Deep Dive into your distinctive goals through your 2 (30 min) individual coaching sessions before and after the Master Class. (more details below)
VIP Master Class Option:
If you'd like a more immersive, customized experience, please choose the VIP Master Class upon checkout. Catapult your learnings and progress through intensive one-on-one coaching targeted to your specific field, genre, goals and challenges. The VIP option includes everything above plus 6 additional (1hour) Deep Dive Coaching Sessions, held weekly throughout the course.
-----------------
MASTER CLASS DETAILS AND REGISTRATION:
WHEN:
6 Wednesday nights from 6:30 - 8:00pm CT (Oct 13, 20, 27 and Nov 3, 10, 17).
(6 Thursday mornings from 10:30am-12:00pm AEDT - ASIA PACIFIC participants)
You will also schedule 2 (30 minute) Deep Dive Sessions with me. In the "Pre", we will clarly articulate your intentions and map out micro-tasks towards your goals before entering the Master Class. In the "Post", we will celebrate your accomplishments upon completing the course and discuss what's next.
You'll schedule DD Session #1 before Oct 13 and DD Session #2 after Nov 17.
NOTE: The VIP Master class is the same schedule AND we will add 1 (1hr) Deep Dive Coaching session per week at a time convenient to both of us.
--------------------
WHERE:
The Master Class is on ZOOM. EventBrite will email you the link upon registration.
TELEGRAM Messenger APP:
We also use the Telegram Messenger App to communicate and have access to course materials through our private Telegram Group. Telegram is FREE and safe. You'll receive simple instructions on how to download the App on your phone or laptop. All Master Classes are recorded and uploaded to Telegram afterwards, along with pics, ideas, audio clips, inspirations, victories and more!
PRICING:
SoulWork Master Class + 2 (30 min) Deep Dives = $350
VIP SoulWork Master Class + 7 (1 hr) Deep Dives = $870
NOTE: Returning Creative Tribe Dojo Members will receive a $25 discount if you register by October 1st. Please DM me for the Discount Code.
Is this SoulWork Master Class experience for you?
Are you a Creative Solopreneur or Small Business Owner (writer, artist, producer, actor, massage therapist, coach, teacher or ???) who has been developing your respective craft for years now and feels ready to take it to the next level? Are you ready to get paid for your gifts - even the ones you don't know how to monetize? Do you want to be seen (and appreciated) on a wider scale? If your Muse is waking you up at night, telling you that there is something more and you need to do all you can to make it happen, this class is for you. If you feel like you have only gone so far with your business, project, idea, dream and need support around clarifying your purpose, messaging, audience, mission, pricing, or marketing - this class is for you. If you feel like other Creatives are getting noticed, but nobody is noticing what you have to offer, this class is for you.
Please join us if you are HUNGRY and want to do the work to get your name/message/offering out there. We'll gently explore what's holding you back and then try new ways of doing/being/thriving.
Meeting in a safe space of other visionary women who have committed to their process, guided by a Creative Path Coach who can bring out the best in you and keep you on track, you will flourish and gain massive clarity on your next steps.
Why is this a MASTER CLASS?
It's a unique opportunity to work with a Multipassionate Master/Creative Entrepreneur who has been out here hustling and living 100% from my art/creative ideas for over 20 years. No side jobs. No rich benefactor. No subsidies or grants. 100% creating and testing and trying and changing my offerings to adapt to client/audience needs. Reinventing and making something new, over and over again. Lots of discipline, commitment and coffee! Incredibly meaningful connection and joy and satisfaction from knowing that one's work is providing platforms for expression, inspiration for finding one's true SoulWork and practical support on how to make that happen for my clients.
WIFM (What's in it for me?)
Save yourself time and money while benefiting from my successes and challenges.
Learn how to answer these questions with confidence:
Can I incorporate my kaleidoscopic gifts into one (or more) business idea?
Who will resonate with and benefit from my unique offerings?
How can I find/reach my audience or tribe?
How can I sell something as abstract as a creative experience or object?
How can I confidently determine my pricing?
Will people pay me for these offerings?
Will it be enough to sustain myself (aka pay bills) over time?
What are new ways I can run my entrpreneurial venture?
Connect with other creative women entrepreneurs in a safe, supportive space where you will also be challenged to expand and grow!
------------
All fabulous and courageous participants must have a strong desire for transformation and CREATIVE METAMORPHOSIS to attend 🏵💥☀️🧡💮🧘🏽‍♂️🎧🌈🌟⚛️🎸
More fun stuff to explore:
CREATIVE TRIBE DOJO Facebook Group
EventPros Interview about Producing Soul Stories Live during the Pandemic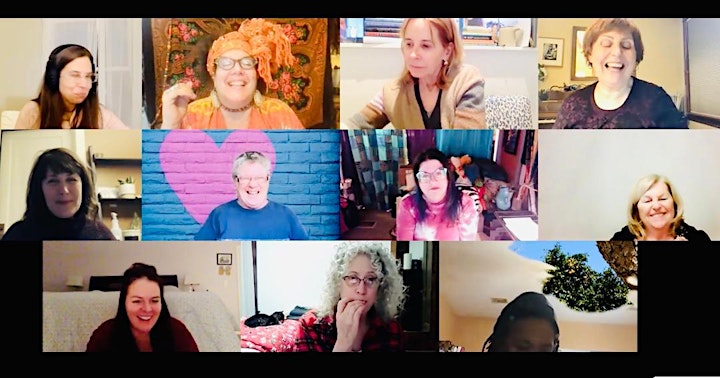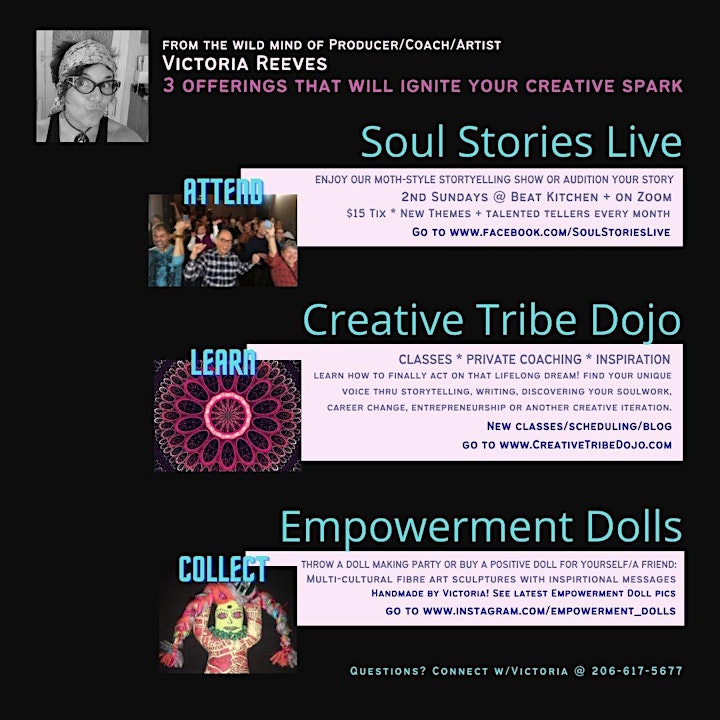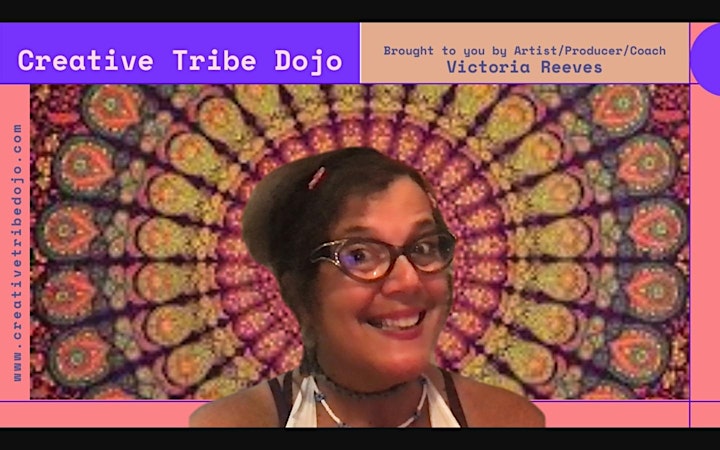 Organizer of SoulWork Master Class for Creative Entrepreneurs
"Soul Stories Live" (SSL) is a monthly storytelling/soul music experience featuring curated Moth-style Storytellers, Host/Storyteller Victoria Reeves and DJ Johnny Price. REAL people tell REAL stories on monthly themes, woven together by soulful tracks by Aretha Franklin, The Temptations, Ohio Players and more. As Producers, Performers and Educators, Johnny and Victoria bring 20+ years experience creating, producing and hosting sophisticated and engaging events in the USA and Japan. 
Victoria is a Writer, Professional Storyteller and Writing Coach, with many appearances at The Moth, StoryLab, Is This a Thing?, Inspired Live Lit, Louder Than a Mom, First Person Live and Soul of Evanston. Her Solo Show "Brassy + Intrepid" was selected by Lifeline Theater to be part of the 2020 Filet of Solo Festival. 
Johnny is a professional DJ/Music Producer, Poet, and Teaching Artist. He spins all varieties of Soul, House, and Hip Hop in venues across Chicagoland. A versatile arts educator, he teaches Hip-Hop Theater and DJ Skills classes for Urban Gateways, Street Level Youth Media in Wicker Park and the CPS Bernhard Moos Elementary School in Humboldt Park.

Dialed into the Chicagoland youth media, cultural arts and storytelling scenes, Victoria and Johnny curate an eclectic, ever-changing cast of gifted storytellers and spoken word artists each month as part of the "Soul Stories Live" show.

"Soul Stories Live" was created to foster a sense of CommUnity and a platform for people to connect through CREATIVE EXPRESSION. You will hear stories by people you may never have a chance to meet in the course of a normal day. One SSL show had a storyteller from Lake Forest and a Spoken Word Artist/Singer from 43rd and Halsted on Chicago's South Side. Fabulous! This is the synergy we are striving for each month - that place of shared humanity and real-time authenticity. #SoulStoriesLive