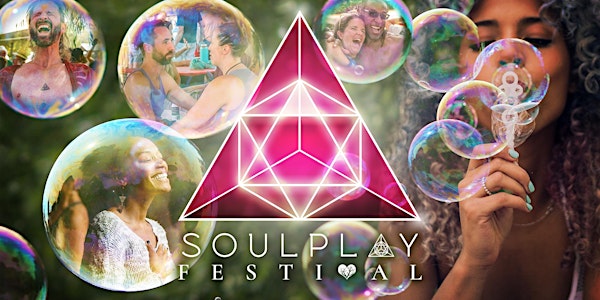 SoulPlay Festival 2022
SoulPlay Festival is 4 days focused on heart-opening connection, blissful dance, invigorating yoga, and incredible community.
When and where
Location
Mandala Springs - Wellness Retreat Center 14117 Bottle Rock Road Cobb, CA 95426
Refund Policy
Contact the organizer to request a refund.
About this event
Join us for SoulPlay Festival's 7th Anniversary!
SoulPlay Festival is 4 full days focused on heart-opening connection, blissful dance, invigorating yoga, and much more.
4 Days. 60 Presenters. 80+ Workshops. An All-Inclusive Experience.
SoulPlay is a 4-day immersive experience that encourages you to discover something new about yourself, and about how you interact with the world.
It's filled with classes and workshops on a variety of topics including dance, communication, personal growth, touch, sensuality, yoga, art and more!
SoulPlay is an alcohol and substance free event. It's is wonderful opportunity to practice being present, while connecting in community.
It's a sober, connected and playful environment. More than a party, SoulPlay is an opportunity to experience community in its aspirational form, where everyone is celebrated and supported as the unique beings that they are.
Join us in this experimental, low pressure environment where you can try out different ways of being, both with self and others, and decide at the end which you'd like to adopt and which to discard.
With your purchase you will receive:
- Admission to SoulPlay Festival 2022
- Full access to all live shows, ecstatic dance journeys, yoga sessions and workshops (subject to space limitations)
- Camping access
- Two meals a day (lunch and dinner)
- Access to pool area and hot showers
- Official SoulPlay 2022 T-shirt
- Friends and lessons that last a lifetime
- Additional surprises!
Car or RV parking permits are required and are purchased separately from your tickets. You must have an appropriate vehicle pass to enter the venue with your vehicle.
Your ticket does not include transportation and additional offerings such as snacks and beverages between meals, private massage treatments and private coaching sessions.
Covid Policy
After much consideration, we have decided to remove the vaccine requirement.‍ Testing prior to entry will still be required.
We reserve the right to change this policy in the future in response to new information coming to light. If we change our policy, we will always offer a grace period for refunds in the case that the new change makes it so you cannot attend.
Refund policy
You are always welcome and encouraged to transfer your ticket to someone else.
If this is not possible, and you feel you must cancel your ticket, our refund policy is as follows:
- 4 weeks or more before the event, we'll refund you 80% (until May 12th)
- Between 4 weeks and 1 week before the event, we'll refund you 50% (until June 2nd)
- 1 week before the event there are no refunds.
Any questions about refunds or tickets shall be directed to tickets@soulplayfestival.com