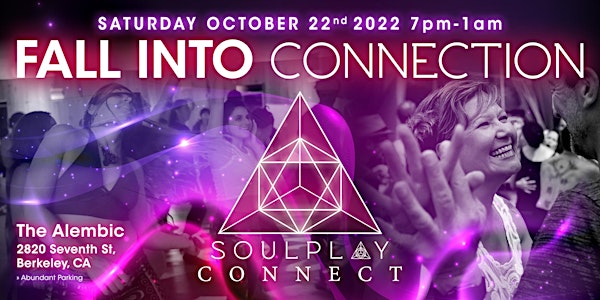 SoulPlay Connect 10/22 - "Fall Into Connection"
Join us for a unique fall gathering on October 22nd in Berkeley. A perfect SoulPlay mix of dance, sensuality and connection.
When and where
Location
The Berkeley Alembic 2820 Seventh Street Berkeley, CA 94710
About this event
THIS EVENT IS COMPLETELY SOLD OUT. NO TICKETS WILL BE AVAILABLE AT THE DOOR.
We invite you to "Fall Into Connection" with us. We will connect with ourselves, and one another on a multi-dimensional journey made up of sacred sounds, eye-gazing, touch, dancing and sexy explorations.
This is an opportunity to celebrate our sexy human-ness in a meaningful and playful way. As always, physical connection will remain at the "second-base" level.
Enjoy snacks outside, tea ,cuddles, and perhaps a massage in between. Perfect for people who enjoy having a lot of fun, while deeply connecting with new and old friends. ;)
You will not want to miss this one!
This event is created by the SoulPlay Festivals team to give you a taste of this festival's spirit of joy and connection. Come drop into your body, open your heart and let your true self-play among kindred souls. www.soulplay.co/
EVENING LINEUP
Front Room - "Playful Connection"
- Authentic Relating Games
- Connection Ceremony
- Flogging Class and Demos
- Sensation Play Station
- Playful Rope Play
Back Room - "Dance"
- Contact improv
- Playful DJ sets x2
- Sound Journey
Additional
- Tea Lounge
- Cuddle Spaces
- Donation-Based Massage
- Abundant Parking
- Sober and Playful
FOOD
TBD
TICKETS
Online sliding scale - $27-$47
There are 5 price options. Please select the one that best reflects your financial ability. Your generosity helps support those who are less fortunate.
If you are only able to join late (after 10pm), we have a Special Late Entry ticket for $20. This will only be available at the door starting 10pm.