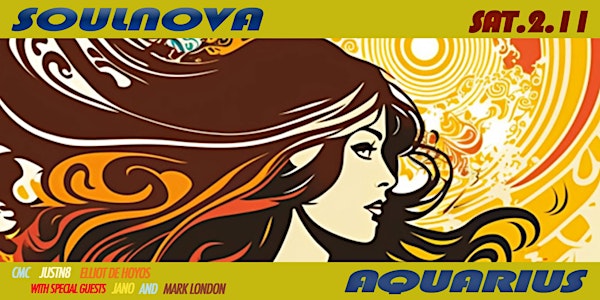 Soulnova: Aquarius
Aquarius party to celebrate Karyn's birthday and to give back, get down to raise funds for Mercy House a charity to helping the homeless.
When and where
Location
TBA main Santa Monica, CA 90405
About this event
Aquarius is the eleventh sign of the zodiac, and Aquarians are the perfect representatives for the Age of Aquarius. Those born under this horoscope sign have the social conscience needed to carry us into the new millennium. Those of the Aquarius zodiac sign are humanitarian, philanthropic, and keenly interested in helping others.
So with Aquarian love in our hearts, we bring you the first of many SOULNOVA events in 2023 beginning with a birthday celebration for our favorite aquarian Karyn and all aquarians!
Get your groovy clothes on and join us for a disco cocktail hour, along with a full dinner menu if you choose and dancing to follow. As always, this is a Give Back, Get Down event in support of causes and organizations that work to protect, heal and grow our community.
With that mind, net proceeds from this event will go to support Mercy House, an organization dedicated to providing housing and comprehensive supportive services for a variety of homeless populations. Their goal is Simple: To end the cycle of homelessness of those who enter our system of care. For more info please go to https://www.mercyhouse.net and please tell your friends to join us in celebrating Karyn's birthday as we give back to get down for good.
On the decks
SOULNOVA - Elliot DeHoyos | CMC | JustN8
with guests JANO & Mark London
About Mercy House
In 1988, Father Jerome T. Karcher met a young man who was living on the streets in an abandoned garage. He felt so moved by the young man's situation that he sought out a response to the local concern of homelessness. This was when he began Mercy House.
‍Now, thirty years later, we provide services to 1,500 at-risk and homeless individuals and families annually throughout seven counties in California and Arizona. What started as a dream to serve one of the most vulnerable populations in Orange County has now served over 100,000 homeless individuals.
‍Mercy House provides dignified housing and comprehensive supportive services to a wide variety of homeless subpopulations including, but not limited to, adult men and women, families, mothers and their children, veterans, chronically homeless individuals, persons living with HIV/AIDS, individuals overcoming substance addictions, and those who are both physically and/or mentally disabled.
For more info please visit https://www.mercyhouse.net