Description
SoulJours,
Let's roll into summer with a Hell to the Yeah!
It's training time! Let's kick summer off right with a full day of practice and play outside at SoulJour's Wembley Park Sanctuary, located next to a beautiful 55-acre wooded park in Lake Oswego. We'll move, meditate, and groove with some of the best teachers & musicians Portland has to offer. Align body, mind and spirit in a truly unique way like never before – in a private wooded setting, on flat, dry artificial turf with trees and birds to heighten the experience.
The day begins with a short silent walk through the woods and ends with live music and vegan fare. In between, we'll be guided along a soul journey back hOMe to remember our Selves. We'll touch every sense, push through new boundaries, meet new likeminded SoulJours, and leave with a shift in mindset.
Our evolution starts now.
We begin the morning with Cynthia Pedraza with Maria Olaya accompanying her on flamenco guitar, leading us through a spicy, yet slow, vinyasa flow to open us up as we find our Balance. From there, Hashim Hall will begin to burn us down just like the Phoenix bird in a training session fueled with Strength. Emily Baumann and The Taiko Drummers will then blow us away with their synchronized drumming skills as we peel away layers and reveal the heart center in an energizing vinyasa practice representing Abundance. We'll take a snack break and learn about all the cool endeavors in which Oregon Wild is engaged. From there, the divine Diana Hulet will guide us on a journey back to our Truth, the place where intuition and consciousness reside. Finally, SoulJour's founder, Ashley Melin, will take us on a self-reflection exercise to activate our purpose and assimilate all that we've learned. We'll complete the day with a fire ceremony in our traditional Indian fire pit
Then let's it all go and get our stoke on! Our after party Includes healthy organic vegetarian fare catered by Eatin' Alive PDX, vendors including discounted SoulJour gear, and a lawn to throw down a blanket and/or boogie on down to the band.

This is a benefit for Project Wild. Proceeds will be donated to their organization! Plus we'll have an open donation as well as a raffle. Help us reach our goal of $1000!
Schedule:
9:30: Registration and Chai / Tea (Uplands Elementary School)
10am: Guided Silent Nature Walk
10:30am: Welcome
10:30-11:15am: Balance Slow Flow with Cynthia Pedraza & Maria Olaya on flamenco guitar
11:30-12:15pm: Strength Training with Hashim Hall
12:30-1:15pm: Abundance Vinyasa with Emily Baumann & The Taiko Drummers
1:15-2: Break / Snacks / Oregon Wild Introduction
2-2:45pm: Truth Breathwork, Guided Meditation with Diana Hulet
3-3:45pm: Purpose Writing & Fire Ceremony Closing with Ashley Melin & Saffire Bouchelion
4-6pm: After Party Open House! Food + Marketplace + Live Music
---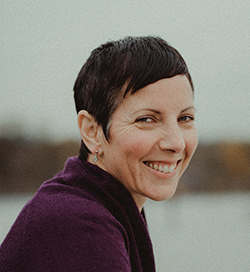 Diana Hulet
Diana began her study of mysticism at a young age with books by Thomas Moore and Deepak Chopra—gifts from her mother; meanwhile, her father gave her the gift of connection with the natural world. Thus began Diana's endless journey of weaving both the visible and invisible forces of life together. She took her first yoga class in 1990 as a college course and never looked back. Her knowledge of sanskrit, religion, and yoga philosophy is deep after nearly 30 years of personal practice, school studies, and teaching experience. She currently teaches seasonal practices, continuing education workshops, and teacher trainings throughout the Portland area. Read More
---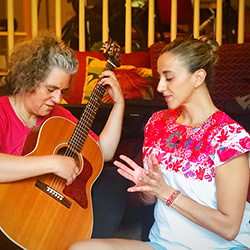 Cynthia Pedraza
Cynthia's Soul Journey began after graduating from college, when she left her homeland of Mexico and landed in Atlanta, GA where she decided to completely commit to her yoga journey. She began teaching shortly thereafter, teaching in local studios in Atlanta in both English and Spanish, looking to inspire students to connect body, mind, and soul. Cynthia later moved across the country to Portland, where she completed her Yoga Alliance 200-hour yoga teacher training and is now working on her 500hr with Jason Crandell. She currently teaches at Twist Yoga and The Bay Club. Cynthia is our local Lake Oswego resident favorite with her high vibes and colorful Latino aura that shines a mile bright. Read More
Maria Olaya
After studying for many years with the late Colombian Maestro, Ramiro Isaza MejíaI, Maria came to the United States in hopes of deepening her musical path. She finished a Master's degree in guitar performance, and moved to Minneapolis, MN where I performed and taught for many years. Later I moved to Corvallis where I had a thriving guitar studio. She recently left her academic job to be a full-time guitar teacher and performance artist. Read More
"For me, music has always been a means for genuine connection with others, a means to experience transcendence and connect to our humanness."
---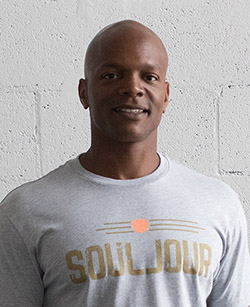 Hashim Hall
Hashim is the co-founder of SUGU Training and Head Coach of Tualatin Track & Field Club, which regularly sends kids to Nationals. Since 2004, he's dedicated his life to continually improving athletes to compete to the best of their ability. He utilizes current and well-developed methods centered around strength, speed endurance, and mobility/flexibility training. In doing this, SGU athletes and clients confidently break through performance plateaus and learn to cultivate a postivive attitude! Hashim gift is in making a disciplined workout a fun environment in which to grow. Read More
---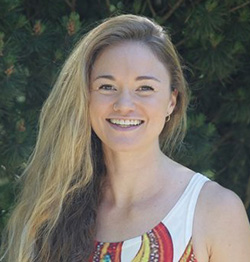 Emily Baumann & The Taiko Drummers
Emily teaches Vinyasa Yoga with a strong focus in alignment and fluidity in transition. She grew up dancing and ultimately received a BA in Dance from UofO. She found Vinyasa Yoga in 2008 and completed her 200-hr teacher training in 2011. She has since studied Ashtanga, Therapeutic Yoga and found a spiritual hOMe in Nichiren Buddhism. This is where she met her Buddhist drumming troupe, The Taiko Drummers. Emily has taught for 6 years now in the Bay Area, Los Angeles and Portland.

2017 brought many challenges; Emily's Dad has Alzheimer's, her best friend had cancer, among others. Emily's Yoga and Buddhist practices gave her the courage to follow her heart and move back to Portland to be closer to family. Emily helps students to see their truth and take action to do their best under the given circumstances. She teaches to awaken the highest in everyone and unite humanity through believing in the brilliance of our collective light. Read More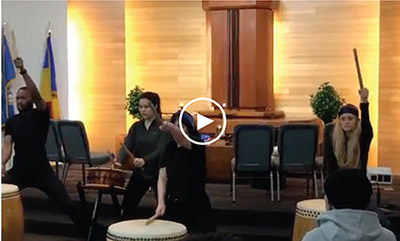 ---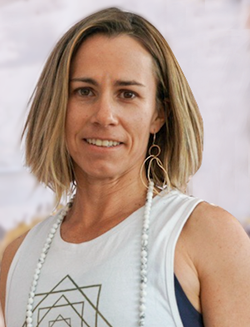 Ashley Melin
Ashley has been a daily practitioner of yoga, meditation, mountain sports, and fitness her entire life. In 2004, she traveled solo to India for the first time on a 3-month soul journey and has since taken hundreds of SoulJours to the magical chaos of India. In 2015, Ashley divorced the partner she had been with half her life. She dived deep into her meditation practice. It is through this deep connection to Source energy that the idea for SoulJour was born.
Mother of one 9-year old boy, keeper of two dogs, an avid mountain biker, climber, skier, fitness junkie, and graphic designer, Ashley understands that yoga encompasses all aspects of life – mental, physical, spiritual. Having experienced her own healing & transformation, it is her mission to share this knowledge in a uniquely creative and tangible way for all to experience. Read More
---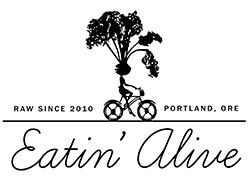 ---
Eatin' Alive & Paige Common
Detroit born and bred, soulful living inspires Paige: vibrant food, hearty laughter, and an active life. As a yoga instructor and elementary educator, Paige prepared plant-based foods in her Portland home, giving life to Eatin' Alive in 2010. When she's not working, find Paige sampling menus and relaxing in restaurants, surfing the coast, on forest trails and her yoga mat.
Eatin' Alive uses locally-sourced and quality foods in their unique recipes. This abundance is made available as grab-and-go in wholesale, grocery distribution, farmers' markets, and boutique restaurants. They are SoulJour's resident food partner because their food is simple, healthy, and oh so delicious!
---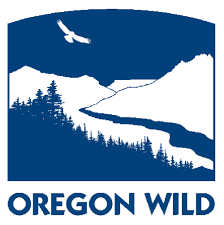 Oregon Wild has been instrumental in securing permanent legislative protection for some of Oregon's most precious landscapes, including nearly 1.7 million acres of Wilderness, 95,000 acres of forests in Bull Run / Little Sandy watersheds (to safeguard the quality of Portland's water supply) and almost 1,800 miles of Wild and Scenic River designations.

As a leader of the national grassroots charge for conservation of roadless areas in our National Forests, Oregon Wild helped secure administrative protections for more than 58 million acres of spectacular roadless areas across the country.

Our wilderness, old-growth forest and clean rivers and watersheds programs protect pristine drinking water, unparalleled recreational opportunities and fish and wildlife habitat across Oregon. With a staff of 16, including regional coordinators, Oregon Wild's strength is its active grassroots citizen network. Through the power of 5,000 members, nearly 6,000 e-mail activists and dozens of active volunteers, Oregon Wild works to maintain environmental laws, while building broad community support for our campaigns.
---
FAQs
Are there ID or minimum age requirements to enter the event?
No. Kids are welcome and under 14 are free!
What are my transportation/parking options for getting to and from the event?
We strongly recommend arriving at 9am at Uplands Elementary School for a guided 10 minute walk in to the sanctuary. Parking is extremely limited! If you are coming later, we encourage you to park at Uplands and take the walk in on your own. The path will be clearly marked with GOLD & WHITE balloons. If you must park, there is some street parking available on a first come, first served basis.
What can I bring into the event?
Appropriate clothing for being outside all day (pray for sun!), a yoga mat, a blanket for the music if you like, a journal/pen, and water bottle.
How can I contact the organizer with any questions?
truth@iamsouljour.com
What's the refund policy?
There are no refunds but you may give your ticket to someone else.
Do I have to bring my printed ticket to the event?
No, we'll have online registration.