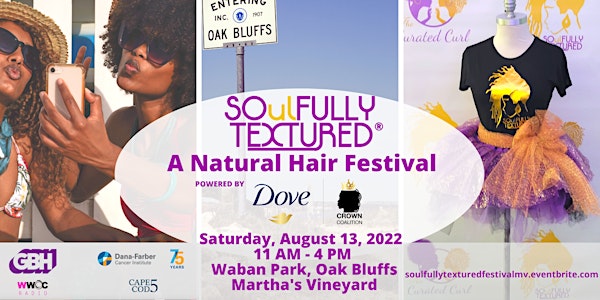 SOulFully Textured, A Natural Hair Festival
It's everything we love about our community, culture and natural hair, from the crowns & clothes we wear to the businesses we support.
When and where
Location
Waban Park 29 Tuckernuck Avenue Oak Bluffs, MA 02557
About this event
Join us on Martha's Vineyard for SOulFully Textured, A Natural Hair Festival! It's everything we love and embrace about the crowns that we wear, in a space that allows you to be who you are without question.The festival venue, Waban Park in Oak Bluffs, is just a few feet away from the popular Inkwell Beach. You won't want to miss this beach side, family-friendly festival that celebrates and illuminates the culture and the unique experiences of people of color who embrace their natural textured hair. The Festival features cultural conversations to understand that it's not, "just hair," a curated vendor marketplace of POC-Owned businesses, natural hair Q&As, lawn games, giveaways, curlfriends and more.
Panels
1. Creating Our Space: Navigating Natural Hair in The Workplace As Told By C-Suite Executives Moderated by Callie Crossley, Radio and TV Host/Commentator, GBH Boston
2. Breaking the Bias: Fostering a Culture that Eliminates the Pressure to Conform; Advocating for Inclusive Policies and Awareness for Natural Hair & Protective Hairstyles at School and Work. Moderated by Callie Crossley, Radio and TV Host/Commentator, GBH Boston
3. Healing Workshop by Gillian Scott Ward PhD
4. Natural Hair Q&A by Tamara Chin, Owner of Hair Raising MV
Curated Beats| The Legendary Chris Washington
SOulFULLY Textured, A Natural Hair Festival is presented by The Curated Curl®.
PLEASE NOTE THIS IS A NO SMOKING VENUE
For Sponsorship Opportunities, please email info@TheCuratedCurl.com
Click on the links for Vendor Opportunities or to Adverstise in the digital Festival Guide
Follow Us: Instagram | Facebook Group & Page | Twitter
Learn More: Website
REFUND POLICY: All tickets are Non-Refundable.
Kids 10 and under are free with a ticketed adult.
CHAIR POLICY: There are a limited number of chairs and seating throughout the venue. You are permitted to bring a lawn chair for additional seating options.
Pets Policy: Pets are not allowed.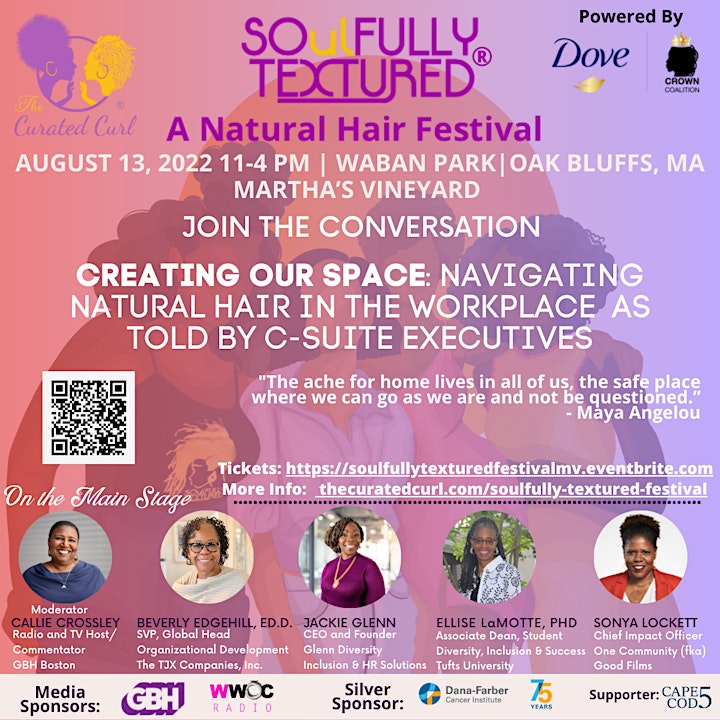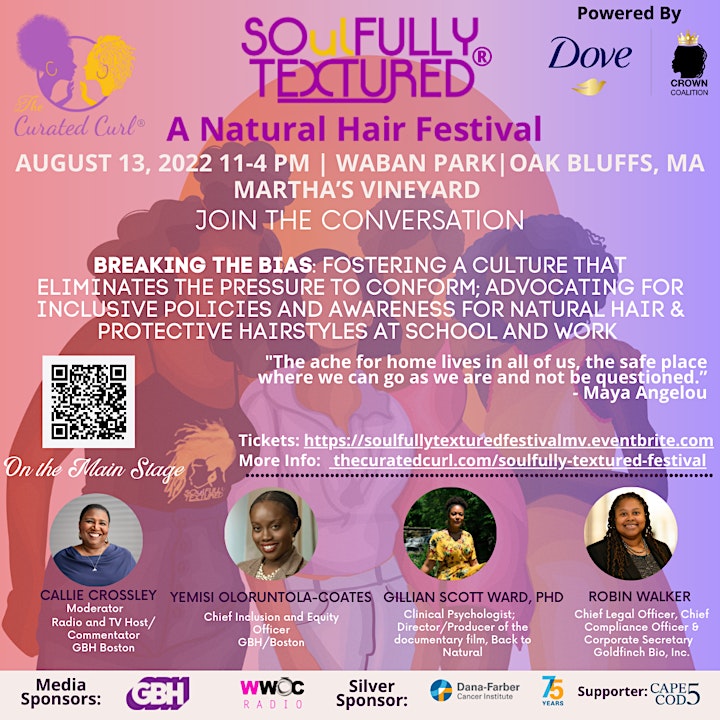 COVID Policy: You agree that you will not attend any Curated Curl event if you currently have symptoms of COVID-19, have been exposed to COVID-19 prior to attending and/or have tested positive for COVID-19 and have not completed the CDC recommended quarantine period.
At the present time, there are no restrictions placed on this Curated Curl Event by local ordinance nor state law. An email will be sent to all ticket purchasers if any new requirements are put in place by local or state authorities.
*NOTE: Per The Curated Curl's refund policy, there are NO REFUNDS OR ROLLOVERS due to any change in Covid regulations or restrictions. This includes any testing or proof-of-vaccination restriction that may be imposed by the venue, local, or state authorities. In the case of a date reschedule, your ticket will be automatically transferred over to the new date.
RECORDING NOTICE TO EVENT ATTENDEES
By attending this event by The Curated Curl, your attendance grants The Curated Curl, its licensees, successors and assigns permission to; (a) make any type of photograph or recording of you (the "Recordings"); (b) use the Recordings, or portions thereof, with or without your name, for any purpose including in connection with any of The Curated Curl's projects/events, or other projects (collectively, the "Projects") and to advertise and promote the Projects, The Curated Curl, its owners and sponsors; (c) exhibit, distribute, publish, make reproductions of, market, advertise, promote, license and/or sell the Recordings and the Projects, in whole or in part, and authorize others to do so, in all forms of media now or subsequently known or developed, throughout the world in perpetuity, without further authorization from, or compensation to, you or anyone acting on your behalf. You release The Curated Curl and its designees from any claims that you have or may have relating to the Recordings and the Projects. In addition, you waive and release The Curated Curl and assume all risk, liability and danger resulting from attendance at The Curated Curl's event(s) or any related activity and waive, release and covenant not to sue The Curated Curl, its owners, employees, vendors, sponsors or representatives from and for any and all liabilities, damages, costs and expenses arising from any cause whatsoever. This includes but is not limited any damage, theft or loss of property or earnings, as well as any death or injury or damage to any person within the premises of The Curated Curl's events or any related activity.