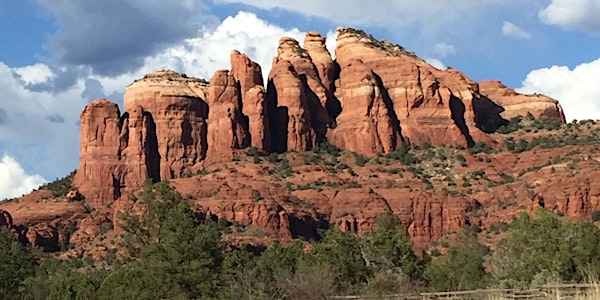 Soulful Journey Retreat -Sedona -Grand Canyon -
When and where
Location
TBA Grand Canyon Sedona, AZ 86336
Refund Policy
Contact the organizer to request a refund.
Description
Soulful Journey, Sedona, & Grand Canyon, AZ. Retreat
Wisdom seekers, passionate souls, heart driven leaders,
healers, mentors, and spiritual teachers.
Step fully into your life purpose --- and make the contribution that you are here to make --- Allow your focus to become crystal clear and confidently manifest your dreams?
Embrace and expand your spiritual gifts

Live more purposefully, while taking care of you

Impact the world with your authentic awesomeness

Have more freedom to do what you are called to do
If you are searching for your soul tribe who will understand and support you...

If you long to linger in the transformation energy of one of the Earth's greatest votex centers in the world...
If you are ready to step into your personal power and peace of mind...
Please join us for -A Soulful Journey Retreat, Arizona!
Join: Angel Therapist & Soul coach Maria Peth Ph.D
For this life-affirming retreat. Last year was such a huge success, we are more excited than ever for this year!
What to Expect:
Zen out in the energy of Sedona!

Experience the incredible views of the Grand Canyon!

Expore a Transformational hike through the canyon

....

(based on phyical ability)

Dive deep into

traditional nature experience.

Enjoy genuine and authentic connection with the red rock nature, crystal and vortex energy, and join in meditative practice with others of like mind and heart.
Whether you are just beginning your soulful journey or are on top of your game, you will find this retreat will meet you just where you are, and take you to the next step on your life path.

Sessions and presentations:
Empowering you for the coming of Golden Age
Self-Love & Extreme Pampering
The Consciousness of Soulful transformation
Explore the Grand Canyon!
Experience Sedona's powerful vortex energy.
The mystical energies of Sedona will amplify your ability to gain clarity, set your intention and call your dreams into manifestation. In the magic of Sedona, you will release all thoughts, feelings and beliefs that no longer serve you so you can step fully into the power of your soul. Sedona is long known for its spiritual connection and magnetic ability to transform. The beautiful red rock temples are the perfect place for soul-nourishing work as they inspire personal growth and a deep connection to your true self. The breath taking views of the Grand Canyon is sure to awe and inspire your transformation.
Retreat fees includes: Comfortable overnight accommodations, based on dbl occupancy, A hardy daily breakfast, welcome dinner, a Grand Canyon Tour adventure, and all transformational retreat programs taught and directed by your host, Maria Gurney Peth PhD
Does not include airfare or transfer to Retreat center. Retreat personnel not responsible for your travel arrangements to and from Sedona retreat center. Please arrange to arrive before 4:00 pm on March 31st, 2017 for our welcome dinner session. Please plan your departure after 11:00 am on April 4th, 2017. (Phoenix Sky Harbor International airport is a 2 hour drive to Sedona, AZ) (Phoenix Mesa airport is a 2.5 hour drive from Sedona, AZ.) Believe me, you will definately love this soulful journey experience.
More about your Host:
Maria Gurney Peth PhD, is an author, social psychologist, spiritual teacher, angel therapist and soul coach, In high demand for her ability to connect with the angelic realm. Maria has worked with thousands of satisfied clients in personal consulting sessions, life affirming workshops and retreats. People are drawn to Maria's genuine sincerity and natural intuitive abilities. Her sessions are "spot-on".
Maria is passionate about empowering you to your full potential and helping you to awaken to your soulful gifts. Her retreats and workshops promise inspiration, healing, and personal growth. Soulful Journey, is among the best of retreats and workshops Maria has hosted in her 17 years as an Angelic Soul coach.
Join Maria for this unforgettable and life affirming retreat!