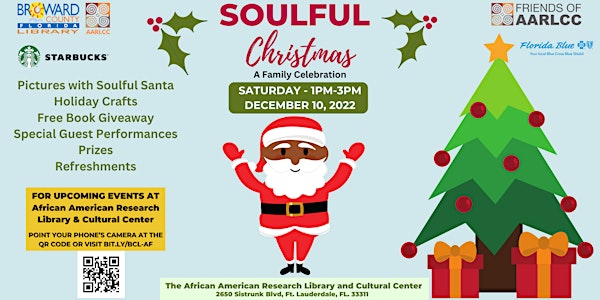 Soulful Christmas
Santa is making a stop at AARLCC, Youth under 18 can take a pic, get treats, make crafts, enjoy the choir, enter a Christmas Karaoke Contest
When and where
Location
African-American Research Library and Cultural Center 2650 Sistrunk Boulevard Fort Lauderdale, FL 33311
About this event
Yo-ho-ho! It's Christmas Time at the Center! To celebrate, we've asked Black Santa to make a special stop here to bring some Soulful Joy and take pics with all the children. Santa is busy so he will only be here for a few hours. Don't miss this special chance to tell Santa what YOU want for Christmas! Oh but that's not the end of the fun! Enjoy the festive sounds of the Nova High School Choir and satisfy your creative spirit in two Make and Take craft sessions. Continue the celebration and enter our Christmas Karaoke Contest! Youth ages 18 and under will receive a Take and Make craft kit, sweet treats, and a new book for your home library! This event is for the entire family and we want to see you there!
For additional information on the program, call 954-357-6282.
About the African American Research Library and Cultural Center
The Broward County African American Research Library and Cultural Center (AARLCC) is located in the Sistrunk community, one of the oldest historically Black communities named for one of Fort Lauderdale's first Black physicians. Opening to the public on October 26, 2002, AARLCC became the third public library of its kind in the United States dedicated to the study of Black history and culture. The 60,000 square-foot Center serves as a repository of materials related to the local, national, and international voices of the African diaspora with more than 85,000 books, manuscripts, artifacts, framed art, print, photography, audiovisual, and documents held in our Adult Services Section and Special Collections. The Youth Services Section features a special collection of Coretta Scott King Award books and the Ashley Bryan Art Collection from illustrators of African Descent. AARLCC also features a 5,000 sq. ft. museum, a 300-seat state-of-the-art theatre, and a Computer Training Center.