Sorry, the promotional code you entered has expired.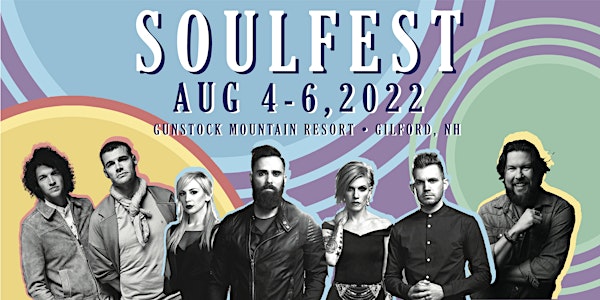 SoulFest 2022
ALL AGES
New England's Largest 3-day Christian Music Festival
New England's largest Christian music festival, with acts spanning multiple genres and workshops that restore your soul and help you grow!
Date and time
August 4, 2022 · 9:15am - August 6, 2022 · 11:59pm EDT.
Location
Gunstock Mountain Resort New England's Largest Christian Music Festival 719 Cherry Valley Road Gilford, NH 03249
Performers
Headliners
Skillet
for KING & COUNTRY
Zach Williams
More Performers
Crowder
We The Kingdom
We Are Messengers
Peter Furler
Colton Dixon
Anne Wilson
Evvie McKinney
Katy Nichole
Seventh Day Slumber
Oh, Sleeper
Remedy Drive
Spoken
Ben Fuller
VOTA
Gable Price and Friends
Dan Russell
Saved by Skarlet
Collington
Ryan Tremblay
Right Hand Shade
Justin McRoberts
Paul Colman
Sarina Heroy
ØM-53
Bob McCarthy
James Montgomery
Jeff Senour & Called To Serve
Boiling Point
Derek Minor
Jon Keith
1K Phew
Caleb McCoy
About this event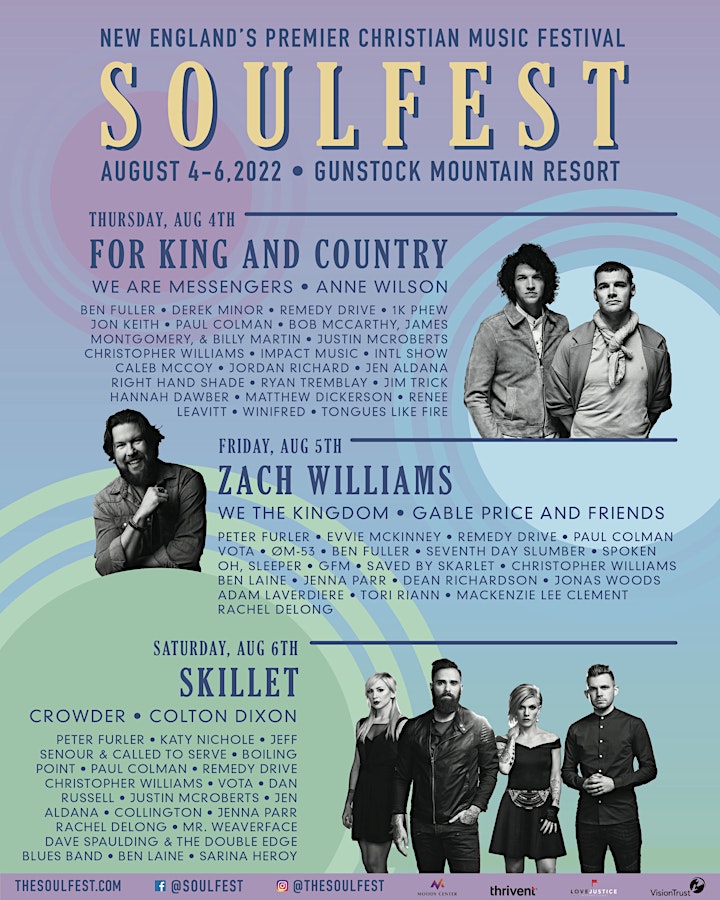 Celebrating Music, Love & Action - the SoulFest, will be held August 4-6, 2022 in the picturesque mountains and lakes region of Gilford, New Hampshire at Gunstock Mountain Resort. Gunstock provides an idyllic setting for this one-of-a-kind celebration gathering 8,000 attendees and more than 100 artists and speakers. As New England's largest Christian music festival, SoulFest has become a summer staple to numerous families throughout the New England area. Read more...
Ticket pricing is tiered and increases as each level sell out - Buy early to save!
There are 500 early bird Multiday tickets at $120. The next limited quantity batch is $135, followed by $150, $175, and $200 at the door.
There are 500 early bird Single-day tickets at $55. The next limited quantity batch is $60, followed by $65, and $75 at the door.
Camping & Lodging are purchased separately (info below).
Discounts:
Enter the code before selecting tickets where it says Enter Promo Code in blue.
Children 6 and under attend free, simply select the FREE CHILD ticket.
Youth 7-12 are 50% off the multi-day price, select the Youth Ticket.
Seniors get 15% off with the code: SENIOR_62+
Veterans and those in active service receive 15% off with code: MILITARY
Groups of 10+ get $10 off the current multi-day rate, select the Group option.
What is the refund policy?
There are absolutely NO RETURNS, REFUNDS, or EXCHANGES. SoulFest is a rain or shine event.
PDF Tickets:
YOUR TICKETS WILL BE E-TICKETS (PDF VERSION). WE DO NOT SHIP TICKETS. We do ship upgrades until 2 weeks prior to the event. If you purchase within 2 weeks of the festival, we'll hold them at the Box Office - Will Call onsite.
Scenic Chair-Lift Rides:
There is an additional cost for chair lift rides to the mountain top stage. This can be purchased onsite through Gunstock Mountain Resort staff at the chair lift. Single-day or full event passes are available. Attendees are permitted to hike to the top and avoid the cost.
Where can I stay?
What are my parking options at the event?
There is parking for over 3000 cars at Gunstock. Come early to get some of the closest spaces for you and your group. All on-site campers must leave their car at their site to save room for commuters. All parking is $15 a day and will be available for purchase on-site upon arrival. There is a FREE lot 1/2 a mile from the festival grounds with a shuttle to the festival entrance/box office. VIP Parking is a 3-day pass only. The VIP Parking Lot is a smaller, limited capacity parking lot located at the apex of the festival grounds between the main gate and main stage. It has its own gate to scan in through, which means shorter lines.
What can/can't I bring to the event?
No coolers larger than 15" x 10" x 10" (L x W x H) will be allowed at Soulfest. Coolers can be soft or hard coolers. Any coolers larger than these specs will be required to stay in one's vehicle. There is re-entry to the festival.
Blankets, chairs, small tarps, & umbrellas may only be placed in designated areas. Any items placed in a restricted area will be removed by Festival staff. Any personal items left overnight will be brought to Lost & Found. Please be respectful of those around you as to not obstruct the view of the stage.
Amateur photo and video cameras are permitted at SOULFEST. However, professional camera equipment is not permitted – this includes tripods, cameras with removable lenses, etc. All photos must be taken from the audience. Video recording of entire performances is prohibited. These policies are designed to protect the Artists' rights and will be enforced.
No Weapons.
FAQs
www.thesoulfest.com/faq
www.thesoulfest.com/lineup
www.thesoulfest.com/schedule
For Questions Call 978-346-4577 or email boxoffice@thesoulfest.com.
About the organizer
New Sound Concerts is a non-profit concert promoter that has been putting on concerts and festivals thorughout New England since the late 1970s.  For questions call: 978-346-4577 or go to www.thesoulfest.com