Location
Ocean's Ten
960 Ocean Blvd
Miami Beach, FL
Description
The 3rd annual Souleil in Miami returns to South Beach to join in the 30th anniversary of the Winter Music Conference.
featuring Souleil residents
DJ ALA
Omar Paraiso
Mikeytown
along with special guests
Marques Wyatt (DEEP, LA)
Lars Behrenroth (Deeper Shades of House, LA)
Mr. V (Sole Channel, NYC)
Hector Romero (Def Mix, NYC)
Mark Di Meo (King St., Italy)
jojoflores (peopl, gotsoul, Montreal)


In association with Media Services NYC, Ocean Drive Sessions, Ocean's TEN, Fusicology, West Coast Soul Events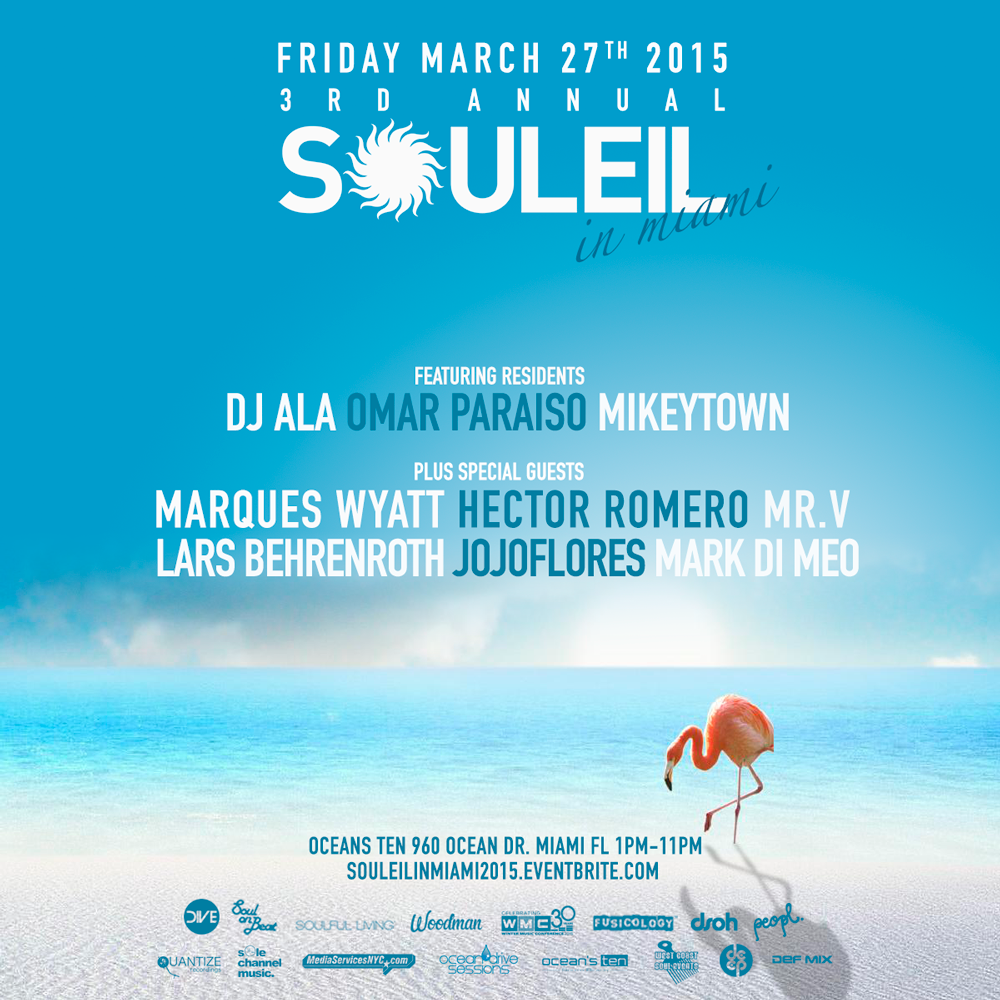 This year your mobile device joins the party thanks to the latest in ultra stylish slim protective cases from Speck Products! Arrive early to claim your own, available while supplies last!
What started as an intimate day party has become the Sunday Funday summer hangout in San Diego. Souleil is a soulful mix of house music under the sun powered by resident DJs ALA, Cris Herrera, Mikeytown, and Omar Paraiso. Now approaching its fifth season, this weekly celebration begins at the end of April and runs through September.

Souleil is proud to have previously hosted such talent from around the globe as: Roy Davis Jr., King Britt, Diz, Marques Wyatt, Fred Everything, Lisa Shaw, jojoflores, Alix Alvarez, Sabo, Luca Bucchetti, Doc Martin, Hallex M, Franky Boissy, Julius Papp, LeftO, Oscar P, Lars Behrenroth, Del+Dirty and more. It also gets support from hometown heroes Halo, Paul Najera, Lil Ryan, Ele, Trev1, Paluka, Larry Gamboa, and many more talented DJs that help keep the house music community thriving in San Diego.

Serving up pitchers of sangria and a day full of house music, Souleil promises fun under the sun from San Diego to Miami!