Description
In association with Media Services NYC, Ocean Drive Sessions and Ocean's Ten
The infamous Souleil party returns to South Beach to spread some San Diego sunshine on WMC featuring a family of talent that have blessed the decks at Souleil over the years!
DJ ALA (Souleil, DIVE, San Diego)
CRIS HERRERA (Souleil, Soul On Beat, San Diego)
JOJOFLORES (gotsoul, Peopl, Montreal)
HALLEX M (United Music, Hong Kong)
DJ ZO (gotsoul, Globe, Montreal)
RAFAEL MORAES (Yoruba, Brasil)
KEITH EVAN (Mi Casa Holiday, Cranky Owls, LA)
DEL (DYWB, 5Mag, Philly)
JULIUS THE MAD THINKER (Mi Casa Holiday, 3 Degrees, Chicago)
HELEN TING (Kazukuta, Hong Kong)
MARK DI MEO (United, Italy)
Free to all WMC 2014 badge holders.
Set times:
12pm Zo
01pm Del
02pm Helen & Mikeytown
03pm Hallex.M
04pm Julius tMT
05pm Ala
06pm jojoflores
07pm Rafael
08pm Cris Herrera
09pm Keith Evan
10pm Mark Di Meo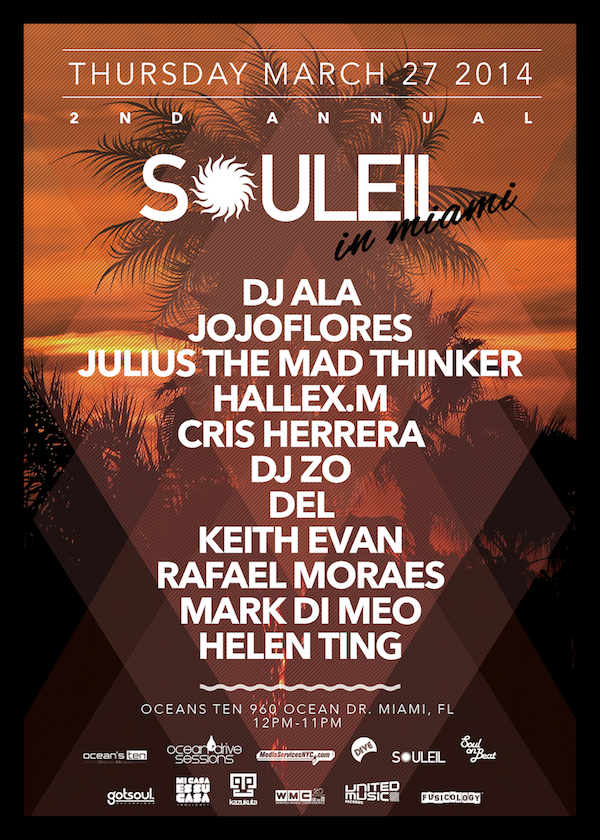 What started as an intimate day party has become the Sunday Funday summer hangout in San Diego. Souleil is a soulful mix of house music under the sun powered by resident DJs ALA, Cris Herrera, Mikeytown, and Omar Paraiso. Now approaching its fourth season, this weekly celebration at Bourbon Street begins on Memorial Day weekend and runs through mid-September.
Souleil is proud to have previously hosted such talent from around the globe as: Roy Davis Jr., King Britt, Diz, Marques Wyatt, Fred Everything, Lisa Shaw, jojoflores, Luca Bucchetti, Alix Alvarez, Sabo, MasterKev, Hallex M, Franky Boissy, Julius Papp, LeftO, Oscar P, Lars Behrenroth, Del+Dirty and more. It also gets support from hometown heroes Halo, Paul Najera, Lil Ryan, Ele, Trev1, Paluka, Larry Gamboa, and many more talented DJs that help keep the house music community thriving in San Diego.
Serving up pitchers of sangria and a day full of house music, Souleil promises fun under the sun from San Diego to Miami!
Organizer of SOULEIL in Miami during WMC
DIVE has been a tireless purveyor of house music in San Diego since 2004, holding regular and special events that provide a non-prentitious haven for those aficionados who simply want to dance and feel house.
Now in its regular weekly night home at Air Conditioned Lounge in the North Park area of San Diego, DIVE is home to its founder and resident DJ ALA along with co-resident Mikeytown and has featured regular guests including such luminaries as Marques Wyatt, jojoflores, Roy Davis Jr, Lisa Shaw, Alix Alvarez, Mark Grant, Nickodemus, Julie McKnight, Sabo, Diz, and more. In 2008, DIVE San Diego first brought its vibe to WMC Miami and has cultivated a solid presence in the deep house community of the conference ever since.