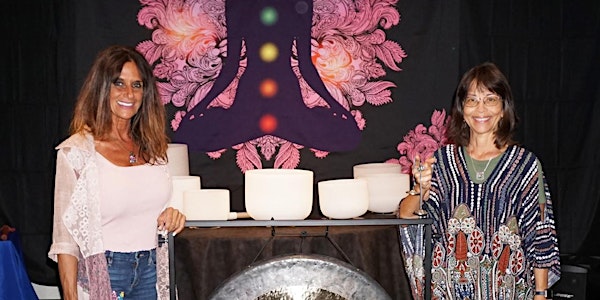 Soul Soothing Sounds
Experience an evening of Soul Soothing Sounds, igniting & amplify that feel-good feeling while reducing anxiety.
When and where
Date and time
Wednesday, August 18, 2021 · 6:15 - 8pm EDT
Location
The Elliott Museum HI Mindfulness Forums 825 NE Ocean Blvd Stuart, FL 34996
Refund Policy
Refunds up to 1 day before event
Eventbrite's fee is nonrefundable.
About this event
Soul Soothing Sounds - a new event!
Please join sound meditation practitioners Deena Rahill and Doreen Poreba as they take you on a peaceful journey into sound from 6:15-7:30 p.m. on Thursday, April 1, in the Elliott Museum's Forum room. This is no April Fool's joke! Rather, this sound healing experience will help soothe your soul, balancing your mind, body and spirit and bringing you into a state of healthy resonance.
Deena Rahill and Doreen Poreba both have certifications in the practice of sound therapy. They describe these sessions as "meditative acoustic sound concerts." Sound therapy helps us move from higher frequency to lower frequency brain waves, leading into a profoundly restorative state, which activates the body's system of self-healing.
Sound Meditation is the practice of "re-tuning" the human being back to ideal frequencies through a universal physical and biological principle known as Sonic Entrainment. The human body knows what feels harmonious and tunes into what is needed during meditation. Through the process of entrainment, these sound vibrations bring us back into a harmonic balance of our actual physical and emotional well-being.
During the event, participants lie down (please bring a yoga mat, blanket, pillow and wear comfortable clothes) and are bathed head to toe in sound vibration — it's an ethereal experience. You will come away with a clear mind and a deeper appreciation for the wonder of sound. We strongly recommend this event for people who have trouble meditating or feel like they just "can't get there." This is a powerful moment for you to unwind yourself, raise your consciousness, and enter a blissful and mindful state.
• The effects of the experience may continue long after the session. Many participants have reported noticeable emotional benefits, including removal of stuck emotions, igniting your creativity, deep relaxation, clearing emotional blockages, pain relief, and more
As human beings, we take in an overwhelming amount of information every day. It could be physical, emotional, spiritual, or all of the above. Whatever the source, absorbing so much takes its toll on your body and mind.
It's normal to feel uncomfortable or skeptical of any new experience. Diving into an inner world might even sound scary. It's important to remember that a sound bath experience is different for every person, so there's no need to go in with any expectations.
The effects of the experience may continue long after the session. Many participants have reported noticeable emotional benefits including:
Removal of stuck emotions
Cleared energy blockages
Removal of brain fog
Rebirth of creative insight
An overall feeling of peace
The experience is highly recommended for people who have trouble meditating or quieting their minds.
$45 per person .Pre-register on this Eventbrite page.
Space is limited and tickets must be pre-purchased to attend.
Location: The Elliott Museum, 825 NE Ocean Blvd., Stuart, FL 34996
Please arrive between 6 p.m. and 6:20 p.m. to get settled in. The event will begin promptly at 6:30
Please bring a yoga mat, blanket, pillow, sweater or whatever you need to be comfortable.
Chairs will be provided for those who do not wish to lie down.
For more information, please call Organizer Deena Rahill at 786-488-7782.
This event is non-refundable unless the event is canceled.
About the organizer
Creator and Founder of HI Mindfulness Forums:
Hi Mindfulness Forums provides a wide variety of high-quality mindfulness modalities to elevate, enlighten, and bring awareness and joy to all the hearts we touch. Our clear intention is to assure that our offerings have a profound effect on the growth of consciousness and love in the community we serve. Most of our events are held at The Elliott Museum,
825 NE Ocean Blvd. Stuart, Florida 34996
If you have any questions please contact the host Deena Rahill at: 786-488-7782