House of Juella's presents in-person "Soul Rejuvenation Circle" with Intuitive Reiki Master & Scared Shamanic Priestess Julia Jovone
About this event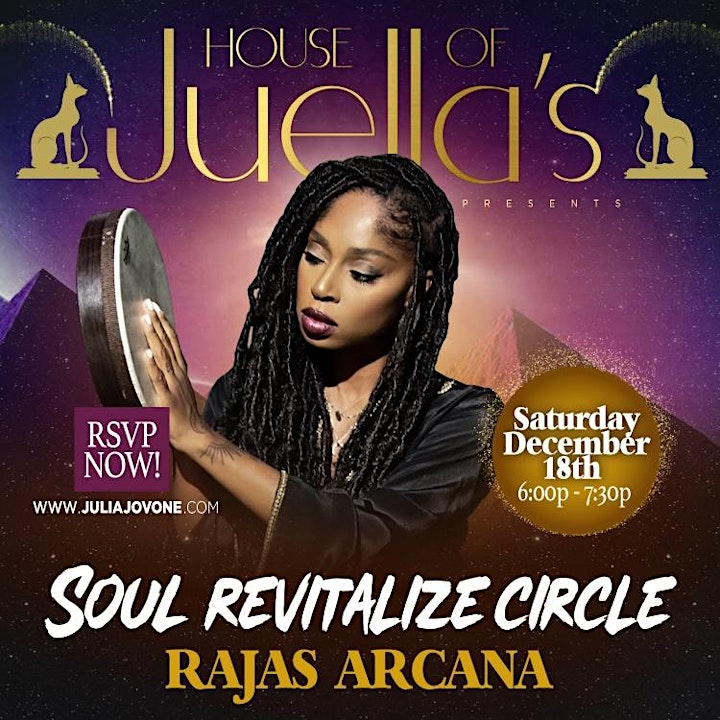 Soul Rejuvenation is where Julia Jovone combines all of her gifts into one, unique session guiding you towards living your harmonious life: Intuitive healing, pranayama/ breathwork, meditation, reiki healing, sound healing, body movement with essential oil to skin also included. Together, they cultivate a transformative and nourishing empowering experience to help heal and rejuvenate the mind, body and spirit. The blends of all these modalities can help bring to light conditioned thought patterns, energetic blocks and emotional burdens to help clear them.
Soul Rejuvenation can reduce stress, anxiety and heavy tension by delivering you a great sense of inner balance, peace and harmony. You will leave the group session feeling much lighter, released, healthier and more empowered knowing why.
GENERAL INFORMATION
- Date: Saturday December 18, 2021
Time: Arrival window is between 5:30- 6:00pm
Location: The address will be emailed upon purchase of ticket. This event is held outdoors.
- street parking
WHAT TO BRING
– Pillow for your head (if needed for comfort)
– Bottle of water
– Journal and pen
-Blanket to keep warm
-Yoga Mat to lay on this event will be outdoors
Please dress warm or bring sweater or blanket as the weather get cooler towards the evening.
What is Reiki?
Reiki is a Japanese technique for stress reduction and relaxation that also promotes healing. It is administered by "laying on hands" and is based on the idea that an unseen "life force energy" flows through us and is what causes us to be alive. If one's "life force energy" is low, then we are more likely to get sick or feel stress, and if it is high, we are more capable of being happy and healthy.
The word Reiki is made of two Japanese words - Rei which means "God's Wisdom or the Higher Power" and Ki which is "life force energy". So Reiki is actually "spiritually guided life force energy."
A treatment feels like a wonderful glowing radiance that flows through and around you. Reiki treats the whole person including body, emotions, mind, and spirit creating many beneficial effects that include relaxation and feelings of peace, security, and wellbeing.
What is Pranayama?
Pranayama is the ancient practice of controlling your breath. You control the timing, duration, and frequency of every breath and hold.
The goal of pranayama is to connect your body and mind. It also supplies your body with oxygen while removing toxins. This is meant to provide healing physiological benefits.
The goal of pranayama is to strengthen the connection between your body and mind.
Benefits include:
Decreases Stress
Improves Sleep Quality
Increases Mindfulness
Reduces High Blood Pressure
Improves Lung Function
Enhances cognitive performance
Can't wait to see you!
Happy Love to you all!
Julia Jovone