About this Event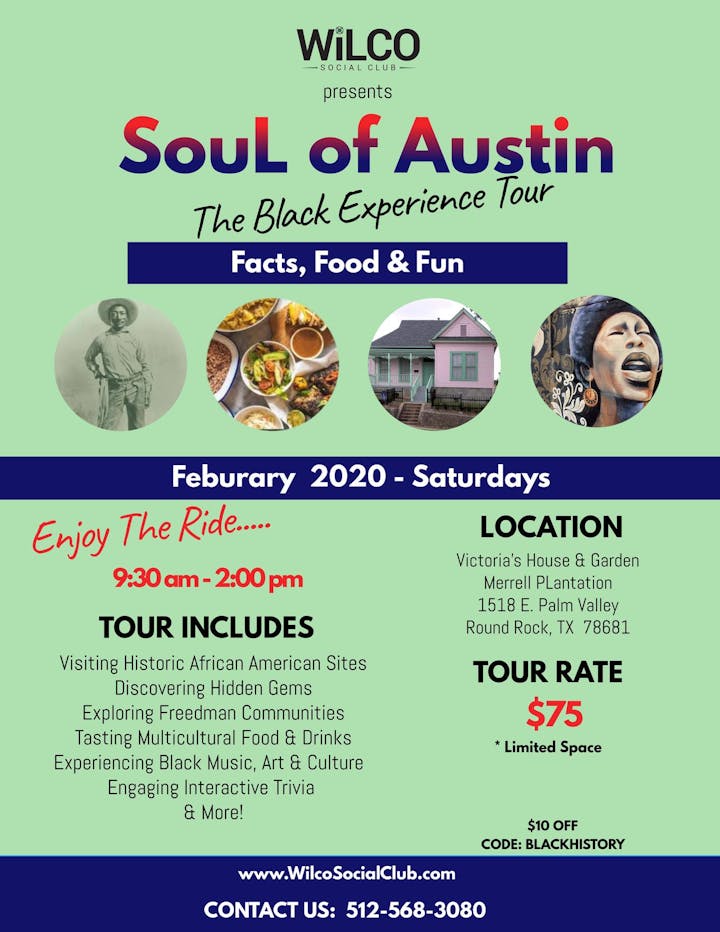 Soul of Austin: The Black Experience Tour
Celebrate Black History month by experiencing the rich African American heritage and culture right her in the Austin area. Join us for an unforgettable and interactive bus tour of some of the area's most historic African-American landmarks, hidden gems and local businesses.
Loading Time: 9:30 am
Tour Time: 10:00 am - 2:00 pm
Start/End Location :
Victoria's House & Garden, 1518 E. Palm Valley. Round Rock, TX 78681
Tour Includes
Visiting Historic African American Sites
Discovering Hidden Gems
Exploring Freedman Communities
Tasting Multicultural Food & Drinks
Experiencing Black Music, Art & Culture Engaging Interactive Trivia
& More!
As we tour the Austin area (including Round Rock Taylor, East & West Austin and more), we will explain the history and cultural significance of the places we visit. The tour is a result of the information and history curated from local residents, Texas Historic Commission and other local heritage and cultural organizations. As the area continues to expand and becomes more gentrified, as historical locations and landmarks are being demolished or forgotten- let us ALL work together to help preserve our African American history and control our own narratives.
The Ride
Tours will max at 30 passengers. We will ride in a luxury passenger charter bus which includes high end features.
Soul of Austin: The Black Experience Tour will take place during Black History Month, every Saturday in February 2020.
Tickets for this event need to be purchased in advance online, we will NOT be able to accept money or sell tickets in person the day of the tour.
• General Admission Tickets: $75 (various discounts and promotions may be applied).
**Please make sure that you can attend before you purchase tickets, there will be NO REFUNDS.
This experience is being presented by Wilco Social Club
**For questions or private group tours please contact:
Email: hello@wilcosocialclub.com
Call: 512-568-3080
Visit: www.WilcoSocialClub.com
We appreciate your support!