Location
345 Adams St
345 Adams Street
Brooklyn, NY 11201
Soul Night is an NFT.NYC event hosted by Aeon Studio and AI Network.
About this event
Soul Night is the one event of the year where partners and enthusiasts of NFTs, AI, and Art can come together in the physical world to connect, question, and create. The theme of Soul Night's annual event premiere is exploration. We wander into our subconscious during the night, an exploration emulated by the experimental digital art at our 4 day exhibition.
List of Artists and Projects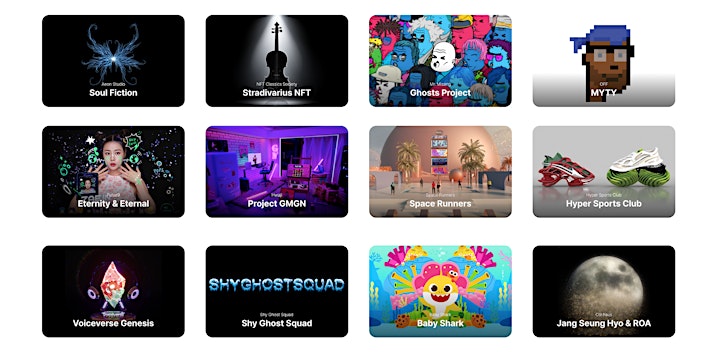 Inside Soul Night
Pioneer into the AI x NFT x Art scene in NYC.
Organize an exhibition with a high level understanding of digital art.
Connect with leading tech companies in Korea behind global NFT projects.
Share a diverse range of NFT projects beyond the standard PFP project. (ie: fashion, music, and AI NFT projects)
Present benefits to Soulink NFT holders.
BECOME A SOULINKER
The Soulink NFT is the access key to the Soul Fiction ecosystem. NFT holders, known as Soulinkers, can partake in the development of AI creation, the collective sci fi journey into the metaverse, art exhibitions across the globe, and the ownership of IP.
During the event, Soulinkers will have automatic premium access to merchandise, and benefits as holder's benefits for all four days :
Free Catering 🍱
Soul Drink ticket 🎟
Premium stickers, Paper stickers 🎁
Soul Night Tote bag 💝
Mint the Soulink NFT prior to the event at
www.soulfiction.xyz/mint and have fun at Soul Night!
Hours :
June 20th, Mon : 10:00am - 5:00pm
June 21st, Tue : 10:00am - 5:00pm
June 22nd, Wed : 10:00am - 7:00pm (Stradivarius Livestream 6pm - 7pm)
June 23rd, Thu : 10:00am - 5:00pm / Closing party 7:00pm - 9:00pm
Important links
Join our telegram group chat > https://t.me/SoulNightNYC
Public deck > https://bit.ly/SoulNightDeck