SOUL MUSIC SERIES

Multiple Dates
Event Details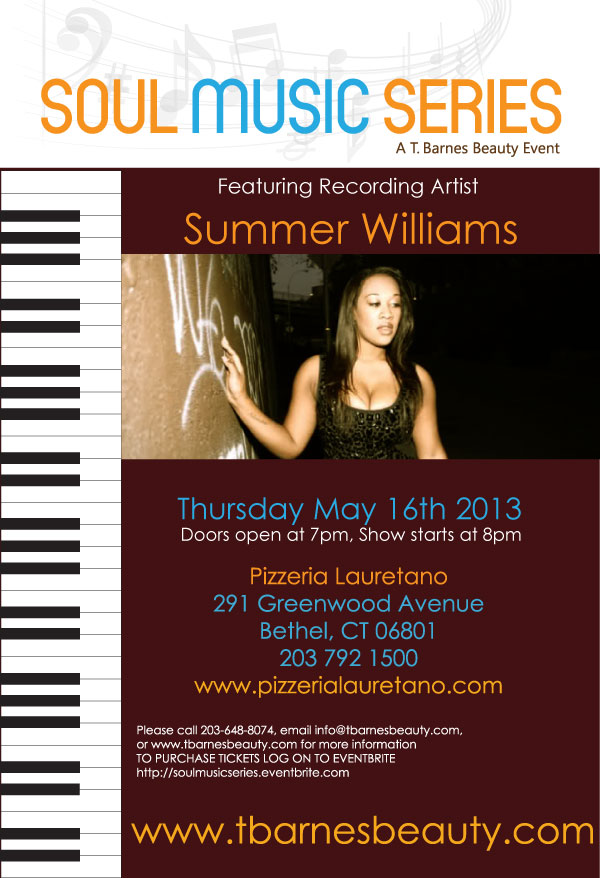 Soul Music Series at Pizzeria Lauretano presents:
summer williams
$20 music charge, $10 minimum order
BETHEL, CONN. (May 1, 2013) -   21-year old NYC "Soulstress" Summer Williams comes to Pizzeria Lauretano on Thursday, May 16, as part of the new monthly Soul Music Series. Unlike most vocalists in her age range, she combines the influence of legendary vocalists such as Ella Fitzgerald, Billie Holliday, and Sarah Vaughn, the soulful yet hard-rock swag of the mid 90′s "Hip Hop Soul" movement, and an unexpectedly deep sultry voice. 
Summer grew up in a naturally musical background. The fruit of a gospel and classical singing mother and a musician father, Summer was happy to take on traits from both genes. She grew up listening to gospel influences, soon expanded to including classic soul greats such as Donny Hathaway and Stevie Wonder.
"I remember one day, I was in the kitchen with my mother while she was singing His Eye Is on the Sparrow, and I said Mommy, I want to learn how to sing. I was four," Williams says. At the age of twelve, Williams placed runner-up in a hometown Child Talent Search. Soon she became known as the "little girl with the big voice".
From the local shows to mainstream recognition, Summer Williams has become a potent force to be reckoned with in urban music. Along with her heavy jazz and gospel influence, Summer has a strong appreciation for some of the most beloved acts in Hip Hop lore such as, Mos Def, A Tribe Called Quest, Wu Tang Clan, Talib Kweli, Jay Z, and Nas. 
 Williams' songwriting offers messages behind the melody. "Goodbye Love, Hello Love" could potentially be a sad song, yet Williams encourages her listeners to move on and make room for the new person in their lives, without feeling malice for the old. "All I wanna say" features a modern woman's relationship frustrations, sung with the sweetest melody over drums of the 1995 Hip Hop Classic "Shook Ones Part Two" by Mobb Deep.
In regards to her amazing range Summer adds, "I get kind of embarrassed sometimes when people hear the kick or beat in these acapella songs I do. Yes, I'm a girl and yes, I can sing lower than you, and probably your father too!" Whether it's her surprising range, her stark lyricism, or her beautiful collage of harmonies that puts her over the top, Summer Williams is well equipped to make a big dent in the music scene.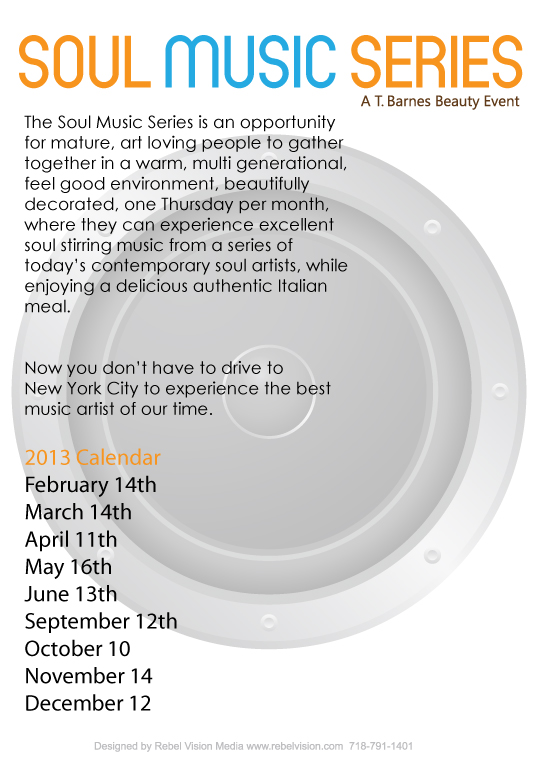 Organizer
T. Barnes Beauty, LLC
T. Barnes is an established licensed esthetician and business owner who has serviced the Fairfield County community since 2003. She has a loyal and growing cliental who seek out quality services, events and experiences. T. Barnes Beauty is a lifestyle of beauty brand which offers, spa services, retreats, workshops, boutique events and a high quality organic skincare line.