Description
Soul Magic Retreat with Lee Harris
At the Blue Island Retreat Center in Costa Rica
Near the town of Nosara on the Pacific Coast
October 27th - November 3rd, 2018
Your life is about to change...
Everything you want is closer than you think. The goals you want to achieve now, the loving connections you want to experience, the aliveness and peace you want to feel, the spiritual growth you may be longing for — all are poised at the threshold of your reality, just waiting for you to open the door.
Somewhere inside, you know that the key to this door isn't to be found in working harder or trying to "make things happen." You sense that the next stage of your personal evolution can be a process of exciting discovery, enjoyment, and even amusement. And you are right.
In this paradise retreat with Lee — taking place in one of the most heavenly places on Earth — discover that what you most wish to create now can come quickly and with ease ... like magic.
For a full week, let the power of the natural world and the wisdom of your own soul take the lead, guiding you as you take the next important steps in your life. Meet your inner soul warrior whose strength of spirit is greater than any obstacle, whose love is bigger than any doubt or fear.
Come and kindle your inner flame — your passion and purpose for living — and let the firework steadily change the direction you're going in. Bring your concerns, goals, desires, and dreams to this week and accelerate the pace of your own healing and fulfillment.
**Please note that due to the limited number of spaces for this event, all sales are final and we are not able to offer refunds.**
What to Expect

(aka how the magic will unfold)
Akin to Lee's renowned Energy Mastery Retreats, during this week you will have unparalleled support for awakening to the true magic of yourself — coming to know yourself in new and profound ways.
With ample time built in for self-reflection and self-care, some of the highlights of the retreat include the following:
Open to your higher consciousness with group work with Lee, as well as channeling sessions with the Z's.

Deepen your understanding of our human patterning and how to attain lasting freedom from the limitations that may be holding you back.

Take your growth and expansion to the next level with one-on-one intuitive attention from Lee.

Accelerate your physical, emotional, and spiritual healing with advanced energy work.

Experience live music accompanying all sessions, with sound healer and Music Master Davor Bozic.

Enjoy extraordinary nature excursions led by Lee (fun and non-strenuous).

Integrate your retreat experiences with Pilates, qi gong, and guided visualization sessions led by Steven Washington, Lee's beloved partner and a master teacher of the mind-body-spirit connection.
Accommodations
The pristine setting for the Soul Magic Retreat is the award-winning Blue Spirit Retreat Center, one of the foremost world-class retreat centers in Costa Rica, providing an extraordinary setting to all who are dedicated to spiritual transformation, personal growth, and environmental sustainability. Your registration includes 7 nights of accommodations with check-in on Saturday, October 27th and check-out on Saturday, November 3rd.
Located in Nosara, Blue Spirit is perched on a hilltop overlooking the Pacific Ocean and a three-mile white sand beach. The pristine nature, subtropical climate, dedicated staff, and the healing energy of the Nosara community create the ideal environment for this retreat to become an unforgettable and deeply nurturing experience.
Blue Spirit offers gourmet vegetarian cuisine with fresh fish served occasionally throughout the week, holistic Spa & longevity services, salt-water infinity pool, on-site café with cash bar serving smoothies, organic wines & local beers, excursions, and graceful and comfortable accommodations. Your registration includes 3 meals a day with dinner provided on check-in day and breakfast included on check-out day. To see descriptions of each room type, click on the "REGISTER" button above, then click on "Show Info" under each ticket type. To see photos of the different room types, go here, but remember that you can only book your spot at the retreat via this page, not through the retreat center's site.

Retreat Itinerary
The retreat begins on Saturday October 27th. Dinner will be served at 6 pm and the first retreat event will take place afterward, around 7.30 pm. The last official retreat event will be on Friday evening, November 2nd. Breakfast is included on Saturday, November 3rd (check-out day).
Want to take a peek at our Soul Magic retreat in Kauai?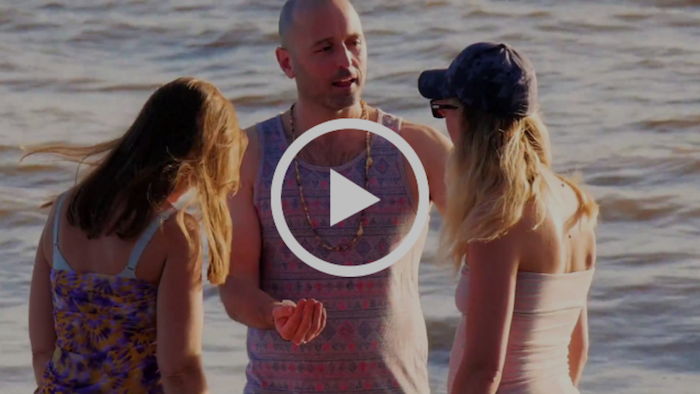 Traveling to Soul Magic at Blue Spirit
Again, the first retreat event will take place after dinner on Saturday, October 27th at 7.30 pm and we'd really like everyone to be part of that first session, so we hope you'll plan your travels accordingly. The most popular way to travel there is to fly into Liberia Airport (LIR). Blue Spirit runs their own shuttle service on Saturdays ONLY between 12 - 4 pm from LIR to Blue Spirit. It's about a 2-hour drive from LIR airport to Blue Spirit. Return shuttles will depart from Blue Spirit the following Saturday (November 3rd) between 4 am - 11 am. Cost is $60 USD each way and you'll want to book in advance. Full details, booking information and alternate methods of transport to Blue Spirit can be found here: http://www.bluespiritcostarica.com/shuttle-reservations


About Nosara
In the last 10 years Nosara has grown quietly into one of the hip holistic hot-spots on the planet. This peaceful and vibrant international community of nature lovers, surfers, yogis, and families truly embraces the Pura Vida lifestyle.
The community resides along the coast with 3 unspoiled stunning beaches – Playa Guiones, Playa Pelada, and Playa Nosara – with private houses, little hotels, and excellent restaurants hidden into lush tropical greenery. Blue Spirit has become a vital part of this community.
The actual village and original settlement of Nosara is 4 miles inland, alongside the Rio Nosara. It's a a small traditional Costa Rican town with grocery stores, typical restaurants, churches, a disco, a soccer field, and the landing strip for daily flights to and from San Jose.
The Team
Throughout the week, Lee will be supported by two amazing team members...
Steven Washington is an expert in Motivational Movement focused on the mind-body-spirit connection. Steven has taught groups and individuals for over 20 years in Pilates, Dance, Physical Fitness and QiGong and is a Licensed Massage Therapist. Also a contemporary dancer, Steven performed on Broadway and in touring productions of Disney's The Lion King for many years and is currently apprenticing alongside acclaimed QiGong master Lee Holden.
Davor Bozic is a celebrated Slovenian musician/composer/sound healer whose work extends from pop music to television and theatre. Alongside his work in music, Davor is a trained psychotherapist with a counseling office in Ljubljana where he works with individuals, couples, groups, and children.

**Please note that due to the limited number of spaces for this event, all sales are final and we are not able to offer refunds.**