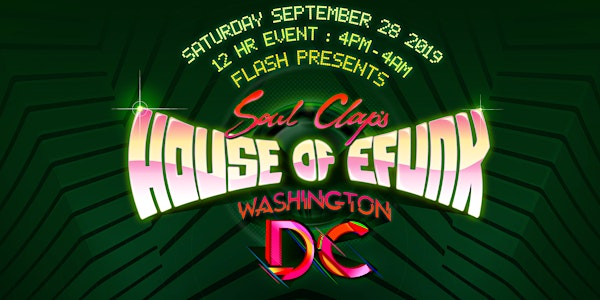 Soul Clap's House of Efunk DC 2019
Location
Flash
645 Florida Ave NW
Washington, DC 20001
Soul Clap's House of Efunk touches down in DC, taking over all corners at Flash
About this event
Friday, September 28th • Soul Clap's House of EFunk
12-Hr Event, Day Into Night: ☀️4PM - 4AM 🌙
🕺🏻Club Level, Green Room, Flash Bar 🍸
🎟Get Tickets: bit.ly/efunkdc
Saturday, September 28th Flash gets a heaping spoonful of Soul Clap's House Of EFUNK. This edition, hosted by Soul Clap, welcomes Detroit's T.A.G. aka Scott Grooves x Norm Talley, San Franciscan Dirtybird talent Ardalan, Detroit rising star DJ Holographic, Flash resident Samantha Francesca, hometown hero Trev-Ski, and many more.
With so much more in our bag of tricks we announce a second wave of acts joining us in the mix! From Rush Hour Records in Amsterdam its master selector DJ Antal, representing Baltimore is House legend and 1/3 Basement Boys DJ Spen and Crew Love LiVE act Life On Planets. Life long raver and tastemaker Heidi Lawden joins us from Los Angeles and DC hometown heroes Sol Power All-Stars bring their signature sound which has landed them a new release on Soul Clap Records out now! Then we get that extra hometown love from the likes of Philco and keeping with our efforts to elevate the senses with the addition of visual art courtesy of Natasha Tomchin's Digital Dreamscapes.
This inaugural event in our nation's capital brings Soul Clap's spirit of positivity, freedom, equality and love in this time heavy of political non-dopeness. Bringing together musical pioneers as well as modern tastemakers into a potent soup called EFUNK, all three dance floors will be in effect for this total Flash nightclub take over.
🎵🎶Music by:
Soul Clap (Soul Clap Records | Boston)
crewlove.us
soundcloud.com/soulclap
Special Guest:
Delano Smith (Mixmode | Detroit)
Norm Talley (Upstairs Asylum, FXHE | Detroit)
facebook.com/norm.talleyii
instagram.com/norm_Talley
Scott Grooves (Natural Midi | Detroit)
sgrooves.bandcamp.com
Ardalan (Dirtybird | San Francisco)
soundcloud.com/ardalann
residentadvisor.net/dj/ardalan
Antal (Rush Hour Records | Amsterdam)
residentadvisor.net/dj/antal
soundcloud.com/antalrushhour
DJ Spen (Quantize Recordings | Baltimore)
facebook.com/djspen/
djspen.com
DJ Holographic (Detroit)
soundcloud.com/djholographic
residentadvisor.net/dj/djholographic
Heidi Lawden (ESP Institute and Surround | LA, London)
facebook.com/DJHeidiLawden
residentadvisor.net/dj/heidilawden
Life on Planets (Baltimore) LiVE
soundcloud.com/life-on-planets
facebook.com/livinglifeonplanets
Philco (Good Buddies | DC)
soundcloud.com/iamphilco
residentadvisor.net/dj/philco
Samantha Francesca (Sticky Fingers Collective | DC)
soundcloud.com/samanthafrancescadc
residentadvisor.net/dj/samanthafrancesca
Trev-ski (MOdERN CLASS | DC)
soundcloud.com/trev-ski
Sol Power All-Stars (Sol Power Sound | DC)
residentadvisor.net/dj/solpowerall-stars
soundcloud.com/solpowerdc
Digital Dreamscapes by Natasha Tomchin