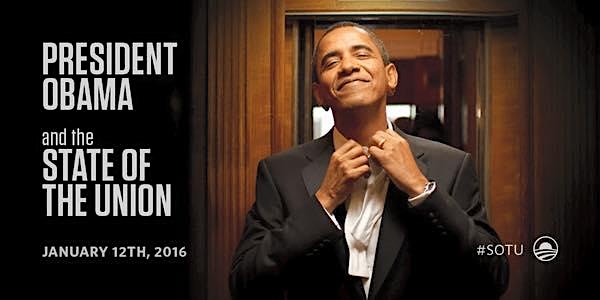 #SOTUPROGRESSPARTY: Mixer & President Obama's FINAL State of the Union Addr...
Location
Local Sixteen
1602 U Street NW
Washington, DC 20009
United States
Description
&
&
#SOTUProgressParty #SOTU on Twitter!
*** REGISTERED GUEST LIST BELOW ***
8:30PM MAIN PROGRAM GUESTS INCLUDE:
DC City Council Member David Grosso (At-Large)
DC Shadow Senator Paul Strauss
DC Shadow Representative Franklin Garcia
DC For Obama Co-Founder Howard Park
GO-DC Founder & Virginia For Obama's Jim McBride
7:00PM NETWORKING HOUR GUESTS INCLUDE:
Ryan Morgan, Veracity Media (they're hiring!)
Lindsey Mask, Ladies America: "Women Helping Women"
Margaret Sampson, DC Connect
Jennifer Farmer, Communications Consultant
Eliana Stanislawski, NARAL Pro-Choice America
Natalia Penedo, Latinos for President Hillary 2016
Kaitlin Cooke, Hillary Campaign Finance Committee
+ "open mic" announcements from our partners and
other "networkers for progress" like YOU!
partners include:
(including DC Career Progress & DC Comm Tech For Progress)
DC Young Progressive Professionals
&
Please join DC Network For Progress (our fb group), a social and media-savvy community for those inspired by the "Yes We Can" Movement, and several great partners for our 7th Annual & FINAL State of the Union Watch Party where Progressives, Democrats, Hope Mongers and Change Makers can watch and celebrate the President's Address to Congress at 9pm while mingling for friends, careers and PROGRESS starting at 6:30pm!

The event will also feature a 2016 straw poll and raffle prizes!
7:00-8:00 "OPEN MIC" NETWORKING SHOWCASE
Every attendee and organizational representative will be invited to give themselves a "Me in a Minute" shout-out at the DJ booth where you can discuss your interests and expertise that you can share with other attendees.
If you want to meet new people we will also make it easier with name tags and Networking Potluck buckets so you can feel comfortable to introduce yourself to attendees with similar interests in causes AND candidates!

#SOTU preview and live-stream information:
http://www.whitehouse.gov/sotu
(watch online for infographics, photos and more)
White House Year-In-Review:


Want to be a Co-Host or Sponsor? Questions/Comments?
Contact us at network4progress@gmail.com

FOLLOW US!
http://networkforprogress.weebly.com/follow-us.html
(includes Progress USA national posts, Career Progress, Comm Tech 4 Progress, Campaign 4 Progress, Advocate 4 Progress, Serve 4 Progress and more!)