Sosyal İnovasyon ve Girişimcilik

Tuesday, October 27, 2015 from 12:00 PM to 2:00 PM (EEST)
Event Details
Boğaziçi Üniversitesi Teknoloji Transfer Ofisi ve Young Guru Academy (YGA) tarafından düzenlenecek olan "Sosyal İnovasyon ve Girişimcilik" başlıklı seminere davetlisiniz! #sosyalinovasyon #girişimcilik
Konuşmacılar:
Asude Altıntaş, YGA Liderlik Okulu Başkanı
Cemil Cihan Özalevli, YGA Ventures Mühendisi
Melike Aydın, YGA Mezunu
Tarih: 27 Ekim 2015, Salı
Saat: 12.00 - 14.00
Yer: Vedat Yerlici Konferans Merkezi / Mühendislik Fakültesi Binası, 1 Nolu Salon, Güney Kampüs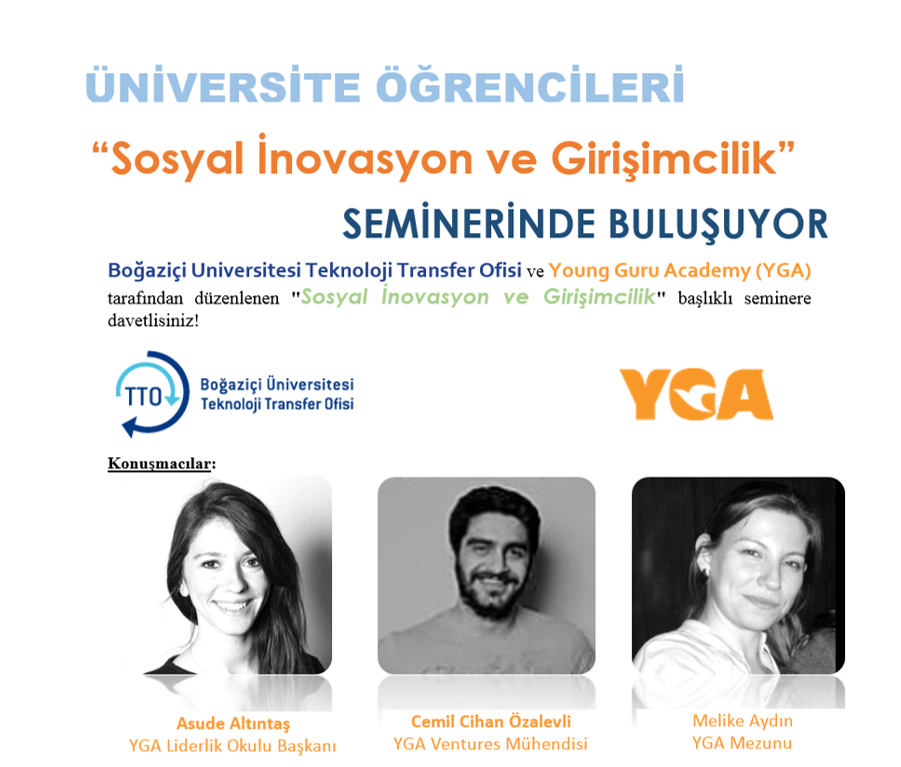 When & Where

Vedat Yerlici Konferans Merkezi
Güney Kampüs Mühendislik Binası
Bebek
İstanbul, 34342
Turkey

Tuesday, October 27, 2015 from 12:00 PM to 2:00 PM (EEST)
Add to my calendar
Organizer
Boğaziçi Üniversitesi Teknoloji Transfer Ofisi (TTO), üniversitenin sanayiye teknoloji transferini sağlayarak ekonomik değer yaratması ve bu değerin üniversiteye geri dönmesi amacıyla Aralık 2012'de kurulmuştur. Boğaziçi Üniversitesi, Ar-Ge projelerinin başvurusu ve yönetimi esnasında akademisyenlere ve araştırmacılara destek veren bir yapıya sahiptir. TTO, buluşcular, yenilikçiler ve girişimcilere, fikir ve önerilerini fikirden uygulamaya geçirip ticarileştirilmesi, bunun toplumun, ülke ekonomisinin ve üniversitenin faydasına dönüştürülmesi sürecinde yardımcı olur.