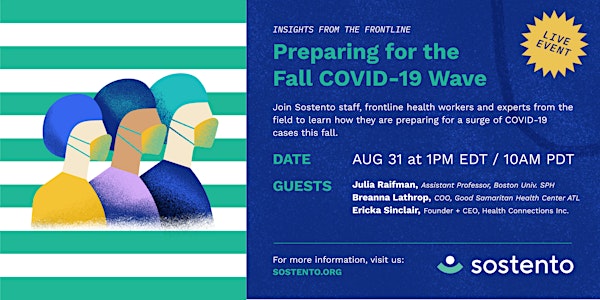 Sostento Live: Preparing for the Fall COVID-19 Wave
Sostento Live - Insights from the Frontline: Preparing for the Fall COVID-19 Wave
About this event
As summer turned to fall in the United States in the last two years, COVID-19 surged with a peak during the holiday season. How are frontline clinics serving our nation's most vulnerable communities preparing for a likely repeat in 2022?
Join this live event to hear from public health experts and frontline workers! Featured guests will include Boston University Professor Julia Raifman and clinic leaders serving communities in Atlanta and Milwaukee.
The event will be hosted by Sostento's CEO Joe Agoada. Sostento is currently resourcing a network of over 200 community health workers across 16 states and 100 free and charitable clinic locations. The workforce conducts COVID outreach and vaccination efforts and collects real-time data about on the ground realities. Come learn how Sostento and its network is preparing to stay one step ahead of a likely fall surge.
The event will be live streamed on YouTube and LinkedIn.
Note: The project work shared at this event is supported by the Health Resources and Services Administration (HRSA) of the U.S. Department of Health and Human Services (HHS) as part of an award totaling $7,292,304.00 with 0% percentage financed with non-governmental sources. The communications from the event are those of Sostento and do not necessarily represent the official views of, nor an endorsement, by HRSA, HHS, or the U.S. Government. For more information, please visit HRSA.gov