Description
Think you know your classical music? Then this show is for you! DON'T know your classical music? Then this show is for you!
From Bach to Rachmaninov, you will hear some of the most famous classical pieces ever composed as well as the incredible stories that accompany them. Played on flute (Laura Strickland) and guitar (Alex Mack), you've never heard classical favorites like this before.
During the concert, you will be surrounded by the inspirational art hung throughout the gallery. Stroll through the gallery while enjoying drinks and snack before and after the concert.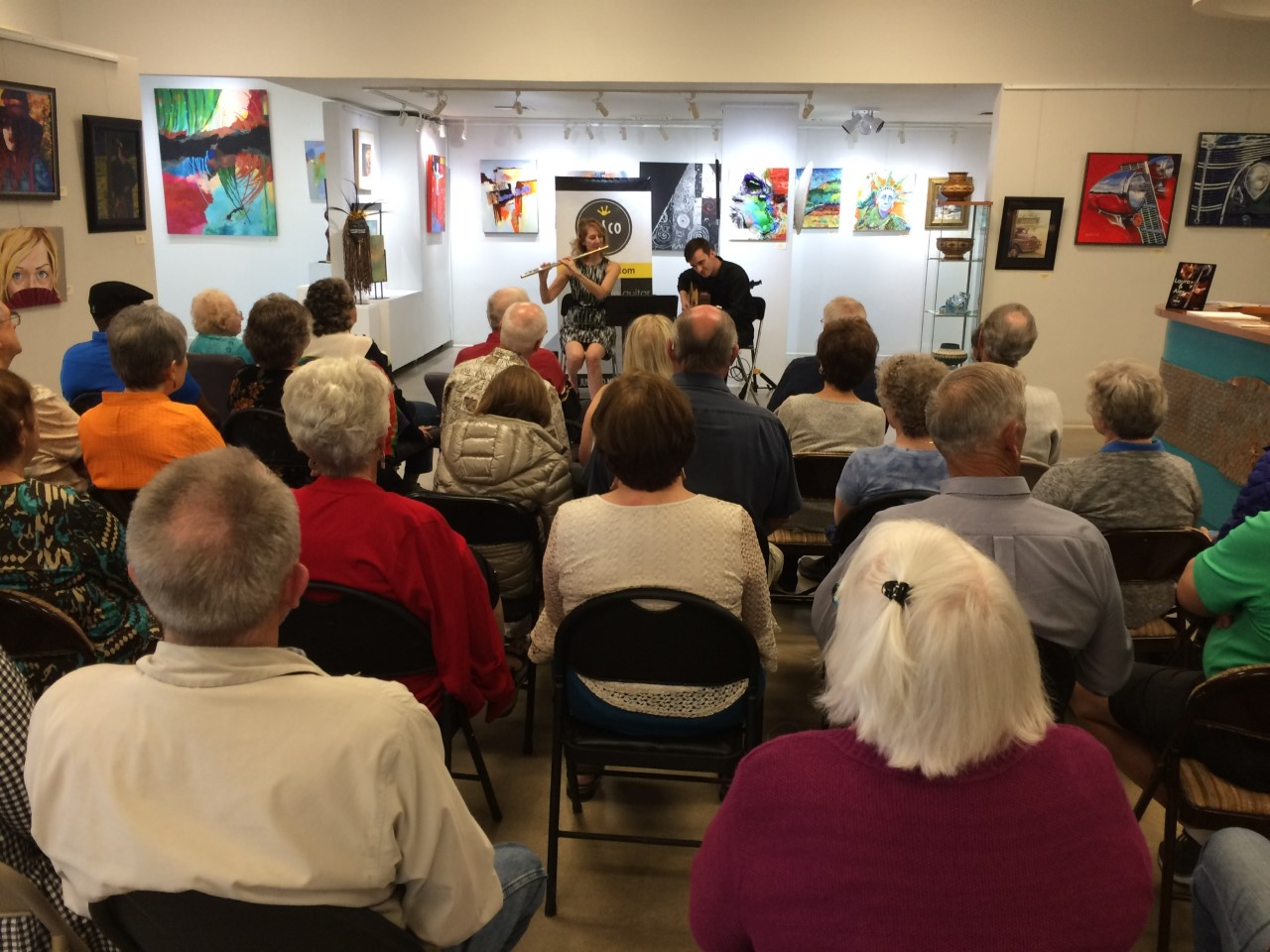 This performance features the music of SoSco Flute & Guitar Duo. Exquisite sound, outstanding musicianship and inspiring performances are the hallmarks of the award-winning SoSco Duo. Known for their sensitive interpretations and polished presentation, SoSco Duo has rapidly distinguished itself as one of the preeminent small ensembles in Arizona.

SoSco Duo is a popular acoustic duo who has played over 250 performances at more than 50 venues since the inception of the group in 2014. Having both earned music degrees from top music schools, Laura and Alex are equally skilled at performing a wide range of styles including classical, contemporary, standard songs, Disney, Broadway favorites, jazz, folk, Spanish, Celtic and other world music. SoSco Duo has been awarded Arizona Foothills Best of Our Valley 2017, 2018 & 2019; Best Local Band/Musician Winner.
Learn more about SoSco Duo at www.SoScoDuo.com

Ticket sales benefit WHAM Community Art Center, a 501 (c) (3) non-profit offering art classes and a place where artists create, collaborate and display art serving the West Valley of Arizona.

Who: SoSco Flute & Guitar Duo
What: SoSco Flute & Guitar Duo Challenges You to "Name That Tune: Classical Edition"
When: Friday, June 28, 2019, 5:30 – 6:30 PM, doors open at 5:00 for FREE drinks, snacks and admission to the art gallery
Where: WHAM Community Art Center, 16560 N. Dysart Rd. Surprise, AZ 85378; Free onsite parking
Tickets: $20 advance; includes free snacks, drinks and gallery admission!
More information: http://www.wham-art.org/ or call 623-584-8311