New Years Party Orlando Florida - Latin Music and best in R&B Show
About this event
TICKET WILL BE SENT TO YOUR EMAIL - BRING PRINTED TICKET AT THE DOOR.
It's time to say goodbye to 2021 and bring in the wonderful New Year 2022.
We are Central Florida's Latin Hometown Band that plays Old School Salsa, Merengue, Bachata, Cumbia, Bolero and some classic Rock with a Latin twist. Let's not forget our Puerto Rican Parranda Music.
Our DJ Ramiro plays his mix of Disco, House, R&B, Rock & Roll and other famous Latin Music. If you are looking for Regueton and Perreando, then this is NOT your type of party.
If you live in Orlando or vacationing with your family, you have found the right place to say goodbye to 2021.
Due to space everyone pays $50 and it includes, Live Latin Music by La Orquesta Arriba El Son, DJ Ramiro and our Special Guest, the Soul Man himself, Mr. R.T.
We will also serve a Champagne toast, noise maker and/or hat.
We care about our families an culture. If you have a teenager, they are welcome to come with their families but they have to pay the same price as an adult.
TIMES: Dance Starts 7:00 - 1:00 am
CASH BAR ---NO OUTSIDE BOTTLES/OR FOOD
ENTERTAINMENT:
Special Guest R.T. - who sings classic Soul Music from 60, 70, 80's -will transport you into time and make you feel like you are living in that era again.
Orquesta Arriba El Son - will bring Live Latin Music with their 10 piece band that brings Old School Classic Salsa, Merengue, Bachata and Boleros. It's an older crowd that appreciates good music, entertainment and believes in dressing up for the occasion. WE DO NO PLAY REGUETON!!! We require you to dress to impress, NO Baseball Hats allowed, NO Sneakers or inappropriate clothing allowed. This is a family environment and if you have drama, please stay home.
We have reduced the number of people to avoid over crowding. When you purchase your tickets, email me if you would like to sit with other people in your group.
Lets start to live, let's listen to music that we love and dance again but safely!
We will have Security on premises.
Any further questions Call 321-945-0611 or email carmen@arribaelson.com
No Refunds for this event -AS WE HAVE LIMITED SEATING
IF YOU ARE SICK - PLEASE STAY HOME AND WE WILL GIVE YOU A RAIN CHECK FOR THE NEXT EVENT.
This is a Fundraising event for our "Youth Art Scholarship."
WE DO CHECK BAGS. ANYONE BRINGING OUTSIDE LIQUOR WILL BE ASK TO LEAVE AND WILL NOT RECEIVE A REFUND.
If you are visiting from out of town and want to stay only 7 miles away, you can stay at the Orlando Crowne Plaza & Resort in Downtown Orlando. Here is the Link - and it also offers 2 Complimentary Breakfast Buffet.
COPY AND PAST ON THE SEARCH BAR
https://www.crowneplaza.com/redirect?path=asearch&brandCode=CP&localeCode=en®ionCode=1&hotelCode=MCOOA&checkInDate=30&checkInMonthYear=112021&checkOutDate=03&checkOutMonthYear=002022&rateCode=6CBARC&_PMID=99801505&GPC=AES&cn=no&viewfullsite=true
H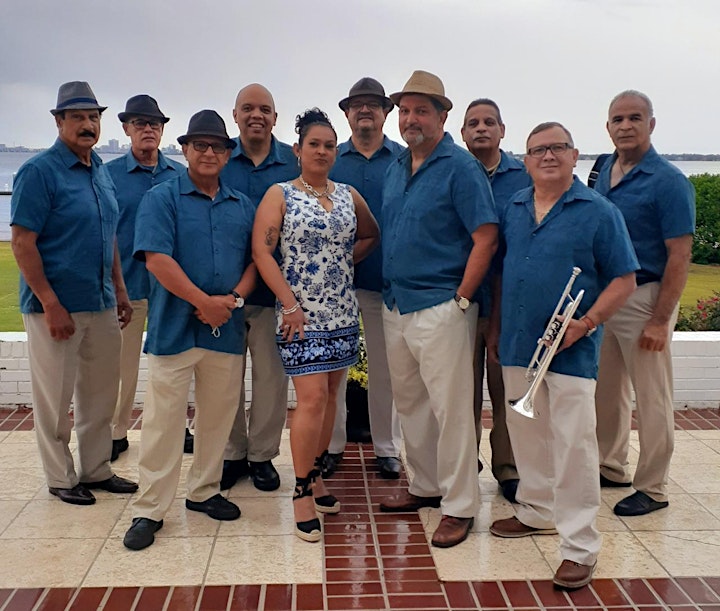 Organizer of SORRY SOLD OUT.. NO MAS TICKETS
"Arriba El Son!" is a latin band that predominantly plays old School Cuban/Puerto Rican salsa,  merengue, bachata, cumbia, bolero, and parranda music during the holidays. Our musicians are of vast and lengthy experience in their musical fields, which makes us of popular favorites that "Old School Salseros" prefer.
Why hire "Arriba El Son!"?
We bring musical energy on stage from the beginning of the show until the end.  With our price we include a Live Latin Band, lights, sound and DJ service to play during breaks.  Somos una Orquesta Latina con Musica Latina - que mucho Salseros y Rumberos les encaencanta. If you looking for Musica Latina in Central Business District or Orlando, we are right here in the Heart of Florida.
Supporting our Youth - Art Scholarship
We believe in "Entertaiining our Community and supporting our future Entertainers."  
This is why we have established a committee to help raise funds to provide scholarships for our creative and talented youth who have little or no money to pursue their dreams.  The scholarship will go to students who have chosen to study Music, Fine Arts, Design, Performing Arts, and Photography.  We will also supply the instruments and the classes.  We have even teamed up with a Music Company that provides classes at home, studio or on-line.  This will help parents who work two jobs or no transportation. 

If you want to make a difference, make a monetary or instrument donation.  As an entertainer, we donate part of our proceeds from every dance we have throughout the year.  

If you or anyone whom can benefit from this program, please have them call 321-945-0611, or email carmen@arribaelson.com.
Thank you so much for your continuous support and our dream to keep our music alive by supporting our youth today.
Sincerely
Eduardo Rivera, Director
ARRIBA EL SON!