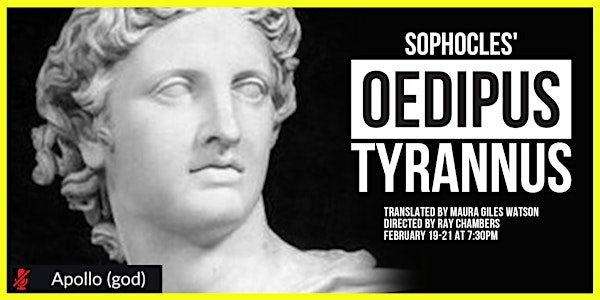 Sophocles' Oedipus Tyrannus Translated by Maura Giles Watson LIVE ON ZOOM
Sophocles' Oedipus Tyrannus Translated by Maura Giles Watson Adapted by Ray Chambers and Maura Giles Watson
About this event
This is a live zoom webinar of Sophocles' Oedipus Tyrannus
Directed by Ray Chambers
A traumatized and disconnected country turns to its leaders for answers. The beloved King Oedipus, during a pandemic, investigates the source of catastrophes and tragically answers the riddle of who he is. Sophocles' play performed first to a plague-ridden Athens in 429 BCE, is produced here in the same setting and with surprisingly familiar questions.
What we inflict on ourselves brings us the most pain.
Contains some explicit language.