Description
Sophistiratchet Saturdays
Are you a classy, educated professional who likes to wind down after a hard week at work by getting all the way #turnt up to a soundtrack of trap music? If this is the way you like to spend your weekends, then... you just might be sophistiratchet.
so·phis·ti·rat·chet
(adjective):
A person of highly educated pedigree (academically, socially & otherwise). Fluent in various forms of public etiquette yet is equally knowledgeable of the latest trap music , updated on most prime-time ratchet cable programs & conversant in the tongue of ratchet.
If you're about that boozy brunch life, then Sophistiratchet Saturdays is the place for you. It's a place where you can let loose without fear of being judged by sidditty, pretentious people. A spot where you can feel free to twerk when Juvenile tells you to back that thing up; a sanctuary where you can freely admit that you are in love with the coco.
On Sophistiratchet Saturdays, turn up with us as we partake in boozy brunch at La Avenida from 12:00-7:00pm. Brunch includes a delicious entree, and unlimited brunch cocktails (mimosas, bellinis, Sangria (Red/White), and Margaritas in various flavors) for 90 minutes, all while NYC's hottest DJs spins the best of R&B, hip hop, and trap music for your listening pleasure.
There's only one rule: check your bougie attitude at the door (don't worry -- you have our permission to act dignified again when you leave).
*Free Shots for Greeks*
*Free Shots for Birthdays*
*Free Shots for taking Uber or Lyft or any ride sharing app to the venue*
*Free shots in college or brunch apparel*
Please use #TAGBrunch #SRBrunch when sharing socially.
To keep up with similar brunches please follow @The_Alumni_Group on instagram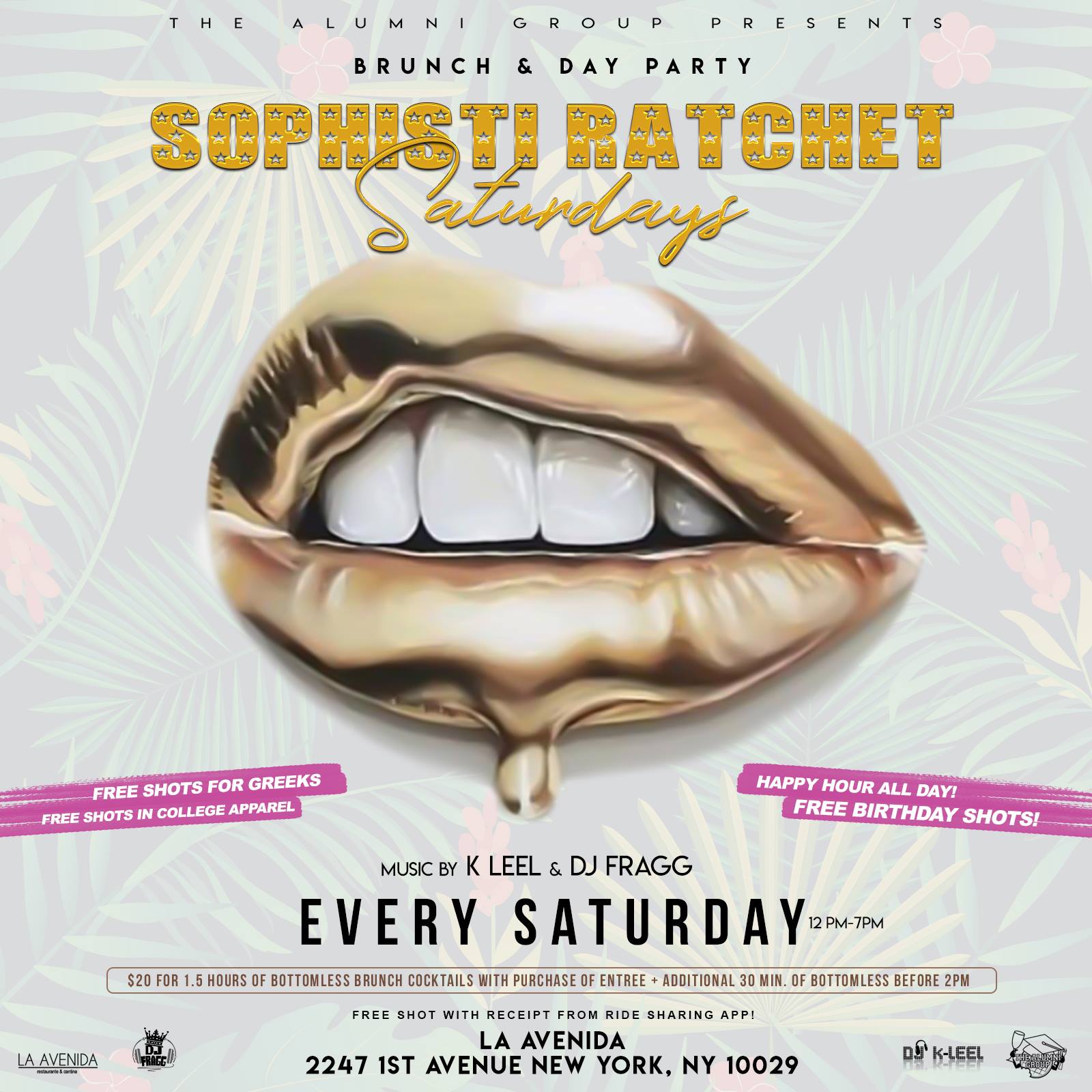 Menu
---
Appetizers
Fresh Guacamole $8
Avocado, tomato, red onion, cilandro, lime juice
Mexican Street Corn $5
Smoke Chipotle Mayo, Queso Fresco, Thyme
Entrees
Omelette $9
Omelette (3 choices of red onion, tomato, pepper jack cheese, red peppers, avocado, pico de gallo), home fries, mixed greens
La Avenida Cheeseburger $9
Ground beef, Tomato, Onion, Jack Cheese, Avocado, Chipotle Aioli, Homefries
Steak & Eggs $11
Grilled Steak, Home Fries, Mixed Greens, PIco De Gallo, Eggs Any Style
Eggs Benedict $9
English Muffin, Poached Eggs, Cheese, Mixed Greens, Poblano Sauce
Chilaquiles $9
Hand cut fried corn tortillas, eggs, jack cheese, green and red salsa, onion
Add Steak $4
Breakfast Burrito $9
Flour Tortilla, scrambled eggs, chorizo, lettuce, jack cheese, pico de gallo, mixed greens
French Toast $9
French Toast, Cinnamon, Rum Dulce De Leche, Fruit
Tacos
Pork Tacos / Tacos Al Pastor
Pork Marinated in guajillo sauce, grilled pineapple, onion, cilantro, green tomatillo sauce
Fish Tacos / Tacos De Pescado Al Gusto!!
Pan Seared Branzino, Chipotle Mayo, Red Onion, Cilantro, Flour Tortilla
Chicken Tacos / Tacos De Pollo
Adobo Chicken Marinated, Coleslaw, Red Onion, Cilantro, Avocado Salsa Verde
Steak Tacos / Tacos De Carne
Guacapico, salsa Verde
Vegetarian Tacos / Tacos De Vegetales (Vegan)
Sauteed Red Onion, Carrot, Green & Yellow Squash, Broccoli, Garlic
Shrimp Tacos / Tacos De Camarones
Pan Seared Shrimp, Sour Cream, Chipotle, Onion Sauce, PIneapple Pico De Gallo
Sides $5
Mashed Potatoes
Brussels Sprouts
Sauteed Veggies
French Fries
Rice & Beans
Dessert
Churros $7
Sprinkle with cinnamon, cajeta & chocolate sauce
Crepas De Cajeta
Cajeta, Vanilla Ice Cream
Banana $7
Blackberry $8
Brunch Cocktails $20 for 1.5 Hours of Bottomless Brunch Cocktails (2 Hours Before 2pm)
Mimosas, Bellinis, Sangria (Red or White), Screw Drivers, Margaritas Frozen or On The Rocks Flavors:Traditional, Coconut, Mango, Strawberry, Passionfruit. Chamelion (Half Frozen Margarita & Half Sangria)
Happy Hour Menu
Cocktails $8
Pimms Cup
Pimms Gin, Pineapple, Cucumber, Mint
Caipirinha
Cachaca, Lime Chunks, Sugar
Pisco Sour
Pisco, Lime Juice, Gomme Syrup, Egg White
Margarita
Tequila, Triple Sec, Lime Juice
Mojito
Santa Teresa Rum, Fresh Mint, Demarara Sugar
Blackberry Gimlet
Vodka, Blackberries, Lime Juice
Wine $6
Beer $5
Food
Papas A La Francesca $4
Hand Cut Potatoes, Chipotle Aioli
Elote $4
Smoke Chipotle Mayo, Queso Fresco, Thyme
Guacamole $6
Avocado, tomato, red onion, lime juice, cilantro
Tacos Al Pastor $6
Pork Marinated in guajillo sauce, grilled pineapple, onion, cilantro, green tomatillo sauce
Nachos $6
Fried Beans, Jack cheese, Pico De Gallo, Crema
Add Chicken $2
Add Steak $3