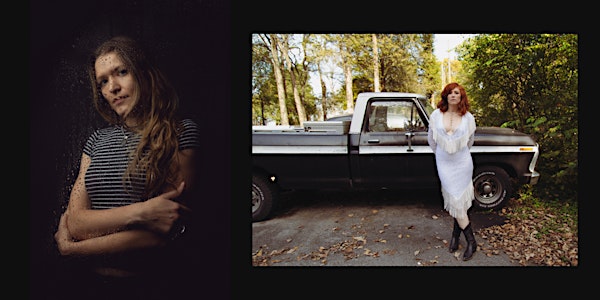 Sophie & the Broken Things / Stacy Antonel
Performers
Sophie & the Broken Things, Stacy Antonel
Location
The Evening Muse
3227 N. Davidson Street
Charlotte, NC 28205
Sophie & the Broken Things / Stacy Antonel
About this event
Sophie & the Broken Things
"Nashville can be a place where you lose yourself a little bit," says singer-songwriter Sophie Gault, while reminiscing about her move to Music City back in 2014. Gault understands this two-sided sentiment more than most, after getting caught up in her own moment serendipitously meeting Americana icon, Julie Miller, at local haunt Bobby's Idle Hour – an experience meaningful enough for Gault to honor Miller's song "Broken Things" through the name of her earnest alt-country band Sophie & the Broken Things.
And indeed, while the frenetic energy of Nashville can leave some musicians lost after launch, Sophie & the Broken Things have only continued to evolve since the release of an eponymous EP in January 2020 – even during the lost year of live music that would soon follow. Now with the reemergence of real world connection, Gault's notion has flipped from being lost in the crowd, to joyously losing yourself in the palpable energy of a live show and a vivid story, a feeling that's easy to embrace when listening to Sophie & the Broken Things' forthcoming debut album, Delusions of Grandeur.
While tracking the new songs, Gault caught the attention of another Nashville legend: GRAMMY Award-winning producer Ray Kennedy, who is known for his own country hits from the early '90s, as well as his work with artists such as Steve Earle, Rodney Crowell, and Lucinda Williams. Serving as an unofficial advisor throughout the recording process and then mixing and mastering the resulting 10-song set, Kennedy has fostered a special interest in the project, saying, "Sophie's songs have a cozy familiarity with a feeling reminiscent of some of my favorite records from the '70s: timeless yet new, with an emotional delivery I don't hear in other contemporary records. The lyrics combine visual storytelling with melodies that make me want to sing along, and the band electrifies the many moods with textural tones of nostalgia to full-on rock 'n' roll."
Facebook | Spotify | Instagram
Nashville artist Stacy Antonel makes clever, country-leaning Americana that feels both vintage and hyper-modern. Her "country jazz" vocals conjure the great singers of the 20s-30s, with the emotive power of country icon Patsy Cline. Rooted in classic country and laced with elements of jazz, pop, and R&B, Antonel's narrative songs often feature unconventional themes.
Antonel grew up near San Diego studying classical piano and cites an eclectic range of early musical inspiration:
Tori Amos's peculiar phrasing, Otis Redding's rich melodic hooks. After winning televised singing contest "3 Minutes to Stardom", Antonel quit her job to focus full-time on music. She began performing classic country covers as Ginger Cowgirl, and in 2017 moved to Nashville to record her self-titled debut EP, which was released in 2019. The album was praised by critics and led to tours in California, the Southeast, the UK, and Germany.
Antonel's debut full-length Always the Outsider drops June 2022 under her own name, an eclectic, otherworldly Americana collection of "outsider anthems" exploring concepts like alien romance and past lives as well as everyday emotions like isolation and disconnectedness. Produced by Ben Moore (Hot Snakes, Diamanda Galas, Burt Bacharach), the modern-retro country album features Antonel's distinctively jazzy vocals alongside virtuosic instrumentation by Doug Pettibone (Lucinda Williams) on pedal steel, Joe Reed (Merle Haggard) on bass, and guitarist Paul Sgroi.