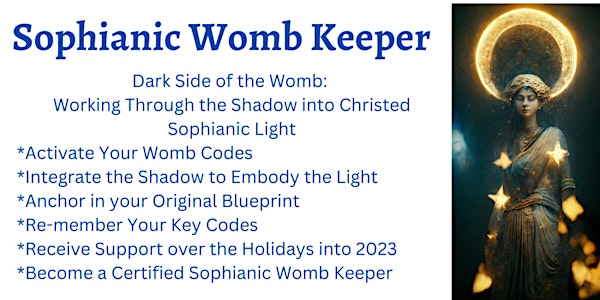 Sophianic Womb Keeper: Three Month Journey into Healing & Certification
A three-month journey into the Shadows of the Womb and into the Sophianic Light. A Certification Program through Goddess Code Academy.
Refund Policy
Contact the organizer to request a refund.
Eventbrite's fee is nonrefundable.
About this event
Welcome to the Sophionic Womb Keeper Certification Program. Here you will find the tools for personal healing, ascension, sisterhood, and spiritual support. Join us for a four-month Sophianic Womb Codes Healing journey as we travel through our shadows to access our most profound Sophianic Wisdom. Sister, it's time to Remember.
Each month focuses on a specific shadow aspect of the WOMB where we hold our deepest fears, pain, and secrets- that takes over when we don't address these shadowy issues. Many woundings of the womb are not necessarily from us - generational, abuse, or the distortion of collective consciousness. We elevate you to your highest light through healing and transmissions in a sacred container for over four months. We assist you in clearing and releasing traumas you have experienced.
Whether you seek healing from core wounds or desire to activate your spiritual gifts, free yourself from corrupted codes, or release from distorted relationships and interfacing, my deepest desire is to support you in fully activating your Sophianic Womb Codes with full sovereignty. We are blessed by your presence here, and I cannot wait to see how we can rise even higher together!
Our monthly group coaching sessions are a place where you can voice your triggers and concerns and elevate your beliefs about yourself. We have created this program to run through the holidays as we guide you into the New Year. Yes! We will be ringing in the New Year together in sisterhood!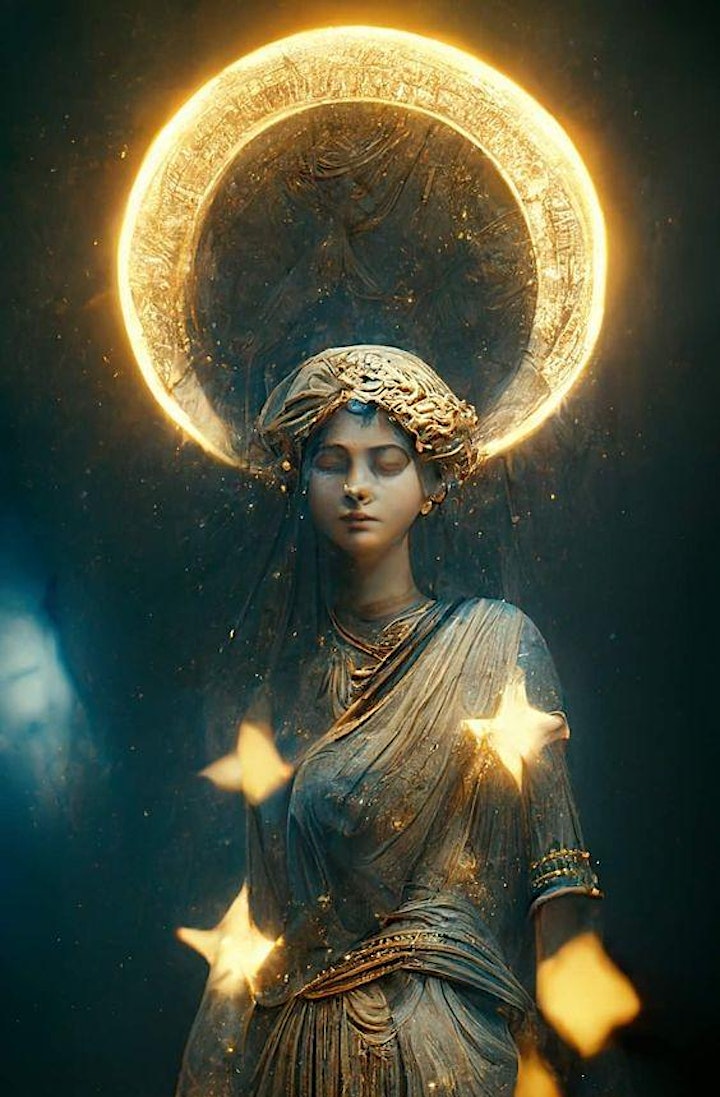 Some benefits are:
Clear and release the shadows of your womb trauma.
Dissolve distorted energies through monthly Quantum Healing.
Learn to Protect your Energy and build strong, energetic boundaries that create freedom in your expression.
Channel your Sophianic Womb Wisdom to assist you in enriching your perspective in life.
Learn the principles of the womb and new ways of expressing your feminine consciousness.
Learn to connect the language of your body through sound healing and movement.
Move past fears or blockages around speaking or confrontation by claiming your sovereignty.
​​Receive big support and real-time LIVE Group Coaching and Integration sessions each month.
Receive monthly Transmission and Healing Support through the overwhelm of the Holiday Season and into 2023.
Certification: Sophionic Womb Keeper Level 1, from the Goddess Code Academy. Upon completing three levels, you will receive a Womb Priestess Certification from the Goddess Code Academy. www.GoddessCodeAcademy.com.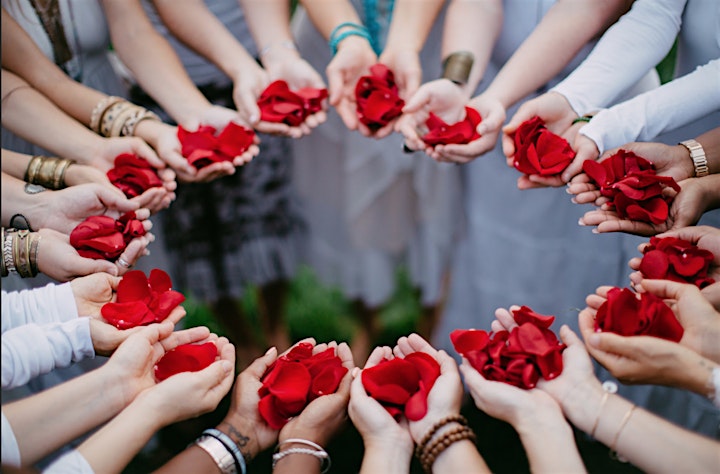 Join us from October 22, 2022, through January 22, 2023, on a four-month pilgrimage of a lifetime.
You can be heard, witnessed, and honored as you transmute old unwanted baggage that needs to be released. With your soul sisters in real-time, the energetic vibration of healing will be in high gear. Over the holidays, we are faced with outdated and crumbling traditions. This is the time for you to recreate your reality. Join us and be ready to receive your Sophianic Codes. Embody more of yourself. This program is for you!
The name "Sophianic" is derived from the Greek word σοφια (i.e., Sophia), meaning wisdom. It refers to Sophia - the Divine Wisdom that underlies all true spiritual knowledge and understanding. All humans carry within them are essentially the light of this Sophianic wisdom. Participants will receive transmissions, healing, and activation each month, and a LIVE Group Coaching Session to work through these energies and anything that may come up.
Live Group Coaching & Integration Session:
Compassionate listening and group coaching are offered through these integration sessions to get you through these challenging months. We meet for a 90-minute group integration each month. Thirty minutes will be active sharing, 30 minutes for healing, and 20 minutes will be gentle movement work we do together to move stagnant energy, and finally, 10 minutes you get to share how you're feeling. This is a safe place to voice your thoughts, feelings, and what's coming up. Things can shift rapidly with the group soul support of your sisters. We encourage you to share your voices to shift unwanted blocks while having the sacred witness. We come together for sacred healing rites -- ancient women's rituals. Know that you're not alone during this most intense planetary transition. Our women's circle is "One of a kind," where we all come to elevate each other through the wisdom of the womb. And finally, courageously facing the old wounds and shadows.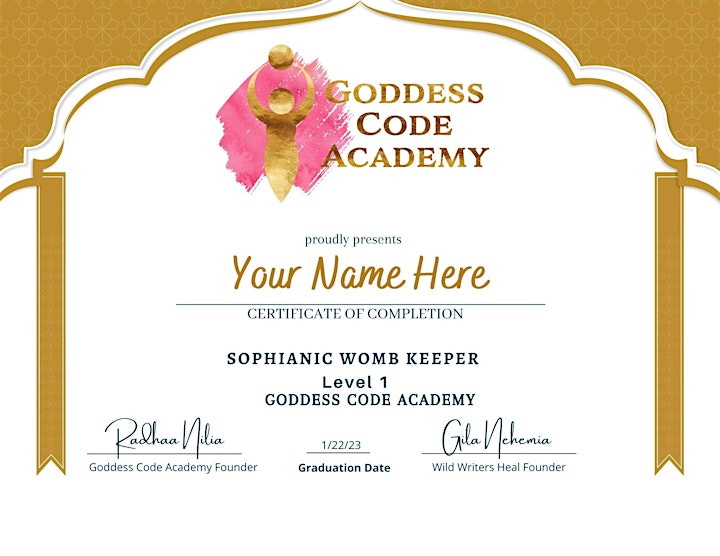 Sophianic Goddess Transmissions:
Each month you will receive a "Sophianic Goddess Transmission" recorded for your continued activations. These transmissions are sacred, healing, and embedded with Goddess Codes that help you activate and work with this Goddess Energy. Each transmission work with the healing theme of the month by Radhaa Nilia, your Goddess Code Activator.
Quantum Healing to dissolve distorted Archetypes:
Each month you will also receive a Quantum Healing transmission with light language from Gila to activate and remember your multidimensionality. This will help you to connect your womb to the cosmic womb and help you to channel authentic messages from your womb space.
Writing Prompts Activation:
Prepare a clean journal for this course. Writing is deeply healing and a way to work through our conscious and subconscious layers. You will be given verbal audio and a worksheet each month, where you will set up your sacred space and be invited to use these prompts to spark the voice of your soul. This will be a powerful tool in facing shadows, hearing the voice of your womb, and transforming your voice into the architect of your inner world. You will be asked to write, process, and integrate.
Embodied Movement:
As part of our time together in our Group Integration Sessions, we will incorporate subtle body movements and exploration to get in touch with your body wisdom. Everything will be very gentle, and everyone can be a part of it. It may incorporate breathing exercises, guided self-exploration, light yoga, and ways to release through gentle movement, sound, breathwork, and self-healing. This is where you can peel away your layers, recreate yourself, and evolve into your true beautiful Pillar of Light!
Dark Side of the Womb Healing: 4-Month Journey & Certification Program
When: Our 1st meeting is November 19th and every 2rd Saturday of Each month we meet. You will recieve your recorded transmissions prior to our meetings.
Where: Virtual through Zoom. The link will be provided after you sign-up
What's Included Each Month:
*Live Group Coaching Session with Breakout Rooms
*Goddess Code Transmission by Radhaa
*Quantum Healing by Gila
*Guided Embodiment Work
*Womb Healing
Dark Side of the Womb Healing: 4-Month Journey & Certification Program image
Investment:
Super Early Bird $397 ( paid in full before Oct 22nd)
Early Bird $597. (paid in full before the Nov 1st)
https://www.paypal.com/paypalme/goddesscodeacademy/597
Or four payments of $157.
Regular $1,297
https://www.paypal.com/paypalme/goddesscodeacademy/1297
Four payments of $397
Bonuses:
50% off 1x1 Sessions: If you would like more support throughout this journey, we offer half off of either of our coaching and healing sessions.
Stories of the Goddess Book: If you would like to be a part of this Anthology of Goddess stories, we offer $1000 off as part of this program: https://bit.ly/3qrrCk6.
Dark Side of the Womb Healing: 4-Month Journey & Certification Program image
Meet Your Hosts:
Radhaa Nilia is an intuitive teacher, international coach, healer, and forward-thinking speaker on feminine empowerment and leadership. She is also the Modality Creator of Goddess Activations™. This healing method is used to Awaken and Activate Goddess Codes™, which helps clear negative beliefs, blockages, and lineage wounds and awakens the long-dormant codes of the Divine within which she teaches at Goddess Code Academy™. A mystical school for the divine feminine with the mission of serving women through transformative education and empowerment. Her mission and vision are to serve women through holistic education and empowerment. Radhaa leads online programs, international retreats, and Goddess Activations™ training. Through finding her voice and healing work with hundreds of clients over the years, Radhaa saw the importance of empowering women and men to share their stories and speak their truths through a series of collaborative books. Additionally, she is the founder of Radhaa Publishing House. Radhaa Publishing coaches and assists upcoming authors in making their dreams a reality by becoming a bestseller collaborative yearly book.
www.RadhaaNilia.com
www.RadhaaPublishingHouse.com
Gila Nehemia is a Divine Feminine healer, Writing Empowerment coach, poet, and spiritual heart guide. She guides you to intuitively access sacred energy and words to live a limitless life of unconditional love. Her mentoring focuses on releasing the old paradigms and social programming to write your new story and trust your internal GPS, intuition, body, and heart. Her guidance helps you increase awareness of your divine body and heal traumatic wounds through writing, meditation, movement, breathwork, and self-affirmations. Gila is a published author and poet. She has dedicated her life to healing souls committed to living their highest journey in love, Oneness, and higher consciousness.
gilanehemia.com