SoPE National Capital Chapter: Regulatory Strategies for Emerging Healthcar...
Description
Whether you have a medical device, diagnostic, health IT app, or therapeutic, if you have to obtain FDA approval to commercialize your product, you should attend this event! Learn about the obstacles, opportunities, draft guidances and new pathways you must consider when creating a regulatory strategy. In this ever-changing environment, the key to success is both transparency and a keen understanding of the options available for your regulatory pathway.


June 19, 2019, 6:00pm-8:30pm
Agenda
6:00-7:00 Registration & Networking
Guest Speaker 7-8 PM
8-8:30 PM Networking, additional Q&A

Location
Hood College
401 Rosemont Avenue
Frederick, MD 21701
Special Instructions
https://map.hood.edu/#!BLD_2014032691524
Moderator: Jeffrey N. Hausfeld MD, MBA
Co-Founder and Chairman the Society of Physician Entrepreneurs
Chairman and Chief Medical Officer BioFactura, Inc.
SPEAKER BIO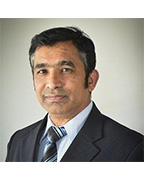 Mukesh Kumar, PhD
Chief Executive Officer at Brij Strategic Consultations
I started my career as a staff scientist at NIH, working in basic biology and applied science in gene therapy. After patenting some of my inventions, I trained in intellectual property and licensing processes where I realized the importance of regulatory affairs in biomedical products. My next job, managing more than 50 global clinical trials sponsored by US govt, helped be gain experience in global regulatory processes. My current job involves working with mostly small companies for product development strategies all the way from preclinical to clinical and post-approval turning me into a medical product professional with holistic experience in developing therapeutic and diagnostic product. Currently I am working towards bringing therapies developed in Asia and Latin America to the US and EU.

Specialties: Technology transfer, global regulatory strategy, global clinical trials, safety reporting, training, and GLP/GCP audits. Articles written by me can be found at http://www.amarexcro.com/articles/
CHAPTER SPONSORS



EVENT SPONSORS