SoPE Colorado: Adverse Drug Reaction: An Avoidable Healthcare Crisis
Description
Time is up for continuing to prescribe drugs by trial and error. Eliminate the guesswork. A drug works well when prescribed to the 'right' patient. On the other hand, a drug prescribed to a 'wrong' patient could be deadly due to Adverse Drug Reactions, the 4th leading cause of death. A drug prescribed by the doctor and taken as directed kills one patient every 4 minutes. ADRs cost $136 Billion annually to insurance companies. The dilemma is how do you differentiate between 'right' and 'wrong' patient before prescribing a drug? PGx test is a simple cheek-swab test that provides powerful clinically actionable data for the life of a patient and guides a doctor to select 'right' drug for every patient.

Who needs PGx test urgently? Any patient who is on: • Multiple drugs
• Cardio drugs
• Pain management drugs
• Psychotropic drugs
• Cancer drugs
• Geriatrics

The risk of ADR increases exponentially by the number of drugs the patient is on. Coumadin/Warfarin, a commonly prescribed blood thinner to control thrombosis is responsible for 1 out of 3 ER visits among senior patients. Insurance companies including Medicare and Medicaid pay for the test.

PGx reduces healthcare cost.
University of Illinois Health's Personalized Medicine Program saved $600K annually by reducing hospital readmissions when they used PGx test to guide dosing of only one drug, Coumadin/Warfarin. Avoid the cost of an inappropriate drug which needs replacement within a few days, unnecessary ER and hospitalization.

FDA requires PGx test for several drugs.
FDA along with EMA, PDMA and HCSC is recommending, in fact requiring a PGx test before prescribing one of 54 drugs carrying Black Box Warnings.Alas, healthcare professionals are slow to follow the required guidelines and may expose themselves to unnecessary liability. I appeal to all healthcare professionals to be progressive and adopt the PGx testing as a preemptive tool to manage drug prescriptions and change your practices to personalized medicine. Completely differentiate your practice and attract more new patients. Improve patient satisfaction and compliance/adherence.

September 12, 2019, 7:00am-9:00am
Location
COPIC Insurance
7351 East Lowry Boulevard
#400
Denver, CO 80230
Agenda
7:00am-7:30am Networking
7:30am-8:00am Introductions
8:00am-8:45am Guest Speaker
8:45am-9:00am Q/A
SPEAKER BIO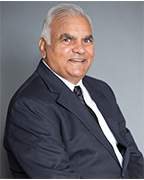 Brahma D. Sharma, PhD is a retired chemist from R&D and manufacturing in pharmaceutical and medical device industry.

He is an author, inventor, scientist, coach, and keynote speaker.

His current book is 'The Right Drug For Every Patient'.

His mission is to reduce Adverse Drug Reactions (ADR). It's the fourth leading cause of death in the US after heart attacks, strokes, and cancer. One person dies every 4 minutes.

One drug/one dose does not fit all.

He is educating everyone, patients, doctors, healthcare providers how to avoid ADR by incorporating Pharmacogenetics (PGx) testing in the practice and personalizing drugs that match patient's hepatic gene variations. ADR is estimated to cost over $136 Billion in the US not counting priceless suffering of patients and their loved ones.

His goal is for doctors to say: "Let's start with swabbing your cheek. This will tell me which drugs will do good for you and which drugs may harm you."


Want to donate to the SoPE Foundation at no cost to you?
Now is a great time to go to smile.amazon.com to generate donations for Society Of Physician Entrepreneurs Foundation. Thanks for supporting SoPE!
EVENT SPONSOR