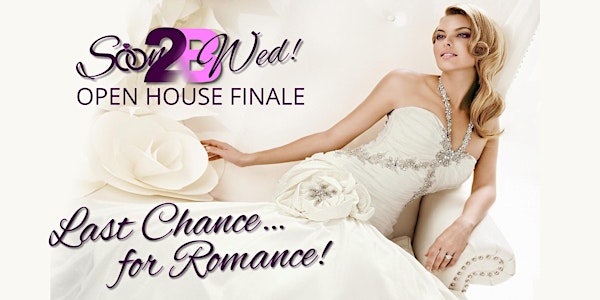 Soon2Bwed - Bridal Open House Finale
When and where
Location
112 S 2nd St 112 South 2nd Street Elkhart, IN 46516
Description
Thats right... It's our Last Open House of the Year! We were going to call it March Madness but decided to call it your Last Chance for Romance. Why? Because we are filling the Last 7 available dates of 2019!!! We are signing up the last of the amazing Soon2Bwed Wedding Bundles!!! Now I will tell you why we wanted to call it March Madness!!! If you can find a date that will work for your Wedding we are giving away the BIGGEST DISCOUNTS of the YEAR!!! Our most Popular Wedding Bundles #4 #5 & #6. We are taking an Additional $1000 off and throwing in a Bar with Bartender and We still have 7 Honeymoon Packages to give to any couple that books. Oh and did we mention a FREE DJ for your Ceremony & RECEPTION!!! We even have FREE Photographers with Bundle #5 & #6. You can get a $10,000 $15,000 or even an $18,000 wedding for Under $4995 that includes an Historic Chapel and Reception Venue with EVERYTHING you need including FOOD for up to 200 people! Beer, Wine Champagne a Licensed Bartender a Professional DJ a Photographer, Tables Chairs with Chair Covers China Plates and Silverware. We even have Whiskey Barrels, Wood Pallete Backdrop Walls, Free Centerpieces Vases Mirrors or Wood Planks for FREE and Even a Wedding Cake and YES a Honeymoon for 2 to 8 different Locations including Cancun or Vegas!!! Yes you get ALLLLL of the Add ons for FREE and up to $1000 in additional discounts! We have 1 date left in June. 2 dates in Sept. 2 in October, 1 in November and 1 in December!!! If you can make it out we will give you a Tour of the over 100 Year Old Historic Turnock Hall & Chapel. It is set up as it would be for an actual event. We will explain how our amazing Wedding Bundles Work, whats included and how you an get up to $15,000 off your entire event. We will even give you 3 DAYS for your event, thats FRIDAY SATURDAY & SUNDAY and FREE extra Hours to Dance and Party on SATURDAY! Then you can come back on Sunday to Clean Up oh we almost forgot the HONEYMOON SUITE with HOT TUBE for after your reception :) We will also give you FRIDAY to Decorate and hold your Rehearsal for your Ceremony in our On-Site Chapel. Let us help you achieve your Wedding Dreams and stay WAY under budget! Literally ONE-CALL-PLANS-IT-ALL!!!
Feel free to contact us via TEXT at 574-326-6338 or 574-707-2112 in advance or if you cant make it out this SAT or SUN to the event and we can schedule a private appointment either before or up to 3 days after the event on a weeknight for those whose weekends wont work to attend.
We will give you a magazine and website addresses with more bundle info and pix and show you photos etc during this event that you can take with you. You can also get TUXEDO, WEDDING GOWN and BRIDESMAID DRESS discounts that will blow your mind. We will have Info on Photographers and Wedding Cakes and Much More! This is not a full blown bridal show. This is just an event where couples can see the hall and chapel and get the BIGGEST DISCOUNTS of the YEAR! Get the details on the wedding bundles. But Remember its our LAST OPEN HOUSE and the Last Time you can get all of the FREEBIES! We will also be discussing 2020 weddings at this event and what you can look forward to in next years Bundles.
We have been in business for over 30 Years, we have done Thousands of weddings. and Hundreds of our Now Famous Wedding Bundles in just the past 4 years! Dont miss your chance to get one of the LAST DATES available for 2019!!!! This may truley be your LAST CHANCE for ROMANCE!!! See you THIS Saturday or SUNDAY from 1-5pm.