Description
***LIMITED TICKETS WILL BE SOLD AT DOOR***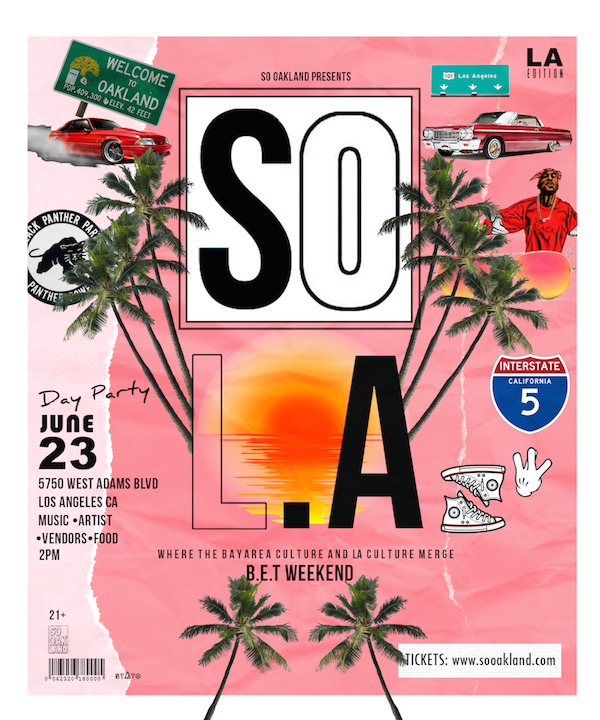 SECOND STOP ON THE SOOAKLAND TOUR..... LOS ANGELES.CA
WE ARE HELLA EXCITED TO MERGE THE AUTHENTIC BAY VIBES WITH THE AUTHENTIC L.A VIBES!! ARE YOU GUYS READY ??????????
A DAY PARTY FULL OF DOPE VENDORS, FOOD, DOPE DJS, AND NORTHERN AND SOUTHERN CALIFORNIA VIBES. ALL OF THIS GOING DOWN 5750 WEST ADAMS BLVD an OUTDOOR space. SoLA IS ABOUT BEING TRUE TO THE CULTURE AND LOVING WHERE YOU ARE FROM and bringing the two cultures of California together......LETS TURN UP IN POSITIVITY AND WELCOME THESE TWO CULTURES UNDER ONE ROOF.
TICKETS WILL BE ON SALE AT THE DOOR.
SOME PROCEEDS DONATED TO LOCAL NON PROFIT
*SO COME OUT AND REPRESENT WELL...RATHER ITS TURNING UP TO NIPSEY, OR TO MAC DRE* ITS ABOUT BREAKING THE STEREOTYPES AMONGST EACH OTHER AND CHANGING THE PERSPECTIVES OF TWO OF THE DOPEST CITIES AND CULTURE INFLUENCERS...OAKLAND AND L A !!! LETS GO

*SOME OF PROCEEDS WILL BE DONATED TO A LOCAL NON PROFIT SUPPORTING BLACK AND BROWN UNDERPRIVILEGED YOUTH IN ARTS
ANY INTERESTED VENDORS, ARTIST, ETC PLEASE EMAIL:INFO@SOOAKLAND.COM