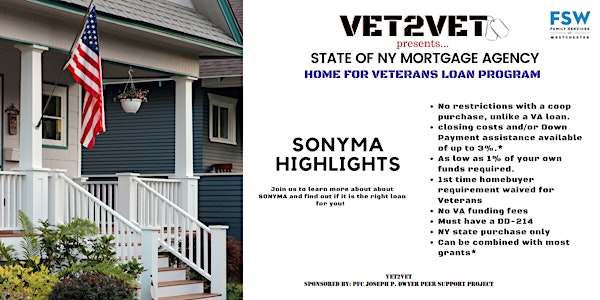 SONYMA: Home Loans for Veterans
Join us to learn about SONYMA's Veteran home loans. NY state loan program for renovations, down payment and/or closing cost assistance.
About this event
Learn more about program features such as:
No restrictions with a coop purchase, unlike a VA loan.
closing costs and/or Down Payment assistance available of up to 3%.*
As low as 1% of your own funds required.
1st time homebuyer requirement waived for Veterans
No VA funding fees
Must have a DD-214
NY state purchase only
Can be combined with most state and local grants*
Event is free and without any sales or soliciting!
Hear directly from the sources mouth about how this loan works, along with information about other grant programs that are available and can be combined to help with assistance towards down payment and/or closing costs.
A little about us....
Veterans Outreach and Support
FSW's Veterans Outreach and Support Project was established in January 2012 to meet the needs of returning veterans and their families. Since then, we have expanded our services to veterans and families from all eras without restrictions to service dates, discharge or dependency status.
Family Services of Westchester understands the problems that arise during military service and community reintegration and offers individualized strategies to address the unique issues faced by the military community.
Two programs make up the veterans department at FSW: The case management program and the Vet2Vet program. Our highly trained staff is partially comprised of former active duty and veteran family members.
The Veterans Outreach Program
The Veterans Outreach Program has linked our Veterans to services that promote both independence and re-acclimation to their communities. We have assisted over 150 Veterans with advocacy services related to housing, legal assistance, education and benefit claims. We have also assisted veterans on their paths to employment by providing them with opportunities for continued service, as well as peer-to-peer support.