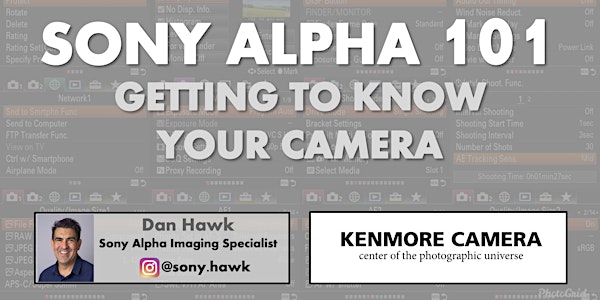 Sony Alpha 101 Class - ONLINE
Welcome to the wonderful world of Sony! You've made the plunge into the Sony interchangeable lens camera world – come learn, from Sony
About this event
Welcome to the wonderful world of Sony!
You've made the plunge into the Sony interchangeable lens camera world – join and learn, directly from Sony, about your camera, and how to make great pictures with it. The Sony representative will take you through the essentials of your camera, explain jargon and features and inspire you to go out and make amazing photos!
This course is designed for anyone who wants to learn more about their Sony Alpha, interchangeable lens camera, but if you have an RX series Cyber-shot you will also benefit from the topics discussed in this class.
What You'll Learn
Become familiar with the operation and features of your camera, and discover how and when to control them for dramatic results
Learn to expand your creative options, using different camera features and photographic techniques to evolve your pictures from snapshots into photographs
Learn about the various lens options you have with your camera
Your instructor: Sony Tech Rep. Dan Hawk
When registering for this presentation you agree to receiving emails regarding specials, upcoming classes and events. You can unsubscribe at any time, and we will never share your email.