Description
REGISTER NOW!!
Our 4th annual EPIC Global Network Summit "A Gathering of Kings & Priests 2019" will be at the Tampa/Brandon Sheraton Hotel where we had our first one in 2016. Please share this, and Save the Dates to your calendar. Our theme this Summit is from Zechariah 4:14 "Sons of Fresh Oil." I'm looking forward to seeing you there. Its going to be three and half days of heaven on earth as God meets with us in powerful encounters. Our confirmed speakers are Apostle Axel Sippach, Dr. Mark Chironna, Dr.Pat Francis, Apostle Theresa Harvard Johnson, Prophet Rob Robinson, Apostle Melvin Thompson lll, Dr. Yolanda Powell, Apostle Emmanuel Allen, Apostle Jeremy Gibson, Apostle Johnny Ova, Prophetess Jenice Gentry, Apostle Johnny Gentry, Prophet Niles Bess (worship team leader). There will be powerful prophetic worship in both day and evening sessions from psalmists and ministrels from a number of EPIC churches collaborating together under the direction of EPIC leader Prophet Niles Bess. Our Summits are truly an EPIC Experience!!
Apostle Axel Sippach, EPIC Founder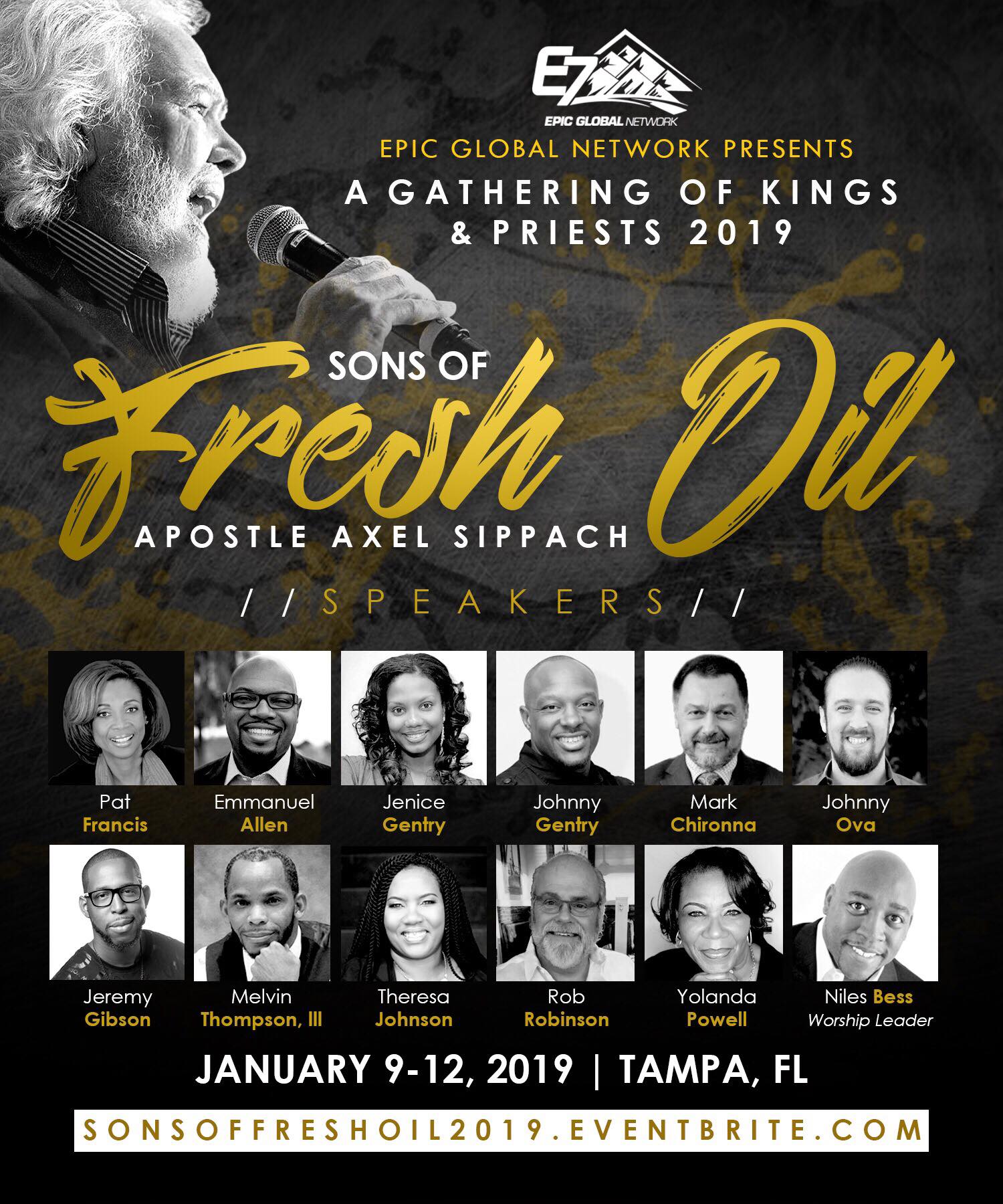 Hotel Information:
We have a special negotiated discount event rate with the beautiful Tampa/Brandon Sheraton for only $119 for single or double room. This rate is good for also 3 days before and 3 days after the event for those who would like to come early or stay late and do some vacationing or sightseeing. Tampa is a major tourist destination in Florida with lots of attractions. Below is the link to make your room reservations.To get this special rate, the first night will be charged to your card which is non-refundable, but can be transferred to someone else if needed.
https://www.starwoodmeeting.com/Book/EPICGlobalNetworkSummit
Event Contact Information:
EPIC Office: (360) 830-0313
Email: epicglobalnetwork@gmail.com
***SOMETHING NEW THIS YEAR - SPECIAL "PRE-SUMMIT 2 HOUR WORKSHOP INTENSIVE" WEDNESDAY JANUARY 9 FROM 3-5PM (get your ticket early - seating is limited)
THE PROPHETIC WRITING DIMENSION WORKSHOP INTENSIVE
REGISTRATION
$25 (separate ticket - not included in Sons of Fresh Oil Summit registration)
DATE
Wednesday, November 9 from 3-5pm
INSTRUCTOR
Apostle Theresa Harvard Johnson, leader of "The School of the Scribe" and speaker for the EPIC Summit "A Gathering of Kings & Priests 2019" – Sons of Fresh Oil
ABOUT
The Prophetic Writing Dimension Workshop Intensive is a scaled down 2 hour intensive prophetic experience created to spiritually equip, encourage and align prophetic people in their calling to write. First held in 2003, it is designed for intimacy and interaction with core teachers and presenters representing the Voices of Christ Apostolic-Prophetic School of the Scribe, called "The School of the Scribe."
This workshop is geared toward initiating supernatural encounters with the Lord that help this type of Christian writer gain the skills needed to release their prophetic writing gifts, complete their writing initiatives, publish their projects and reach their intended audience with practical tools and resources. Each "online prophetic writing dimension" experience addresses one of these areas of prophetic writing.
Our foundation scripture is Matthew 13:52 KJV, "Then said he unto them, Therefore every scribe which is instructed unto the kingdom of heaven is like unto a man that is an householder, which bringeth forth out of his treasure things new and old."
WHY ATTEND?
Attending this workshop intensive is beneficial to prophetic writers because attendees are learning from a leader who:
Understand the unusual realm of prophetic writing from an administrative, instructional and creative perspective. Our team of professionals, pastors, entrepreneurs and corporate executives are qualified naturally and spiritually to guide you in any aspect of your calling at any stage. Our primary ministry is "this area" and we've spent thousands of hours investing in helping those connected to us prosper and achieve success.
Genuinely care about the spiritual and natural development of the prophetic writer as well as their present-day assignments. We are concerned not only with seeing you published through freelance, blogging, ebook and book publishing, etc., but to help you navigate directionally in the prophetic.
Believe in the power of moving by the Spirit and being led apostolically with every publishing decision. Canned solutions are not our thing. We understand that EVERY prophetic calling to write is different. As such, we have tailored this workshop session around what we have learned over the past 18 plus years in this arena.
Through this Workshop Intensive, our goal is to equip you with tools that you can apply at any stage of your prophetic writing journey – whether you are a novice writer or an expert in the field.
WHO IS APOSTLE THERESA HARVARD JOHNSON?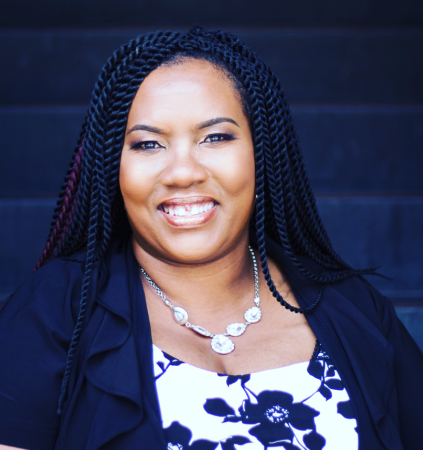 Theresa Harvard Johnson is recognized globally as the progenitor of The Scribal Anointing® teachings, a comprehensive revelation of the 21st century office of the prophetic scribe. For the past 18 years, she has dedicated her life to bringing forth revelatory understanding, advanced historical insight and biblical application concerning the relationship of the prophetic scribe to the present-day church and marketplace. Her profound understanding and the anointing to impart The Scribal Anointing® has positioned her as a highly sought-after speaker nationally and internationally in this pioneering arena.
Theresa is a commissioned apostle and the founder of The School of the Scribe, an apostolic-prophetic learning center dedicated to raising up a scribal nation. She is also the overseer of the Scribal Conservatory Arts & Worship Center, a community dedicated to helping worshipers and artisans achieve healing and freedom through transformation into the likeness and image of Christ. Comprehensively, Theresa's ministry initiatives are rooted in transforming nations, reinforcing covenant, elevating Christ above men and increasing understanding concerning the intention of Christ.
Professionally, she is a former, award-winning print news journalist who has earned awards and recognition from the Associated Press, the Georgia Press Association, the Society of Professional Journalists and the Georgia School Bell Awards. She has been published in leading secular and Christian newspapers and magazines; and has been recognized by city and state leaders by way of non-solicited proclamations and awards for her contributions to the arts and faith in community. Theresa, who is a rising apostolic historian, earned a BA in Mass Communications, an MDIV in Biblical History and is a 2019 candidate for an MA in Professional Writing from Liberty University.
Theresa's heart rests in awakening, aligning and releasing the Lord's scribal nation into its present-day apostolic mandate while creating a scribal culture worthy of Christ.
She has published over 17 books on scribal ministry and leadership integrity including The Scribal Anointing: Scribes Instructed in the Kingdom of Heaven (2007), The Sin of Spiritual Plagiarism (2010), Signs of a Scribal Prophet (2015) and Apostolic Mentorship: Critical tools to help artisans identify their God ordained mentor (2017).
Theresa is also a revelatory preacher, prolific poet and visual artist. For the past decade, she has dedicated her creative gifts and training in inner-healing where she has ministered to hundreds of young girls and women who are overcoming severe trauma from sexual abuse and sexual exploitation. She has also co-authored several national educational curriculums on healing from sexual trauma.