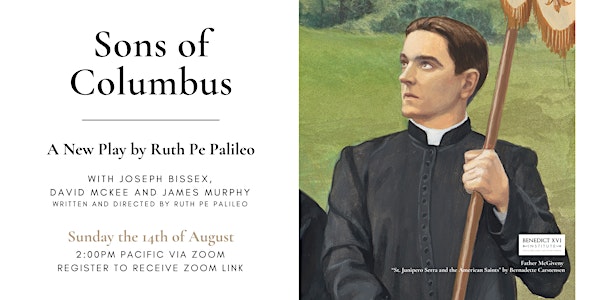 Sons of Columbus: A New Play by Ruth Pe Palileo
Refund policy
Contact the organizer to request a refund.
Eventbrite's fee is nonrefundable.
Sons of Columbus: A New Play by Ruth Palileo
About this event
Sons of Columbus
A new play by Ruth Palileo
"Fr. McGivney started the 'Sons of Columbus' in 1882, named in such a way as to 'bind Catholicism and Americanism together through the faith and bold vision of the New World's discoverer.' The word 'Sons' was soon replaced by 'Knights' to further invigorate the men who would become members." (1)
The name of Father Michael McGivney is forever associated with the Knights of Columbus, a Catholic Order he founded during his lifetime. Now a Blessed, he died of tuberculosis on August 14, 1890 in Thomaston, Connecticut. He was only 38.
The name of Chip Smith is forever associated in the annals of jurisprudence with the "Chip Smith Instruction" in which a judge insists his jurors break a deadlock. Chip murdered Ansonia's Chief of Police in a drunken rage and died on September 1, 1882, the first person in twenty years to be hanged in Connecticut. He was only 23.
Both men were American sons of Irish immigrants; both grew up playing on the working class streets of Connecticut.
Father Michael held his first job at a spoon-making factory; Chip took a revolver to the hoopskirt factory where he failed to get a job and fatally shot Chief Hayes after first agreeing to be arrested quietly.
Told he had killed the Chief, Chip said he was "glad of it" and expected "others to do their part" in defying the law. (2)
Based on historical records from the New York Times and New Haven Morning Journal and Courier, this play imagines the 600 days after Chip's arrest, when Father Michael regularly visited him in jail. Through his meetings with Blessed Michael, Chip transformed from a "leading spirit in the rough and troublesome element of the boroughs', as the New York Times called him, to a man whose final requests were a High Mass in his jail cell and prayers that he might die a holy death/
Cast in Order of Appearance James "Chip" Smith played by James Murphy, Sheriff John Byxbee played by David McKee, Father Michael McGivney played by Joseph Bissex, written and directed by Ruth Pe Palileo.
Notes
(1) Why Knights of Columbus were named after Christopher Columbus--Aleteia(2) NY Times Obituary of James "Chip" Smith, September 2, 1882(3) McGivneyLetters.pdf (fathermcgivney.org)
Bios (Alphabetical)
Joseph Bissex (Father McGivney) is based in Rockville, Maryland, where he teaches English, Latin Culture, Theater and Storytelling, and directs the Omnibus Players theater program at The Heights School. His B.A. in Liberal Arts, M.A. in English, and M.A in Theater Education have inspired him to pursue a genuine professional Catholic restorative for theater. Joseph is delighted to be working with BXVI for this online production. Performance credits in the DC area include Humble Boy (Felix), The Language Archive (Director), Baltimore Waltz (Carl), Neil Gaiman's Neverwhere (Richard), and The Crucible (Proctor). One of his lifelong goals is to do every Shakespeare play: 15 and counting! With the help of his lovely bride, he attempts to keep his rambunctious progeny on that straight path Dante obligingly wandered off. Much love to JSGD and (?)!
David McKee (Sheriff Byxbee) lives in Augusta, Georgia, with his wife Jennifer and is emerging from theatrical retirement out of respect for Ruth Pe Palileo. His stage roles include Polonius in Hamlet (Onyx Theater) and Ira in The Tale of the Allergist's Wife (Las Vegas Little Theater). For the latter he also directed A Delicate Balance, Betrayal, The Speed of Darkness, The Lady in Question, And Then There Were None and Boston Marriage. For Vegas Fringe Festival he directed two Erica Griffin plays, "Waxing On" and "Juju Goes to Pahrump." Since relocating to Georgia, he has become Editor-in-Chief of Casino Life Magazine and his science fiction critiques can be found at The Companion.app.
James Murphy (James "Chip" Smith) is based in Wicklow, Ireland. He trained in Performing Arts in BIFE, and screen acting in Bow Street Screen Acting Academy. From 2012-2018, James played the Gaoler in Wicklow's Historic Gaol. Stage roles include Dagda in P/Faerie Tale (2019), Tomo in Wait Now (2018), Touchstone in As You Like It (2016) and Giorgio Joyce in Joyce's Wake (2015). Recent feature film credits include Bernard in Dublin Crust (2022). Recent television credits include Nicky Kelly on RTE's Crimes and Confessions. Benedict XVI roles include St. Damien (2022) in Letters from the Lazaretto of Moloka'i and Malcolm Muggeridge in Malcolm & Theresa. See https://www.fishpond.ie/JamesDanielMurphy for more about James.
Ruth Pe Palileo (Playwright/Director) is from Antique, Philippines and writes and directs for Current Theatrics in Las Vegas/New York and Pintig Cultural Group in Chicago. She also serves as Associate Book Review Editor for Stage Directors and Choreographers' Journal. Ruth has a Ph.D. in Theatre and Performance from Trinity College, Dublin and her directing credits include Letters from the Lazaretto of Moloka'i (2022) and Malcolm & Theresa (2021) for the Benedict XVI Institute; P/Faerie Tale (Dublin 2019); the immersive Feast of St. Thomas Aquinas (Vegas 2018), an adaptation of Hugo-award winning Tim Powers' time travel novel The Anubis Gates (London 2014), Ionesco's The Chairs (Best Production of 2011, Las Vegas Citylife), Joss Whedon's Dr. Horrible's Sing-A-Long Blog (Chicago 2011) , Neil Gaiman's Troll Bridge (2010) and The Passion of Christ According to Mark (Church of Ireland, Dublin 2010). A documentary of The Passion was nominated for a 2011 Jerusalem Award. AMDG.