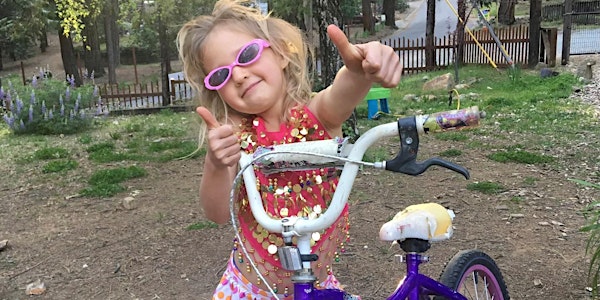 SONORA BIKE DAY, BZP Tuolumne County
Sonora Bike Day promotes getting outside and finding safe place to ride your bike. Fun includes free bike repairs, prizes and giveaways.
By Blue Zones Project Tuolumne County
Date and time
Saturday, June 10 · 9am - 12pm PDT
Location
Indigeny REserve 14679 Summers Ln Sonora, CA 95370
About this event
Blue Zones Project, Tuolumne County is partnering with the Motherlode Bicycle Coalition to bring the community two free events this summer! These are family-friendly and promote getting outside for riding and they help families find great places to ride. The first is Sonora Bike Day at Indigeny on June 10th. The second is Columbia Bike Night, Thurs., July 20th in the State Park.
At Sonora Bike Day, Motherlode Bicycle Coalition will offer the community free bike repairs and free flat repairs and lots of free advice on riding your bike! They also will collect used bikes folks want to donate. They refurbish these and donate them to people in need.
Fun at Sonora Bike Day includes giveaways and free raffle tickets for prizes from water bottles to a new mountain bike or win a registration to the Groveland Grind Bike Event! E-Bikes (electric bikes) mountain bikes and kids' bikes will be available to borrow free of charge. Come ride the trails at Indigeny with your own bike or with a borrowed bike!
Volunteers with the Sonora Mountain Bike Team have worked with Indigeny to create a trail system that is available for public use. The team uses them for practice. The trails will be open plus there will be group rides (with a leader) for accompanied children/teens/adults at 10am and 11am.
Tuolumne County Public Health will have free bike helmets. They will also sponsor a smoothie bike where you can ride a stationary bike with a blender attached to make a free healthy drink!
Partners at this event include Blue Zones Project - Tuolumne County, Motherlode Bicycle Coalition, Sonora Cyclery, Bear Valley Bicycles, Sonora Mountain Bike Racing Team, Groveland Trailheads, Tuolumne County Public Health and Indigeny Reserve.
More info at 209-694-3217
About the organizer
Blue Zones Project Tuolumne County is a community-wide, well-being initiative that focuses on making our community a healthier, happier place to live, work and play. Blue Zones Project encourages individuals and businesses to adopt healthy best practices based on the lifestyles of the world's longest living people.