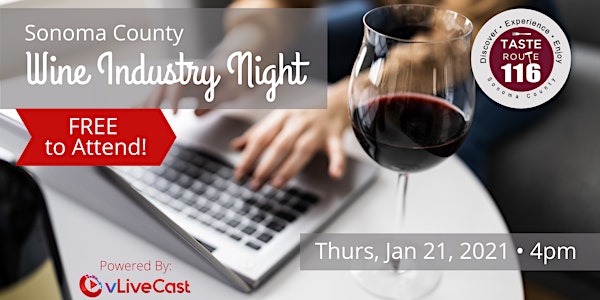 Sonoma County Wine Industry Night
Get wine industry updates from local organizations, plus virtually connect in chat rooms. What's working, what's not and what's next in 2021
About this event
Calling all wine industry professionals…Please join us for an interactive Virtual Industry Night.
Don't worry…it is NOT just another Zoom call! This is an interactive platform that you will actually enjoy being a part of and connecting with real people.
Representatives from The Wine Road, Sonoma County Tourism, Sonoma County Vintners, Sonoma County Winegrowers and Russian River Valley Winegrowers will provide status updates for their plans as we forge ahead in 2021.
There will be separate chat lounges available for you to wander in and out of to connect with your peers and strike up discussions about what you have been doing, what's working and not working, and what your plans are in the coming year.
Now is the time for us to come together and truly support one another during this challenging time.
Grab a glass of wine and bring your brainstorming ideas!
We are using a different platform than Zoom. You will receive a link to the event after you sign up on EventBrite.