Description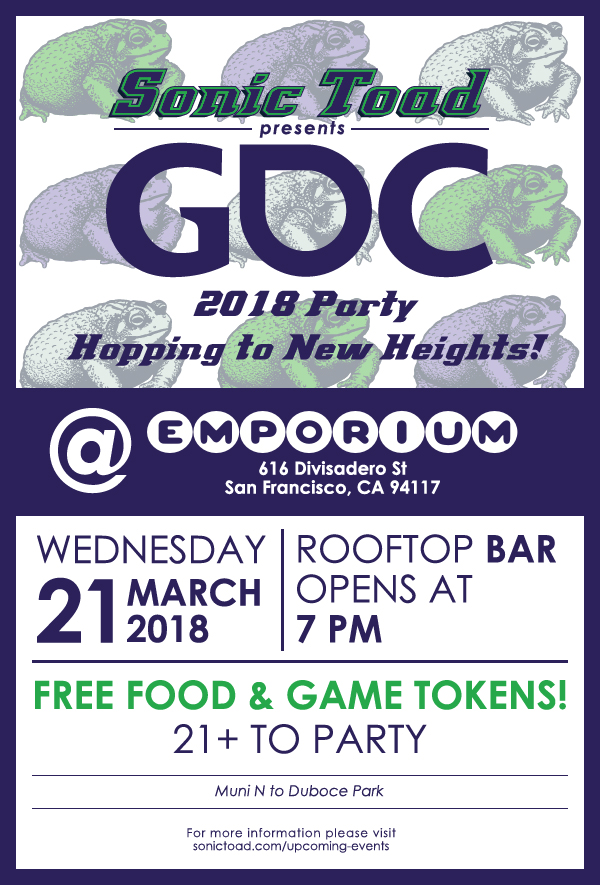 Sonic Toad is proud to host the very first amphibious GDC party!
7PM at The Emporium Arcade Bar
I'm renting out the rooftop which opens up at 7 just for attendees and there will be free food, free classic arcade games, pinball, and more! Non-drinkers welcome as there's plenty of fun things to do and cool people to chat with but heads up for younger game devs that this event is 21+ only (venue's rule, not mine.)
If you're coming from GDC and Moscone vicinity, you can pick up the Muni N line on Market Street and it's a few blocks from the Duboce Park station north on Divisadero. Pretty cheap to get there via Lyft Line as well.
If you don't want to just hop to your success but hop to new heights, the rooftop bar at The Emporium is the place to do it!
REGISTRATION IS FREE! NO COVER!
***Food is first-come first-serve but arcade tokens will be flowing a good part of the night!***
This is also an inclusive event where everyone should feel welcome so please leave all racism, sexism, homophobia, transphobia, etc. back in the ****ing 20th century <3